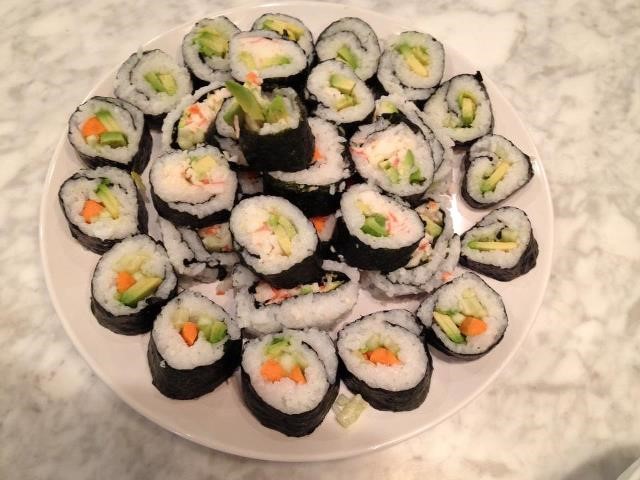 In 2010, my company had a distinct focus on what our after-school enrichment class was about, and it was all in the title:  Cooking Italiano for Kids
If I had a friend who asked me what we did, I'd break it down, word by word.  Pretty obvious right?
My first enrichment class was at the Buckley School in Sherman Oaks, and the curriculum focused on Italian favorites such as Tomato-Basil Bruschetta, Chicken Milanese, Pasta with Pesto, Homemade Gelato Ice Cream, Fresh Pasta with Ragu Sauce and more.
As we taught more sessions, we began to grow tired of Italian food and so we our class to cover European classics.  We'd venture into Spain and make Paella and Tortilla Espanol or explore France to make Potatoes Gratin and the always-popular Ratatouille (which is just a huge pile of sautéed vegetables that kids love because of the hit film.  Thank you Pixar.)
From Europe we traversed the globe, as each session this year examined a new cuisine:
Fall 2013:  Mediterranean Delights
Winter 2014:  Mexican Favorites
Spring 2014:  Asian Cuisine
Suddenly, the "Italiano" part of my company's title seemed a bit off, but we'll be fixing that soon.
I chose to explore Asian cuisine in our enrichment classes this session because it was a welcome break from what we've done before…and who doesn't love sushi?
My chefs also enjoyed the opportunity to expand their culinary skills.  Making Asian food is not as hard as you may think it is, but it takes a little bit of practice.  Crafting the perfect California roll may seem tricky at first, but after one or two tries, I believe that anyone could make it.
Here are Top 5 favorite elements of Asian cooking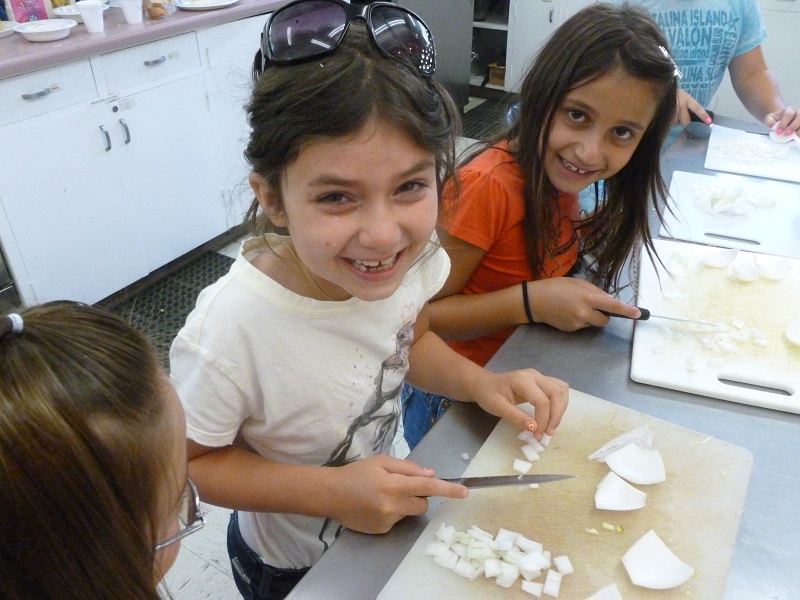 5)  90% of Asian dishes involve chopping everything into small pieces followed by a quick stir fry.  Gone are the days of simmering pasta sauces for 30-60 minutes, but instead Asian cuisine puts a lot of emphasis on "Mise En Plaus," the French culinary term for "Everything in Place."  Basically, you need to prep all your ingredients before you turn on a flame (except for rice, get that started early).
To make Beef & Broccoli, chop and marinate the steak, slice the broccoli florets and finely mince the garlic and fresh ginger.  The actual cooking takes less than 10 minutes.
To make Chicken Chow Mein Noodles, again you slice everything into bite-size pieces, and stir fry everything in a large pan over high heat in less than 10 minutes.
You get the idea, and can see why Asian cooking is great for our 1-hour enrichment classes.
4)  Soy Sauce is one of the tastiest ingredients EVER
We went through a lot of soy sauce while making Asian food, and it's salty, savory taste brightens every dish.  There are four basics tastes (sweet, sour, bitter and salty) and the Japanese have a fifth called "Umami" which translates to "pleasant savory taste."  While there is no clear definition of what constitutes "umami," soy sauce adds an earthy depth of flavor that is certainly pleasant and savory.
A lot of sauces we made in class involved soy sauce, a pinch of sugar and some quickly cooked aromatics such as garlic and green scallion.  This sauce makes every dish pop with flavor, including vegetables like eggplant or broccoli.
3)  Sushi!
Sushi, the popular Japanese dish made of rice with seafood or vegetables is found all over Los Angeles, and even kids love to eat it.  We focus on sushi rolls, because they are easier to make and are more commonly eaten by the youngsters.
I know very, very few people who don't like sushi.  Recently, a friend casually wished she could eat sushi every day.  The thing is, sushi is pretty easy to make and doesn't have to be a rare treat.
In our cooking class, we don't make the raw rolls, but instead aim for kid-favorites such as the California roll with imitation crab (which is made of the pollock fish) and Cucumber and Avocado rolls.
Once I learned how to make sushi, the act of making dinner became more fun than eating it.
2)  Rice, rice and more rice
I love my carbs, whether it's pasta or rice.  The key is NOT to think of carbs as an evil, glutinous monster out to give you a sugar high, followed by a crash that leaves you depleted of energy.  Instead, think of carbs as fuel to be used in moderation and at the right time.
At lunch, having rice can give you energy to keep you going throughout your day.  If you exercise or play sports, carbs give you energy before you do your workout and help repair your body afterwards.  On the other hand, if you're eating a late dinner, you don't need carbs because your next activity could be lounging on the couch or going to sleep.
Asians love their rice, and I was surprised to see how many varieties they use.  A few examples:
When making Orange Chicken, we use Jasmine Rice
When making Sushi, we use Calrose Rice
When making Sweet Sticky Rice with Mango and Coconut Glaze, we use Thai Glutinous Rice
When making Thai Spring Rolls, we use Rice Wrappers
When making Pad Thai, we use Rice Noodles
And that list only touches the surface of how rice is used all over the continent.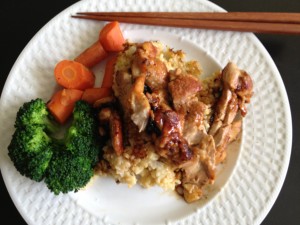 1) Asian Food has a ton of vegetables!
Shhh, don't tell my students!  I love that Asian cuisine mixes vegetables not just for taste, but also for color and texture.
Chow Mein is boring with just noodles, but with red bell pepper, sugar snap peas, green onions and garlic, you have a flavorful dish.
Beef and Broccoli gets kids to eat their broccoli!
Thai Spring Rolls are basically rice noodles loaded with lettuce, avocado, red bell pepper, carrots and fresh lime juice. Serve these rolls with some sweet and sour and suddenly eating just two rolls provides a serving of veggies…and it tastes good!
If you'd like your child to learn to cook Asian food with our chef teachers.  We have a few weeks of camp that either have Asian food as a focus or are peppered with Asian-themed days throughout the week:
Including
Week 5 "Asian Cuisine" Jul 14-18
Week 7 – "Global Favorites" Jul 28 – Aug 1
Week 10 – "Asian Cuisine Pt 2"  Aug 18-22
"Village School" Week Jul 21-25
"Chandler School" Jun 16-20
After months of teaching Asian cooking, it suddenly hit me that maybe I hadn't strayed too far from my love of Italy, because Asian food isn't even that much different from Italian food!  
Think about it:  I'm still cooking with noodles in most of my dishes, and making wantons is similar to ravioli
The main difference:  Asian food packs "umami."  .