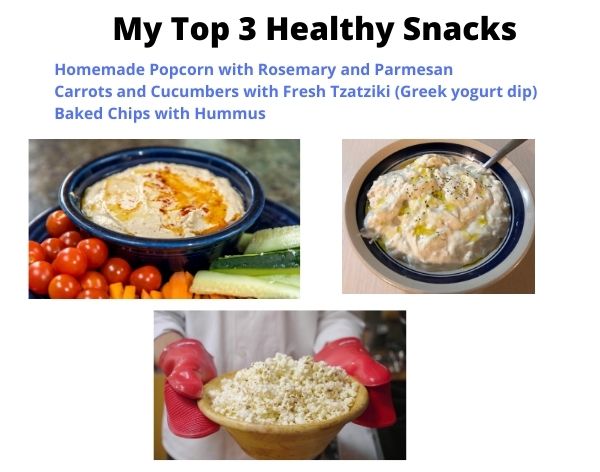 Q:  A parent, Barry asks:  "My son is always snacking on carbohydrates, mostly chips and crackers.  He likes to cook but defaults to carbs.  With school at home there's so little physical activity, what are some good healthy snacks to have around?"
A: I have the SAME issues as your son and there are two things you can do:
Remove ALL snacks from the house that are unhealthy includes chips, crackers pretzels, etc. You can still ENJOY those snacks, but only as one-time treats. Basically, instead of getting a giant bag of chips, just have a single-serving bag in moderation.
Have HEALTHY snacks accessible at all times. (Easier said than done, right?)
I've got you covered on this front, and I have 3 of my favorite snacks as simple recipes
Just go to our Private facebook group for parents looking to improve the health of their kids through culinary education here (free to join)
I've got the full recipes there, but they are:
Homemade Popcorn with Rosemary and Parmesan
Carrots and Cucumbers with Fresh Tzatziki (Greek yogurt dip)
Baked Chips with Hummus
Head to the Facebook group to see those recipes!
And one of our upcoming lessons will BE focused on healthy snacks to keep around the house
P.S.  If you need help getting your kids to choose healthy foods as snacks, join our Kids Can Cook Inner Circle to get live classes from Chef Teachers on how to make 10 delicious and healthy recipes a month (Click here, first 2 weeks are free for a limited time!)
Homemade Popcorn with Rosemary and Parmesan. Add ½ cup popcorn to a pot over medium heat with 2 tsp oil. Cook for 4-5 minutes until the kernels are popped. Remove to a bowl and season with a pinch of fine salt. Chop up 2 Tbs fresh rosemary and 3 Tbs finely grated Parmesan cheese and toss with the popcorn to enjoy!
Carrots and Cucumbers with Fresh Tzatziki (Greek yogurt dip). Slice up carrots and cucumbers. For the sauce, add 2 cups greek yogurt to a bowl and add 1 grated cucumber (squeeze the juice out before you add it), 1 tsp salt, 1 chopped garlic clove, juice of 1 lemon, 1 spoonful white wine vinegar, 1 tsp sugar, black pepper, 1 Tbs and (optional) ¼ cup freshly chopped dill. Mix and adjust seasoning as needed. Tasty and filled with protein and probiotics!
Baked Chips with Hummus. Cut up 5 corn tortillas into bite-size pieces and in a pan with a bit of oil season with salt and bake in a 400dF oven for 8-10 minutes until crispy (watch them!) In a food process add 1 can of drained garbanzo beans, ¼ cup tahini (or peanut butter), 1 Tbs olive oil, 1 tsp salt, black pepper, juice and zest of 1 lemon and 1 chopped garlic clove. Serve chips with hummus!
To learn these recipes and get your kids cooking 10 healthy and delicious recipes a month, go to www.kidscancookinnercircle.com. Our offer to get free aprons ends this week!