Hummus & Greek Salad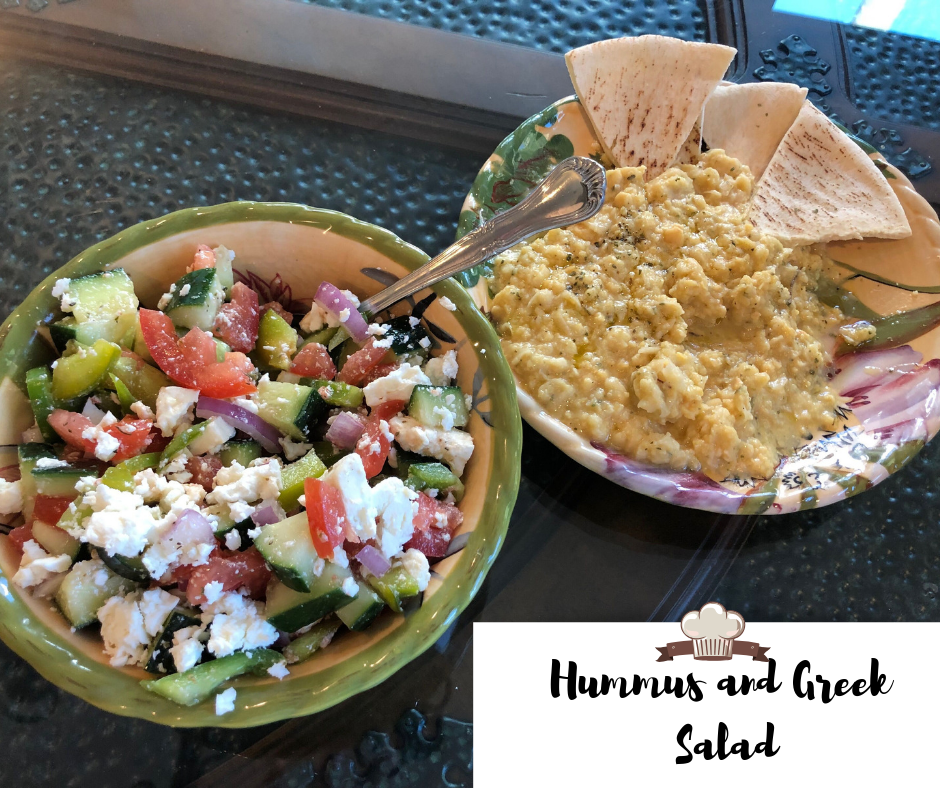 These are two classic Greek side dishes that will add fresh veggies and hearty fiber to your next meal. Greek salad is a simple salad found all over the country. Hummus is a tasty dip made out of chickpeas.
Active Time: 20 min – Start to Finish: 30 min
Ingredients
2 cucumbers, peeled and chopped into bite-size pieces
¼ red onion, chopped into small pieces
6 roma tomatoes, chopped
2 green bell peppers, chopped
8-oz Feta cheese, crumbled + extra for garnish
2 14-oz can chickpeas, drained
Juice of 1 lemon
1 garlic clove, chopped
2 tsp dried oregano
6 pita breads, cut into slices
Kosher salt & pepper
Extra virgin olive oil & Red Wine Vinegar
Direction
In a small bowl whisk together 3 Tbs olive oil, 2 Tbs vinegar, 1 tsp oregano, 1 tsp salt, and black pepper.
In a large bowl toss together tomatoes, onions, bell peppers, 1 tsp oregano and feta cheese. Drizzle the
dressing on top and mix well. Top with extra feta.
In a medium bowl, mash the drained chickpeas with the back of a fork. Once the chickpeas reach a smooth consistency stir in the garlic, 1 tsp oregano, lemon juice, 2 Tbs olive oil, 2 Tbs water, 1 ½ tsp salt and pepper.
Taste and adjust seasoning, adding 1 Tbs of water at a time until the consistency is smooth. Set aside.
Serve a spoonful of hummus with a few pita bread slides and a side of Greek salad.