Italian Chopped Salad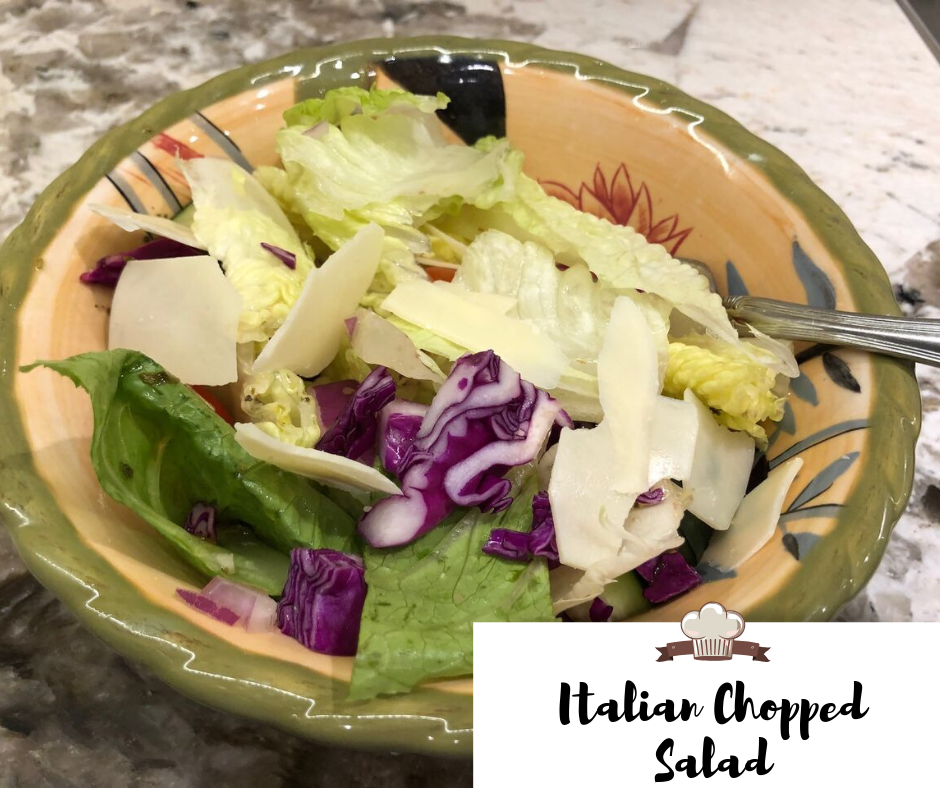 This medley of Italian flavors brings fresh ingredients together to create a healthy and delicious salad. It's got a lot of chopping (duh) and is fun to make with kids!
Ingredients

2-3 Romain lettuce, chopped into bite-sized pieces
½ red cabbage, chopped into bite-size pieces
¼ red onion, chopped
1 cup cherry tomatoes, halved
1 large cucumber, peeled and chopped
2 garlic cloves, chopped
Juice of 1 lemon
1 Tbs dried oregano
4 Tbs red wine vinegar
½ cup Parmesan cheese, freshly shaved with a peeler
1/3 cup Extra-Virgin olive oil
Kosher salt & black pepper
Direction
In a small bowl combine olive oil, vinegar, 2 Tbs water, Oregano, garlic, 2 tsp salt, and lemon juice. Whisk the ingredients together until they come together.
In a large bowl add the romaine lettuce, cabbage, onion, tomatoes, and cucumber. Pour dressing over salad and toss using tongs to evenly coat the salad with the dressing.
Using the vegetable peeler to shave fresh parmesan cheese over top as a garnish and serve.