Okonomiyaki is a Japanese savory cabbage pancake. It's a quick and easy entrée that can be eaten for
breakfast, lunch, or as a snack. "Japanese mayo" has a bit more sweetness and acidic flavors than regular
mayo.
Active time: 20 min – Start to Finish: 40 min
Ingredients
1 head of red or green cabbage, chopped
½ cup of milk
4 eggs, beaten
5 green onions, chopped
1 cup of mayo
Extra-Virgin Olive oil
1 ½ tsp backing powder
1 cup of All-Purpose flour
Red Wine vinegar
1 Tbs Vegetable stock "Better than bullion"
Kosher salt and pepper
Sugar
Directions
In a small bowl whisk together 1 cup of mayo, 1 tsp salt, 1 Tbs vinegar and 1 tsp of sugar. Set aside to let the
flavors come together.
In a large bowl, mix together 1 Tbs of better than bullion with 1 cup of water. Add flour, 1 tsp salt, backing
powder, milk and lightly whisk. Add eggs and mix together, it should have the consistency of a somewhat
loose pancake batter. Add the cabbage and ½ the green onions.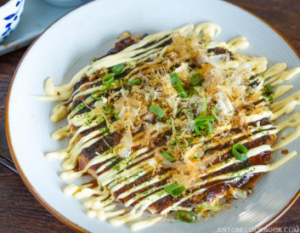 On a nonstick pan over medium high heat add 2 Tbs oil and about 1 ½ to 2 cups of batter and try to have it fit
mist of the pan. Let cook for 5-6 minutes then flip using two tongs flip and cook for 4-5 minutes. If it breaks
while you flip it, that's ok! Use some of the extra batter to seal in the cracks. Remove to a cutting board, cut
into pieces and serve topped with green onions and a drizzle of flavored mayo.