As the weather gets colder, we want more hot soups and stews!
This is a modified version of chili, and you can definitely dd ground beef for meat-eaters, that's super easy to make and tastes even BETTER the next day.
Here's the recipe
Vegetarian Chili with Baked Chips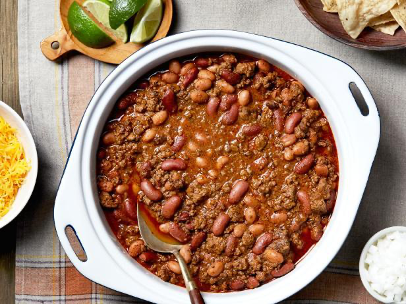 There's nothing like a warm bowl of chili to feel comfy and full. This recipe is perfect for vegetarians looking for a hearty meal with lots of nutrients.
Adapted from a recipe by Chef: Guy Fieri
Active Time: 20 min – Start to Finish: 50 min Serves: 4
Ingredients
1 poblano chili, chopped
1 14-oz cans cannellini beans, with liquid
1 14-oz cans kidney beans, with liquid
1 14-oz can chopped tomatoes
1/2 onion, chopped
1 red bell pepper, chopped
3 garlic cloves, chopped
¼ cup all-purpose flour
2 Tbs cumin
2 Tbs chili powder
4 cups vegetable stock (use Better than Buillon or boxed stock with low-sodium)
Extra-virgin Olive oil
Kosher salt and black pepper
Optional Topping: grated cheese, chopped green onions

Directions
In a large pan, over medium-high heat add 3 Tbs olive oil then add onion, garlic, bell pepper, poblano chili, 1 tsp salt and cook until the vegetables are softened about, 5-6 minutes. Add the flour, cumin, chili powder, beans, tomatoes and saute until fragrant, about 2 minutes. Add the vegetable stock and scrape up the browned bits from the bottom of the pan. Bring to a boil, then reduce the heat to a low and simmer for 5-20 minutes. Taste and adjust seasoning. Serve with your favorite toppings like chopped green onions, grated cheese, etc.
Baked Chips
Ingredients
8 corn tortillas
Olive oil
Kosher Salt & Freshly Ground Pepper
Directions
Baked Tortilla Chips: Preheat an oven to 400d F. Kids can slice the tortilla into triangles. Add to a baking sheet, add a 2 Tbs oil and season with salt and pepper. Lay the chips flat so they aren't touching each other (use two baking sheets if necessary. Bake, with adult supervision, for 6-8 minutes, flipping halfway. To flip, take the sheet out of the oven and use tongs to turn over each chip. Chips should be lightly browned, but not too dark. Remove to a bowl to cool and continue with remaining batches. (Use a timer so you don't forget about the chips!)
And if you want to join a FREE cooking class that I'll be teaching on how to get kids TO stop eating frozen chicke nuggrets and instead make a Crispy chicken tender (or even one with eggplant!)
Join us at the link here, fill out the form, limited to the first 20 signups