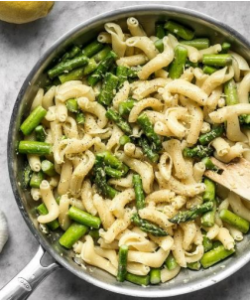 Active Time: 30 min – Start to Finish: 40 min
Ingredients
2 lb Rigatoni
2 lemons
2 lbs asparagus, chopped into 1" pieces
8 oz parmesan cheese, grated
3 garlic cloves, chopped
Extra virgin olive oil
Kosher salt and pepper
Directions:
Bring a large pot of water to a boil and add 2 Tbs salt. Add the pasta and cook until firm but not overcooked,
about 8-9 minutes. Drain in a colander and reserve about 1 cup starchy pasta water.
In a large sauté pan over medium high heat add 2 Tbs of olive oil, then add the garlic and cook for 1 minute
while stirring frequently. Add the asparagus and sauté for 5-7 minutes until just cooked but not soggy. Add the
pasta to the asparagus plus ½ cup pasta water, season with salt and pepper and stir.
Remove to a bowl and add 1 cup Parmesan cheese and juice of both lemons. Stir and season with salt and
pepper as needed. Serve pasta in bowls with fresh Parmesan on top.