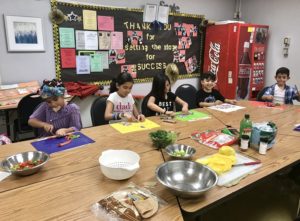 With the school year around the corner, LIFT Enrichment is prepping our summer calendar.
Imagine, your kids learning to make delicious and healthy foods for YOU.
Invest in them learning the culinary arts when they're young and they'll learn:
Nutrition
Culture
Dining Etiquette
and how to make tasty homemade food for your family.
Our theme is "Cooking Around The World" and features
Asian Cuisine: Orange Chicken; Cauliflower Rice with Veggies;
Mexican Cuisine: Veggie Quesadillas with Mango Salsa; Santa-Fe Salad with Cilantro-Lime Dressing; French Cuisine: Ratatouille Stew with Garlic-Herb Toast, Quick Chocolate Mousse;
American Cuisine: Grilled Cheese & Broccoli Slaw, Chocolate Pancakes with Whipped Cream;
Italian Cuisine: Pasta alla Primavera, Caesar Salad with Homemade Croutons
Our camp is taking place in West LA, San Fernando Valley, Ventura, Thousand Oaks, Simi Valley, South Bay and the San Gabriel Valley.
Spots are filling up quick, with some locations already full and a waitlist started.
To see the whole list of summer options, go here
If you have any questions, feel free to give us a call and we'll help you get registered at 310 890 8704
See you this summer!
Best,
Eric