Looking for a delicious and healthy version of pasta carbonara?  Check out our vegetarian version with peas and spinach.
Chef Confession: Cooking can be a little tiring, especially dinner.  After a long day at work, it would ultimately be more practical to order food, but when I feel like whipping up a dish that's comforting and healthy, I make Veggie Pasta Carbonara with Peas and Spinach.  It's an easy, nutritious, good ol' pasta dish that's full of protein from the eggs and vitamins from all the greens.
How it's good for you
Veggies:  Spinach and peas have a lot of nutrients including:  Vitamin K (good for your blood), Vitamin A and Beta Carotene  (good for your eyes) and Vitamin C (good for your immune system)
Carbohydrates:  The pasta provides you with energy replenishment, which kids especially need after a long day of playing and running around at recess and after-school sports.
Protein:  The eggs have protein, which is great for building and maintaining muscle.
The Origins
"Pasta alla Carbonara" is an Italian pasta dish from Rome based on eggs, cheese, bacon (guanciale or pancetta), and black pepper.  It's popularity comes from it's delicious combination of savory guanciale (which is like a high-end bacon), melted Parmesan, eggs and hot pasta.  The black pepper adds a little bit of bite to an otherwise creamy dish.
How I Make It Healthier
For my own healthy,  version :
No ham or bacon.  I use spinach and peas instead.
No Butter or Heavy Cream, which can be found in classic Carbonara recipes.
Carbonara is the easiest pasta dish because it can be made in the time it takes to cook the pasta.  It's best served straight from the pot, so make sure your guests are sitting down and ready to dine!
Veggie Pasta Carbonara with Peas and Spinach (Full Meal in 30 mins )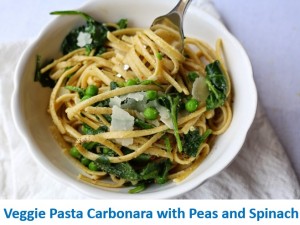 Active Time: 30 min     –     Start to Finish: 30 min       Serves: 6
Ingredients
¾ lb linguine pasta
4 large eggs
½ cup ricotta cheese
1 lemon, zested
1 cup frozen peas
1 cup baby spinach
½ cup Parmesan cheese, grated + extra
Olive Oil
Salt and ground black pepper
Directions
Bring a large pot of water to a boil, season with salt and cook linguine according to the package instructions.
Meanwhile, crack eggs in a small bowl and beat with a fork.  Season with a pinch of pepper and stir in ricotta, Parmesan and lemon zest.
When the the pasta has 3 minutes left, add the peas.  Then drain the pasta and peas and return them to the pot.  Reserve a little bit of the cooking water.
Add the egg mixture and spinach to the pasta and stir frequently using tongs.  The residual heat will cook the eggs until it's nice and creamy and add a little cooking water as needed to loosen the pasta.
Serve warm with extra Parmesan on top.