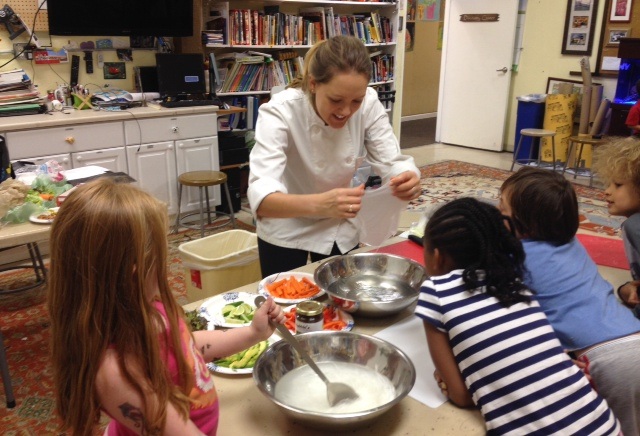 This Winter Session LIFT Enrichment's Cooking Class is taking a deep dive into Asian food, because it's healthy, popular and DELICIOUS.
Most kids are familiar with sushi, orange chicken, fried rice and other treats they've eaten at restaurants.  However, restaurants often add flavor-boosting elements that are not healthy, such as deep-frying orange chicken cutlets or cooking with an unnecessary amount of oil, butter, sugar and salt.  Fat is flavor!
How We Make It Healthy(er)
Here's a prefect example of the difference between a dish served at a restaurant or in a LIFT Enrichment classroom: Orange chicken.
If you go to PF Changs or Panda Express, this dish is made of bite-size chicken pieces that are breaded and deep-fried.  The sauce is made orange flavorings and a significant amount of sugar and spices.  It's crispy, sweet, salty and, of course, tasty!  Kids love it!
Here's How We Teach Orange Chicken
The LIFT Enrichment approach is to start in a similar way by breading boneless, skinless chicken breast in flour, eggs and bread crumbs.
We'll then cook the chicken in a few tablespoons of oil, which is called a "par-fry".   This involves a lot less fat than your typical deep-fry at a restaurant which uses several cups of oil.
Next up, our sauce is made out of SIMPLE ingredients:  Fresh orange juice, a tablespoon of honey, garlic, ginger and soy sauce.  When combined with the cooked chicken it provides just the right amount of citrus, sweetness and salt, without going overboard.
Other Dishes We'll Make This Session in a Similarly Health-Conscious Way
Homemade Sushi Rolls
Ramen Noodles
Pineapple Fried Rice
Chicken Satay
Pad Thai Noodles
Sticky Rice with Mango
Asian cuisine tends to favor simple ingredients cooked in a fast manner with vegetables tucked mixed in.  Pad Thai Noodles and Fried Rice are examples of carbs flavored with a bit of oil, soy sauce and garlic combined with vegetables such as green onions, carrots, bell peppers and bean sprouts.
Most of our recipes involve a LOT of chopping, and kids like to chop in our class
Don't worry, we teach kids how to chop in a SAFE.  We'll pre-cut vegetables into strips and have them use a kid-friendly knife to chop them into smaller pieces.
This process connects kids to their food.
It also encourages picky eaters to try the food they made!
What To Expect This Session
One of the best parts about a Cooking class, for parents, is picking up their kids and getting a tasty sample!
Get ready for bites of sushi, sticky rice, noodles, spring rolls, soups and more!
To register for a Winter Session Cooking Class, Click Here
Classes start in January and will fill up quickly!