Whole Wheat English Muffin with Fruit Salad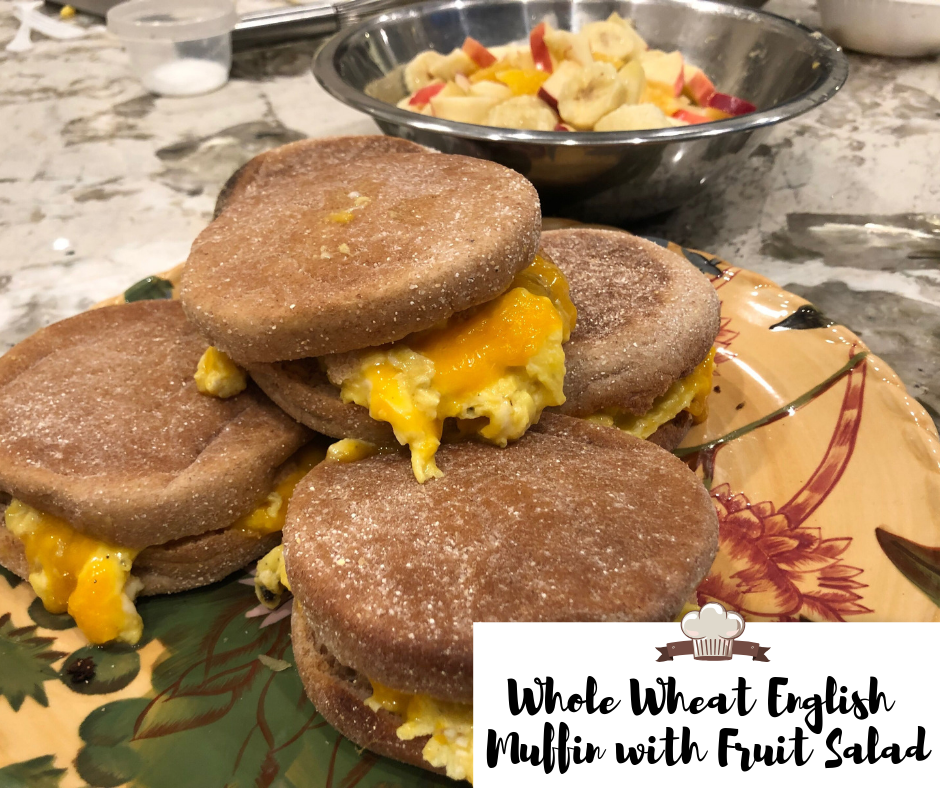 This quick and easy breakfast is nutritious and filling. A warm hearty English muffin is paired with a fresh fruit salad.
Active Time: 15 min – Start to Finish: 30 min
Ingredients
18 Whole wheat English muffins
8-oz cheddar cheese, freshly grated (it melts better when hand-grated)
18 eggs
3 apples, chopped into bite-size pieces
3 bananas, chopped into bite-size pieces
2 oranges, peeled and chopped into bite-size pieces
Kosher salt & black pepper
Extra-virgin Olive oil
Directions
In medium bowl combine apples, banana, and oranges, then set aside.
Slice the English muffins in half. In a large pan over medium-heat pan add 2 Tbs of olive oil and toast the inside of each muffin for 1-2 minutes until browned. Do this in batches to nicely toast each muffin so the sandwich has more texture and taste.
In a large bowl whisk the eggs with 1 tsp of salt and fresh black pepper. In a large pan over medium heat add 2 Tbs olive oil, then add eggs and cook until scrambled, about 2-3 minutes. Turn off heat, top with shredded cheese and let sit for 1 minute to melt the cheese.
To make the breakfast sandwich, scoop the egg topped with cheese into each English muffin, serve with a side of fruit salad and enjoy!