Celebrity Chef Aaron Sanchez has a swagger that's fun to watch on shows like "Chopped" or "Masterchef"
He's a Mexican-American chef whose food style brings in spice, unique flavors and creativity.
When working on the curriculum for our Food Network Favorites theme, I wanted to bring a strong-vegetable dish to our classes.  
Something that a vegetarian could serve as an entree because it was filling, tasty and satisfying.
These Corn and Zucchini Cakes do EXACTLY that.
=>  Watch my video tutorial for Corn & Zucchini Cakes, taught to 1,100+ students this Fall 
Below is the recipe, but the video makes it easy to follow.  
Just a few tips before you get started
Drain the zucchini as long as you can in a colander!    We don't have a lot of time for that in our 1-hour classes, but if you can leave it for 30-60 minutes, a lot of the moisture will escape.
Kids love flipping the cakes.  

Let them have some fun at home!

Add more flour as needed.

While making the cakes, the batter will become more soggy the more it sets, so add a bit flour as needed about halfway through making the cakes.
This dish is SOOO GOOD as a side dish to grilled meats, but also work PERFECTLY as an entree with a bit of sour cream, fresh lime and maybe a side Kale Salad (link to youtube vid)
Enjoy this recipe!
I've got to get back to working on my super secret project that will dramatically help parents like yourself improve your family's health, weekly meal plans and love of cooking.
=>  Watch my video tutorial for Corn & Zucchini Cakes, taught to 1,100+ students this Fall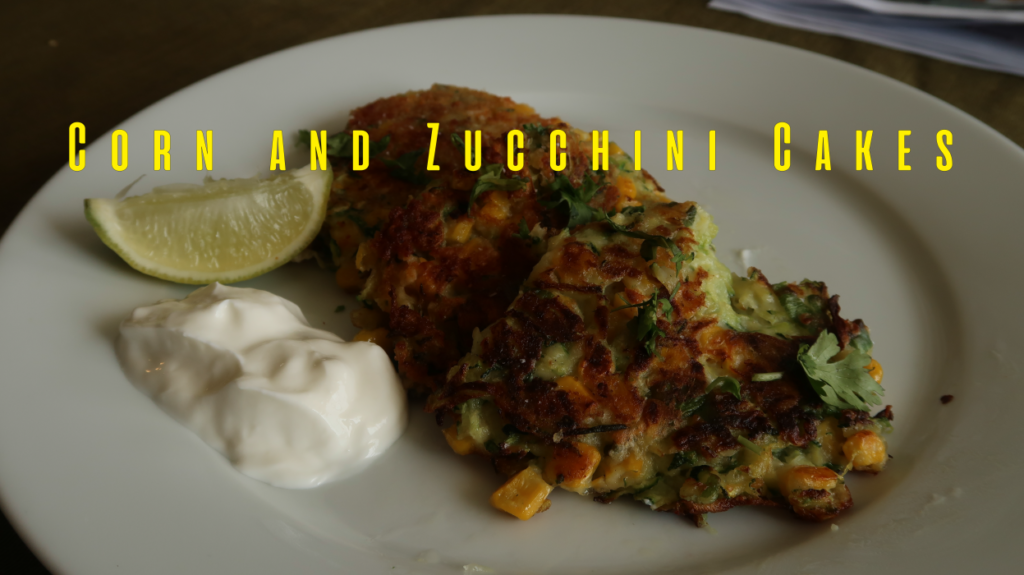 You've never had pancakes like this with zucchini and corn…they are delicious!
Active Time: 20 min     –     Start to Finish: 40 min   –     Serves: 12
Ingredients
4 zucchini, grated
2-14oz can corn
4 green onions, chopped
2 egg
1 cup all-purpose flour
1/4 cup cilantro, chopped
3 limes, sliced
2 garlic cloves, chopped
1 cup sour cream
Extra-virgin olive oil
Kosher salt and black pepper
Directions
In a colander, toss the shredded zucchini with 1 teaspoon of kosher salt and let sit for 5-10 minutes to drain.  Then use your hands to squeeze the zucchini to reduce as much water as possible, then place in a medium bowl.
In a bowl add the green onions, corn, egg, flour, juice of 1 lime, 2 tsp salt and pepper and mix to combine. Stir in the squeeze zucchini into the batter, mixing just to combine.
In a large pan over medium-high heat, add 2 Tbs olive oil.  Add ¼ cup batter and flatten with a spatula, continue 3-4x to add more pancakes to the plate.  Cook for 3-4 minutes, until golden brown, then flip and continue cooking until golden brown, another 2-3 minutes.  Remove to the paper towel-lined plate and season with a pinch of salt. Continue until all the batter is used, to make about 12 cakes.  Serve warm with sour cream.
Your Heading Here
Corn & Zucchini Cakes from Aaron Sanchez