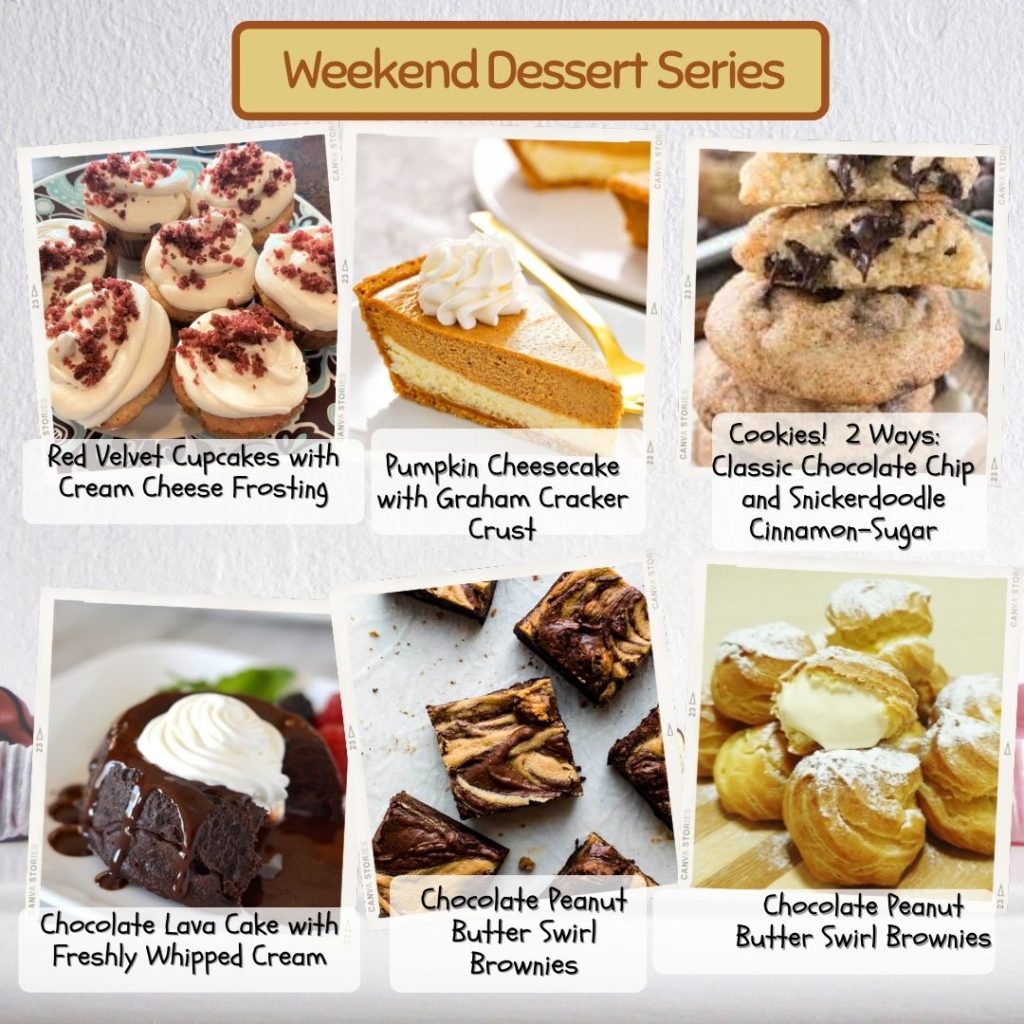 We just launched our Weekend Dessert Series starting on September 18th!
=> Join our Weekend Dessert Series. 10% off until August 30th!
Learn key baking techniques and culinary fundamentals as your kids learn to make incredible desserts.
What if your child could learn the secrets of baking delicious desserts?
This 6-week series guides students through online cooking classes taught LIVE by our enthusiastic Chef Teachers to develop your child's confidence for making amazing treats at home. Plus each lesson teaches kids about culture, math, measuring, baking, temperatures, science and more! It's a fun and exciting class that your kids will look forward to each week!

Lessons include:
Red Velvet Cupcakes with Cream Cheese Frosting
Pumpkin Cheesecake with Graham Cracker Crust – Chef Eric will teach this!
Cookies! 2 Ways: Classic Chocolate Chip and Snickerdoodle Cinnamon-Sugar
Chocolate Lava Cake with Freshly Whipped Cream
Chocolate Peanut Butter Swirl Brownies
Cream Puffs with Vanilla Custard
Weekend Dessert Series Details
Ages: 8-13 (younger can join, with adult supervision)
Lessons: 6 (90 minutes each)
Hours of Instruction: 9
Time: Saturdays, 11:00am-12:30pm PST
Dates: 9/18, 9/25, 10/2, 10/9, 10/16, 10/23,
Price: $180 per signup (10% off until August 30th!
Grocery shopping add-on: additional $240 ($40 per lesson x 6)
We have limited capacity to make sure each child gets individualized attention. It's First come-first serve.
=> Join our Weekend Dessert Series. 10% off until August 30th!