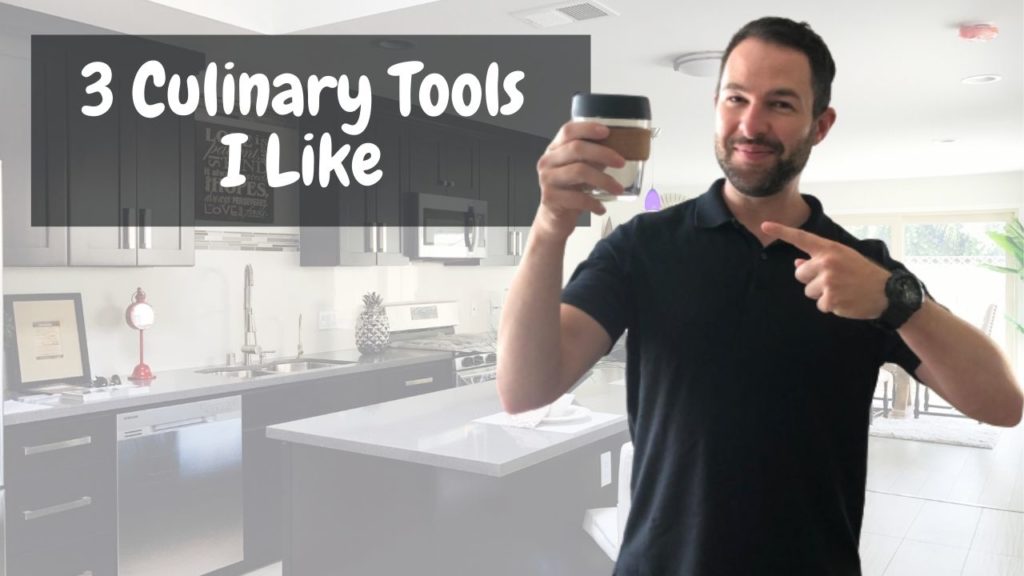 In March my post on "Chef Picks: 3 culinary items I like" got a lot of emails, so I'm back with more of my favorite items that could be a good fit in your kitchen to save time and energy.
Funny side note: A lot of my friends and family bought the $10 Mr. Coffee Warmer, to keep your beverages nice and hot at home.
Let's keep the coffee theme going with…
No. 1 Keep Cup –
I enjoy taking my hot coffee on the go but needed something that would keep it warm and be a pleasure to drink. After some research, the Keep Cup (link above) won me over.
It's got tempered glass to keep your beverage warm, a comfy cork grip on the outside and it's great for sipping on the go. Now, if I make a quick drive to San Diego to pick up some supplies, I've got a hot beverage by my side.
No. 2 Oxo Good Gripp Handheld Spiralizer
This is the easiest (and simplest) way to turn zucchini into zucchini noodles. Considering that we've got a virtual cooking camp coming up, with zucchini noodles on the menu, this was the best device to spiralize veggies. I've purchased larger items before, but I like that this one is easier to clean and takes up very little space.
Plus, it's safe to use with kids. Definitely grab one (It's only $16) if you want to have fun making noodles from veggies
No. 3. Oxo Non-Stick Pan 12" –
Home cooks need to go into their cupboard RIGHT NOW and look at their nonstick pan that they probably haven't replaced for years.
Unfortunately, non-stick pans degrade significantly over time, to the point where you're frying an egg and the egg is almost entirely stuck to the pan. Unlike cast iron or stainless steel pan, you'll need to buy new nonstick pans much more regularly.
Also remember to NEVER use high-heat when cooking with non stick and instead always cook on low or medium heat and to use non-abrasive sponges.
Even if you're very diligent on how you treat your nonstick, it's time to just replace it. I replaced mine recently and it made cooking….so much better. You won't need to use much oil, and your next omelette will come out perfectly.
I Hope these tips helped! Drop a comment below if YOU bought something that made cooking easier in the last month.
Quick reminder: Virtual cooking camp is running June 15-Aug 10.
Week 1: "Mangia Italiano" starts June 15-19 and features over 15 delicious and healthy recipes your kids will LEARN to cook at home with our virtual experience with amazing Chef Teachers.

It's just 9am-12pm, Mon-Fri and designed to add some education and fun to your child's summer, plus amazing food. Join today at www.virtualcookingcamp.com