If you're cooking with kids it's NOT that easy.

You've got a stove with a flame to worry about

You've got cutlery and sharp knives within arm's reach.

And you've got raw foods to think about.

I've got you covered, with some tips from the Kids Can Cook Master Class (link) that's 50% off (for a bit).

Equipment 1:  Electric Hot Plate – Oster

This is what I use in my Youtube videos and I upgraded from the 12" to the 16" because it gives me more surface area!

I can cook more food, for larger classes of kids!

At-home, I put it on my kitchen's island so I can cook FACING the camera.

It's the same thing we'd do in a school (if schools were open!)

At-home you can face your kids OR have them by your side.

It's only $40 and there's NO flame, just be careful because it does get hot quickly (which is a GOOD thing for cooking!)

Equipment 2:  Cutting Board for YOU and for KIDS

I NEED a big cutting board, at least 12"  

The surface area helps me chop foods without making a mess.

Here's one for less than $15 on Amazon (Link)

Kids need a special cutting board that makes cooking fun.

It needs to be light and colorful.

So use these Amazon (link) 

They are technically used for different types of foods (fish, meats, vegetables, dairy, etc.)

But they work great at home to make the cooking experience SPECIAL for your kids.

Equipment 3:  Presto Electric Knife Sharpener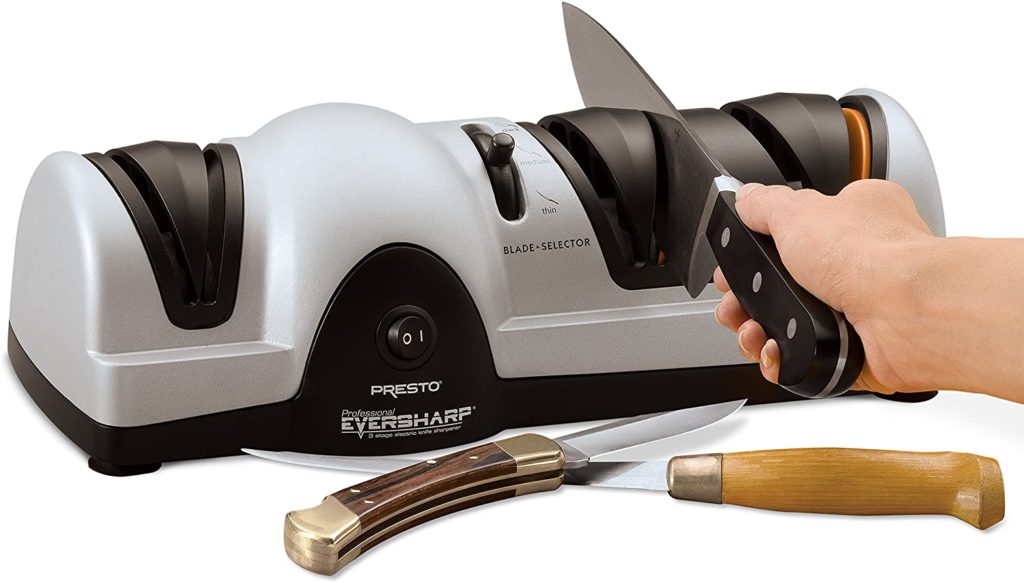 Here's the Amazon link

This sharpener has saved me

MONEY:  Probably $40 a month, that would spend getting my knives professionally sharpened

TIME:  2 hours per month, going to and from my local farmer's market to get my knives sharpened

And it only takes me literally 5 minutes to sharpen a knife VERY well.

A sharp knife is SAFER and makes cooking EASIER.  

A dull knife makes live hard and can get you cut, because instead of getting clean cut your knife can slip while chopping that onion and nick your hand. (it's happened to me!)

While the sharpness won't be as exact as one you'd get from a professional, this is a great thing to use every week or two.

It takes so little time, maybe a few minutes per knife, and it's exceptionally safe (for parents, this is not for kids).

You just drag your knife through each of it's sharpening segments about 10 times.  

Bring a tomato and see how it cuts BEFORE you sharpen and then AFTER

And it's under $60 and you'll use it for life.

I hope you enjoyed these culinary equipment shares.  I can't give away all my goodies, but if you want to learn more about key equipment while cooking with your kids at home.

Join the Kids Can Cook Master Class (link)  It's an online course that gets your kids cooking healthy meals, so they can lead healthy lives!  Plus you get to bond with them in the kitchen and create magical moments makign Healthy Orange chicken or a Pan-seared steak dinner!

=> Join the Kids Can Cook Master Class and get more equipment tips!

Eat well,
Chef Eric