I wanted to share with you my FAVORITE Orange Chicken recipe.  Kids love it and it tastes wayyyy better than the type you'd get at a Chinese restaurant.  One key element is that I do a partial fry (meaning I use a few tablespoons of oil) rather than a deep fry , which is more common at restaurants.  I find you can get a nice, crispy bite in each piece of chicken with the par-fry without using several cups of oil.
The sauce is also super easy and only requires: orange juice, soy sauce, honey and cornstarch.  The OJ provides the citrus flavor, the soy sauce a savory kick, the honey for sweetness and the cornstarch to thicken the sauce.
When I make this in class, I only need to get the chicken, green onions, ginger and OJ because the other ingredients I usually have on hand.  Here's why kids love making Orange Chicken from scratch.
1)  Breading chicken is fun!  The recipe requires dunking chicken pieces in flour, eggs and breadcrumbs.  When I make this recipe in our after-school class or summer camp, the kids have a blast breading the chicken…and at the same time breading their fingers.  We always talk about the importance of kitchen safety when it comes to working with raw chicken, such as not touching other people after coming in contact with raw chicken as well washing your hands thoroughly before and after.
2)   Kids Like Measuring and Mixing The Sauce  The key to get kids in the kitchen is to know what elements you the adult should do, and what elements the kids can help with.  In this recipe, there is some cutting the adult must do, but plenty for the kids such as measuring and mixing the ingredients for the sauce.  I like to have students do all the measuring by themselves, and they feel proud that they mixed the ingredients on their own.
3)  This Dish Tastes Great! (and it's a good source of protein)  The sweet and savory combination is something I've seen many kids (and adults enjoy).  Plus it's an excellent source of protein for kids, which is important for muscle growth.
So next time you're feeling a craving for some Chinese food, make a quick trip to the market with your kids, grab some food and create a memory making Orange Chicken from scratch.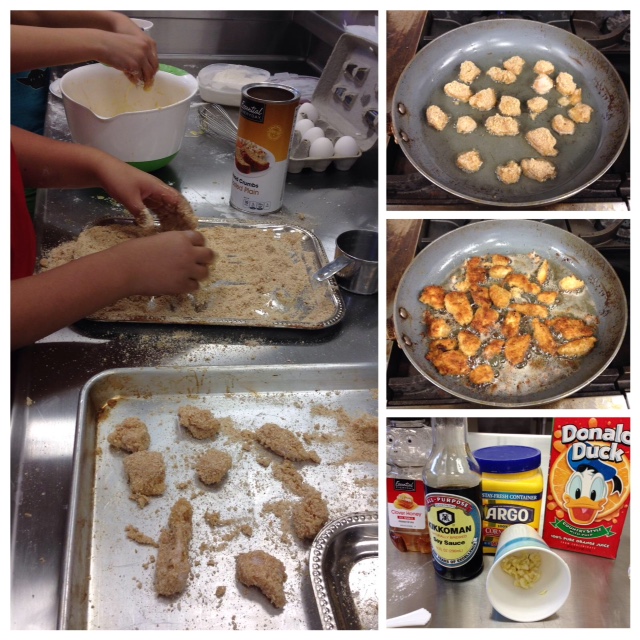 Orange Chicken
By Chef Eric Horwitz
Ingredients
1 cup all-purpose flour
3 eggs, whisked
2 cups breadcrumbs
1.5 lb boneless, skinless chicken breast, cut into bite-size pieces
1 garlic clove, minced
1 Tbs fresh ginger, minced
1 cup orange juice
¼ cup honey
2 tablespoons soy sauce
1 tsp cornstarch
¼ cup green onion, chopped
Vegetable oil, for frying
Cooked Jasmine Rice
Kosher salt
Directions
Place the flour, eggs, and breadcrumbs in three separate bowls.  Season chicken with a pinch of salt.  Take a handful of the chicken pieces and place them in the flour making sure to coat each piece evenly.  Dust off the excess flour and put the chicken into the egg mixture to coat.  Next put the chicken pieces in the breadcrumbs, shake off excess and remove to a plate.  Continue until all chicken is breaded.
Heat about 3 Tbs oil in a large sauté pan over medium heat.  When the oil is hot, add the chicken pieces in small batches and fry until golden brown, about 2-3 minutes per side.  Transfer the cooked chicken to a plate lined with paper towels to remove excess oil.  Season with a small pinch of salt.  Repeat in batches until all the chicken is cooked.
In a bowl, whisk together orange juice, honey, soy sauce and corn starch.
Clean pan and then add 1 Tbs oil over medium heat.  Add garlic and ginger and cook for 30 seconds, stirring constantly.  Add orange juice mixture and let cook until the sauce is thickened and syrupy, about 3-5 minutes.  Add chicken to pan and cook for 1 minute, while stirring.
Serve orange chicken over rice topped with green onion.
Want your kid to learn how to make Orange Chicken from our Chefs?  Sign up for Summer Camp Here
Read More:  Super Easy Salmon Teriyaki with Brown Rice and Veggies
Written by Eric Horwitz, CEO, Chef and Lego Master of LIFT Enrichment