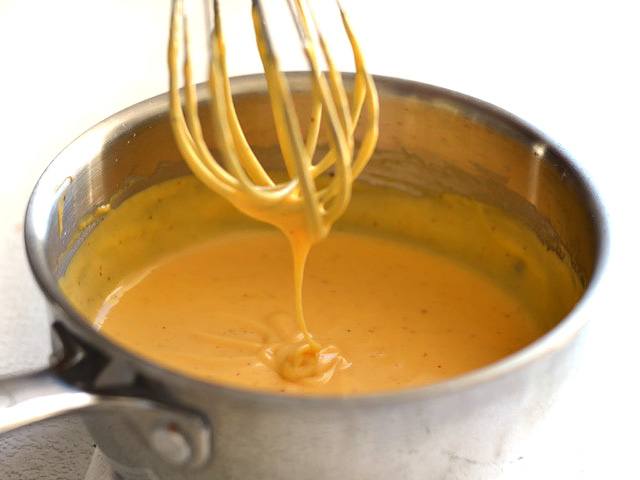 Can you make nachos without an oven?  If so, how are you going to melt the cheese?
Do you have a blow torch handy?
If not, read on ahead to find out how we teach kids to make Nachos Especiales in our after-school Cooking class with no oven in site.
Tip 1:  Instead Of Melting Shredded Cheese In An Oven, Make A Nacho-like Besciamella Sauce
(Aside:  First off, I know what you're thinking…nachos isn't healthy!  No, it's got a good amount of fat from the cheese, milk and oil used to make the tortilla chips.
That being said, this is our first lesson of our Mexican & South American themed session.  We start with the nachos to get the kids excited about cooking and then follow it with Santa Fe Salad with Black Beans, Corn and Cilantro-Lime Dressing and soon a Peruvian Quinoa Soup.  When you work with kids we find it best to follow the one-for-you and one-for-me model when it comes to healthy and less healthy dishes.)
When you're making a lasagna, you make a creamy sauce called a "besciamella" which is made of melting 2 Tbs of butter.  You add 2 Tbs of flour and slowly add 1 cup of milk over medium heat until it thickens to become a delicious, Alfredo-like sauce.  We then add some chili powder and shredded cheddar cheese to give it that distinct Nacho flavor.
The result is a gooey, delicious cheese sauce, similar to what you might order at a baseball game BUT it's made from REAL ingredients.  There are no artificial chemicals like "Yellow 5" which is not good for your body for a number of reasons.
Instead, we're using butter, flour, cheddar cheese, chili powder and that's it!
Tip 2:  Make Your Chips From Scratch, With A Lot Less Oil Using The "Par-Fry" Method 
Problem 1 with store-bought chips:  They're too salty.
Store bought chips tend to be loaded with excess salt.  You can compare them to a more mildly salted chip you'd get at a restaurant, which pairs much better with perfectly seasoned salsa and sauces.
Problem 2 with store-bought chips:  There are too many chips in a bag.
Have you ever tried to buy a small bag of tortilla chips?  They don't exist!
When I'm craving nachos, I just want one portion to enjoy with friends and family.  However, if it's just 2 or 3 people, you end up having a lot of leftover chips.  This is great if you have a lot of will power as they sit in your cupboard, but I don't.
It's as if the chips are constantly calling my name form 6:00am-12:00pm.  It's hard to resist the call!
Instead, you can use leftover corn tortillas to make just enough chips for a meal.  Here's the gameplan:
Slice the tortillas into triangles.  Over a large pan add 1/4 cup of oil, over medium heat.  You can then "par-fry" the chips in batches, which is using oil to not fully submerge the chip.  This saves you cooking oil and makes them slightly more healthy than their deep-fried brethren.
Remove the chips to a paper towel-lined plate, season with a pinch of salt and a squeeze of fresh lime.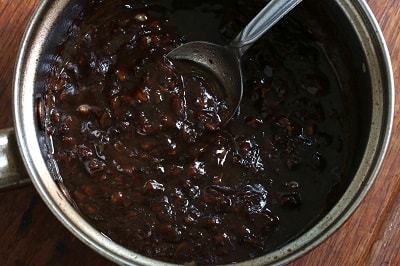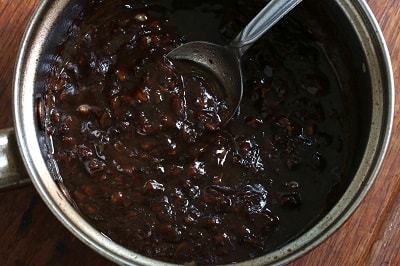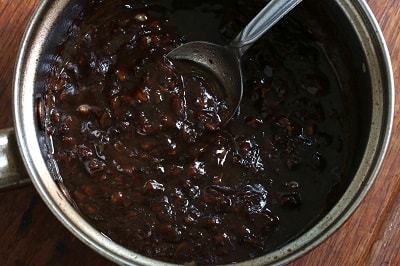 Tip 3:  Don't Buy Salty Refried Beans, Make Your Own In A Snap
Canned refried beans have a lot of extra salt.  Instead, you can make a simple and flavorful bean paste to go over your nachos.
Take a can of black beans, rinse and drain them.  In a pan, add olive oil and cook 1 chopped onion and a bit of garlic for a few minutes.  Add the black beans, chili powder, cumin, salt and heat for 2-3 minutes.  Take the back of a fork to mash the beans until they form a paste-like consistency.
To assemble nachos:  On a plate layer your homemade chips, add the bean paste, the cheese sauce and every other fixing you prefer.
Nacho Origin Story:  Where Did They Come From?
Nachos was first created by Chef Ignacio Anaya in 1943 in Coahuila, Mexico which is just a little bit south of Texas.  One day, a group of wives of U.S soldiers that were stationed at a nearby army base came to his restaurant, but discovered the restaurant had already closed.
Ignacio opened his restaurant just for them and made a snack with the few ingredients he had available in the kitchen: corn tortillas and cheese. He cut the tortillas into triangles and fried them, then shredded the cheese.  On a platter he added the chips, topped them with the cheese and quickly heated them in the oven and served them.  The wives loved the snack!
He named the dish "Nacho's Especiales" because "Nacho" is the Spanish nickname for Ignacio.  The dish traveled up north through Texas and the apostrophe was lost and it became known as"Nachos Especiales" or "Special Nachos"  Now you can find Nachos all over the U.S and Mexico.
Our Nacho Recipe We Teach Kids In our After-School Class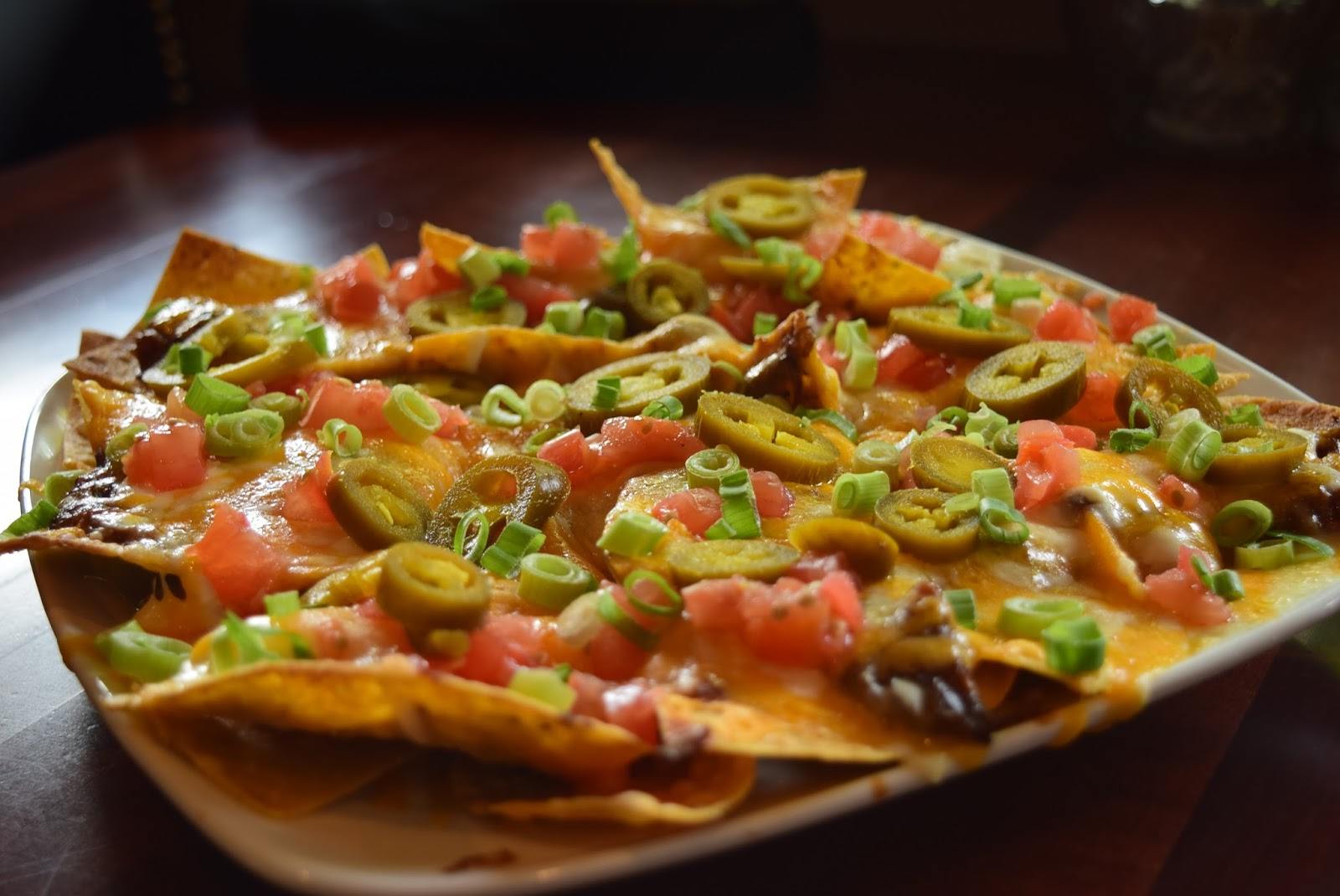 Ingredients |
1 large bag corn tortilla chips
4 roma tomatoes, cut into small pieces
½ red onion, cut into small pieces
1 14-oz can black beans, drained
2 garlic cloves, chopped
3 Tbs vegetable oil
Cumin|
Chili Powder
Salt & Black pepper
¼ cup fresh cilantro, chopped
For the Cheese Sauce
2 Tbsp unsalted butter
2 Tbsp all purpose-flour|
1 cup whole milk|
2 cups cheddar cheese, shredded (about 16 oz)
Directions
For The Refried Black Beans Spread
In a large frying pan over medium heat, add vegetable and  garlic then cook, stirring frequently for 30 seconds.  Add beans, 1 tsp cumin, 1 tsp chili powder, 1 tsp salt, black pepper and let cook for 5 minutes while moving them around and using the back of a fork to smash the beans until it becomes more like a spread.  Remove from heat.
For the Cheddar Cheese Sauce
In a pot over medium heat, add butter and stir until melted, then add flour and cook for 1 minute, stirring frequently.  Add the milk and stir for 4-5 minutes until the mixture has thickened and coats the back of a spoon.  Turn off the heat and add the cheddar cheese, ½ tsp salt, ½ tsp chili powder and stir until blended.  Taste and adjust seasoning as needed.
On a large plate, add the chips and top with tomatoes and onions.  Spoon the bean spread on top and then add the cheddar cheese sauce.  Garnish with cilantro and serve!
Camp Update:  August dates are starting fill up, as those are our most popular weeks of camp
==> To join the Cooking summer camp where nachos are served , Go Here
==> To join the Lego Robotics camp that is right next door to the tasty cooking summer camp where you get nacho samples, Go Here
Locations:  Santa Monica, Sherman Oaks and Torrance
Dates:  Jul 24-28, Jul 31-Aug 4, Aug 7-11, Aug 14-18
Day/Times:  Monday-Friday 9am-12pm (half day) or 9am-3pm (full day)
Ages: 5-12
Spots are filling up!