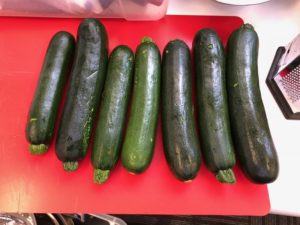 Getting kids to eat their vegetables is NOT an easy task.
Kids often complain that:
– tomatoes are bland and watery
– kale is too bitter, sharp and not fun to eat (or drink)
– broccoli is crunchy with no flavor.
They might only eat these foods when bribed with desserts coming on the way.
But, we've got some tips for you on how to get kids to eat their vegetables.
Tip 1:  Have kids INTERACT with raw vegetables.
Get kids involved in:
Picking the vegetable at the grocery store
Washing and drying veggies
Chopping vegetables into small pieces (We do this in class by pre-chopping onion, bell pepper, zucchini, etc. into strips that students can chop easily with a metal butter knife to get familiar with chopping)
Tip 2:  Use the Italian trio to boost flavor:  Olive Oil, Lemon & Parmesan
These three ingredients are game changers when it comes to make vegetables taste amazing.
Cook with the healthy olive oil, which will also add flavor
Finish the dish with a squeeze of lemon and pinch of Parmesan.
This is how we elevate our Zucchini Noodles to a level where kids are impressed with the final dish.
Tip 3:  Taste, Taste and Season
Most home cooks don't properly season their food, or even take a bite to see if their food is good before you serve it!
This tip is so important it's part of our daily Rules of the Culinary Classroom (it's No. 4)
As important as it is to make sure your kids are eating vegetables, why not use the "free time" known as summer break to give them a headstart on healthy eating?
Instead of just going to a regular camp, why not experience a camp with:
– 2-3 recipes each day where kids will learn to make healthy foods that are so tasty they'll cook them for you the rest of the year
– Daily education on nutrition with a focus on how plants have important vitamins that improve your body
– Focus on dining etiquette so your children have proper posture while they eat and don't chew with their mouths open
– Fun, fun and more fun as they have a great time, meeting friends, bonding with our Chef Teachers and experience education wrapped up in an interactive cooking class
Below is our Summer Camp calendar.  It's only May and some camps are ALREADY full.
We partner with Parks & Rec and other camp programs so you can go to their websites, linked below.  If you have any questions or need help enrolling call us at (310) 890-8704 or email info@liftenrichment.com and we'll walk you through it.
Location

Day of the Week & Time
Dates
Lessons
Status

San Gabriel Valley

Alhambra – City of Alhambra Parks & Rec
Mon – Fri
9:00am-12:00pm
6/25 – 6/29
7/23 – 7/28
5

5

Register online HERE
Arcadia – Arcadia Parks & Rec
Mon – Thurs
3:30pm-5:00pm
7/9-7/12
7/16-7/19
4
4
Register online HERE

Simi Valley / Moorpark

Moorpark – Arroyo Vista Rec Center
Mon – Fri

9:00am-12:00pm

6/18-6/22
7/23-7/27
5
5
Register on
Arroyo Vista Website
Simi Valley – Simi Valley Parks & Rec
Mon – Fri

9:00am – 12:00pm

8/6-8/10
5
Register on Simi Valley
Parks & Rec website

Ventura / Thousand Oaks

Thousand Oaks – Conejo Parks & Rec
Mon – Fri
9:00am – 12:00pm
6/25-6/29
7/9-7/13
5
5
Register online HERE
Ventura – City of Ventura
– Barranca Vista Center
Mon – Fri

9:00am – 12:00pm

6/25-6/29
8/6 – 8/10
5
5
Register online HERE

San Fernando Valley

San Fernando Valley – Egremont School
Mon – Fri
9:00am – 12:00pm
6/25 – 6/29
5
Register online HERE

West LA / Miracle Mile

West LA – Santa Monica – Santa Monica Parks & Rec
Mon – Fri
9:00am-12:00pm
7/2-7/6
7/9-7/13
4
5
Register Online HERE
West LA – Pacific Palisades – Village School
Mon-Fri
9:20am – 12:05pm
7/2-7/6
4
Register Online HERE
Miracle Mile – Marlborough School
Mon – Fri
1:15pm-2:45pm
6/25-7/27
24
Register Online HERE
FULL

South Bay

South Bay – Redondo Beach – SPLASH Day Camp
Riviera Hall Lutheran School
Mon – Thurs
9:00am – 12:00pm
7/16-7/19
4
Register Online HERE
South Bay – Manhattan Beach –
City of Manhattan Beach
Mon – ​Fri
9:00am – 12:00pm
8/13 – 8/17
5
Register Online HERE
What if there is no camp in you area?
We'll bring the cooking camp to you!
LIFT Enrichment is offering a small number of private camp experiences that are 3-hour camps (i.e. 9am-12pm, during the weekday) with two chef teachers teaching two healthy recipes of your choice for 8-12 kids total.
This is ONLY for members like you of our VIP newsletter who have previously registered for one of our cooking programs
It's all the expertise of our cooking workshops but in the comfort of your own room.  Each camp day is 3-hours long, has TWO Chef Teachers and costs 499 plus ingredients ,which comes to a bargain rate of $41 per student.
Most cooking camps cost $60-$75 per student for a 3-hour class.  Our is $41 with 12 students.
To learn more, simply reply back to this email or give us a call.
=> Learn to cook this summer with LIFT
Best,
Chef Eric