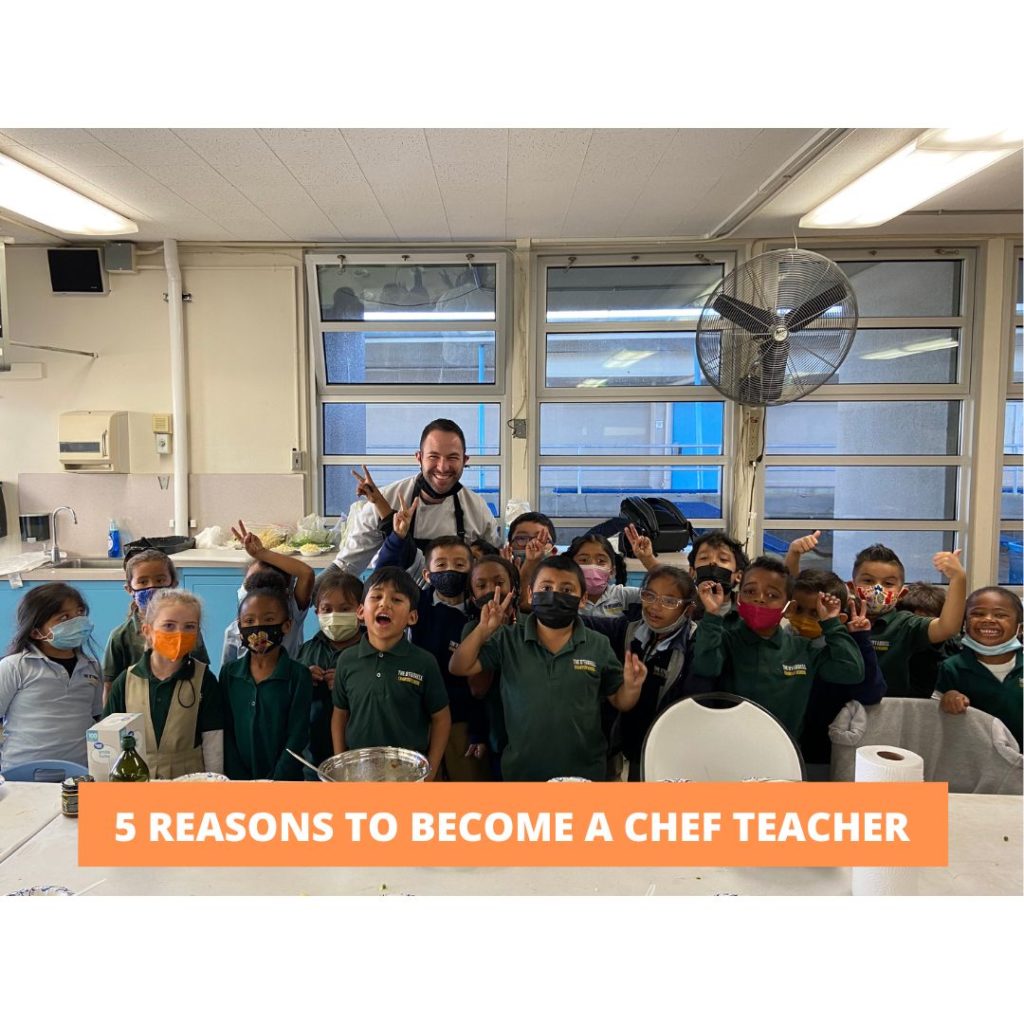 The core of what we do is teach healthy culinary workshops to low-income/Title-1 schools and the key part of those lesson are our team of amazing Chef Teachers. We spend a lot of time, energy and money screening, hiring, training and supporting our Chef Teachers, which live close to each site we partner with.

Here are the top 5 Reasons To Be A Chef Teacher with LIFT Enrichment

1. We are the highest-paying after-school enrichment providers to our staff at a rate $70+ per class!
Most after-school companies pay about $40-$45 per 1-hour workshop. At LIFT Enrichment, we pay $70-$80 per 1-hour workshop! (almost twice as much!). There's a key detail to understand.
Most after-school companies say "Earn $40 per 1-hour class!" and people think they're earning $40 per hour. But they're not. If you consider the travel time (say 45 minutes each way), plus early arrival time of 20 minutes, and 10 minutes of cleanup that's 1.5 hours + 1 hour class + 30 minutes prep/cleanup = 3 hours of work. And you have to somehow get the supplies to teach the class, so it's about 3.5 hours of work which comes to about $11-$13 per hour.
LIFT Enrichment pays our staff $20 per hour. We also tell our Chef Teachers that each 1-hour class is 3.5-4 hours of work (depending on drive time) which is why they make 3.5 x $20 = $70 per 1-hour class. (sometimes it's more)
And besides paying the most per class…

2. We pay mileage to AND from each site to help compensate for gas AND car wear/tear.
This is non-taxable compensation paid at the federal reimbursement rate of $.585 per mile to and from each site. If you drive 20 miles total to each a 1-hour class that means besides making $70 for the class you'll also earn 20 miles x $.585 = $11.70 in mileage every time you teach there. No one else does this…and they just ignore the fact that you are using your own gas and creating wear and tear on your vehicle as you teach!

3. We hire the BEST teachers, and screen well.
If you're part of LIFT Enrichment team you must truly embody our Core Values which include: "Bring the fun". "Get it done" and "Continuous Growth and Improvement". We tend to attract candidates who are great with kids and have solid culinary skills (professional chef training or schooling is not required at all). It's an elite team and everyone gets along because they are like-minded individuals.

4. It's the MOST FUN job you can possibly do.
I'm not kidding. I've taught thousands of hours of in-person workshops and when I sub a class here-and-there it's the best part of my day/week. To see the students get excited to chop veggies is incredible. They love to come up and stir the food and season it. They even get excited to learn the nutrition, culture and science components of each dish. Lastly, when they are eating zucchini, bell pepper and peas… and saying "this is the best pasta I've ever had!" …it's just a fantastic moment! A Chef Teacher gets to experience this EVERYDAY they teach and earn good money doing it.

5. We take care of everything so it's EASY for you to teach and inspire students.
When we hire a Chef Teacher and they go through our training which consists of 4 parts: Video tutorials, LIVE mock class on zoom, assisting classes in-person and a group zoom training, we then take care of everything they need to teach. We ship them a culinary kit to their home. Once we assign them a series of workshops to teach, we ship them ingredients to their home every week so they don't have to travel anywhere. Plus our curriculum is standardized and step-by-step so there's no way to mess it up and you don't have to reinvent the wheel. It's ideal for someone who wants a done-for-you experience where they can lead a really high quality lesson to students.
Ok, but what are the challenges of being a Chef Teacher with us?
The Hours: Since we teach after-school classes, you have to be free in the afternoons, and traffic can be a little tricky before and possibly after each class. (A typical class is 3:00pm-4:00pm at a site). If you have a morning job, that's great BUT if you are looking for full-time work, than this isn't the job for you. The best Chef Teachers tend to do other stuff like: they're in college to be a teacher or they teach part-time yoga classes or they have their own side hustle but want to get out of the house or they just love being around kids.
It's Kinda Seasonal: We work with schools and their calendars vary. Each series is typically 8-10 weeks at a time and there are time when you're teaching 5 lessons a week and other times you're teaching only 1-2 lessons a week. A sample schedule could be teaching at 3 sites Tuesday, Thursday and Fridays and you're teaching 1 workshop a day.
It requires some heavy lifting: Our culinary kit must be loaded and unloaded from your car for each class, and even though we provide a dolly to help with transportation, it's not for someone who can't do a bit of manual labor.
You gotta be ORGANIZED! Chef Teachers are sent exact days, addresses, times and lessons, but if you don't have a solid system to know where you're going and when, this job isn't for you because are clients rely on us to be ready and punctual for each workshop.
If you'd like to work with LIFT Enrichment, you can apply on our website www.liftenrichment.com, Click here to meet with me! or email info@liftenrichment.com and we'll send you a Chef Teacher application.  We only bring in the best Chef Teachers and can train you to have an amazing time inspiring kids to learn to cook healthy foods at home ☺
Get Cooking,
Chef Eric Horwitz