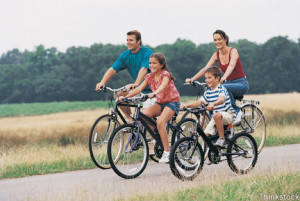 With the holidays on the horizon and Thanksgiving having just passed, kids are getting ready for Winter Break.  This means a lot of time with your little ones, and it can be challenging to find fun activities for them to do.  Kids have a lot of energy and I've whipped up some great activities that are engaging, inexpensive and will create lasting memories.
Another important element I considered is that these activities do not involve being in front of a TV, phone or any type of monitor.  Watching a movie or kicking back with a video game is ok in moderation, but it's important to fill the majority of your child's day with activities that stimulate your child's creativity, brain and sense of adventure.
I hope you try out at least one of these activities during our Los Angeles "Winter"… where it's almost 70° outside and sunny.  😉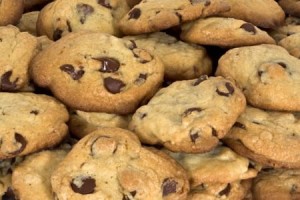 1)  Bake and Deliver Cookies As A Thank You
Time: 3-4 hours
Cost:  $10 (for ingredients)
I've included my go-to recipe for Chocolate Chip cookies that I've used for years at the bottom of this post.  The only warning I have is to TRY and not eat all the dough before you get to baking the cookies, it's that good!
Bake a batch of these, place them in paper plates covered in plastic wrap and  then deliver the cookies to the people around town who help you throughout the year.
Here are some examples of people you could deliver these cookies to:
Mechanic, who has helped you with your car for years, sometimes for free.
Accountant, whose knowledge aids you with end of the year taxes.
Landlord / Apartment Manager, who keeps your home in working condition
Friends and Family, who keep you happy and feeling loved through the year
Each of these people will light up seeing you handing them homemade baked goods!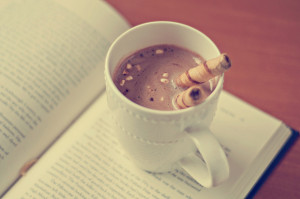 2)  Bike Ride, Books and Hot Cocoa
Time: 2-3 hours
Cost:  $10 (for two hot beverages)
Personally, this is one of my favorite things to do on my own or with loved ones because it involves all of my favorite things:  bike riding, reading and warm beverages.
If you don't have a bike for you and your child stop reading this now and buy one!  You can even get deals on used bikes in good condition at any bike shop.
Once you're set up, your destination is your local library, as there are many throughout Los Angeles.  Find one within 1-3 miles of your home.  If you can't find one close, strap your bikes to your car and park a few miles away so you can get some exercise with your kids.
Bike to your library (be sure to bring a backpack!) and then both you and your child can choose a book or two to borrow.  Grab a DVD as well if you'd like.
The next stop can be a park if there's one nearby or head straight to a local café.  When biking I recommend you stick to neighborhood streets, which are generally safer for small children then going through more busy streets like Wilshire or Santa Monica Blvd.
Enjoy the fresh air and once you arrive at your café, order a latte for yourself and hot cocoa for your child.   Find a comfy couch or table and then start reading!
Afterward, with all that sugar or caffeine rushing through your system, bike home.
I live in West LA and my favorite places to visit by bike are:
Library:  Palms-Rancho Park Branch Library
Park:  Culver City Park
Café:  Café Akasha (they have delicious baked goods) or The Conservatory
To  research libraries around you, you can google search "Library" using google maps.
Book Recommendations:
For Parents:  (Nonfiction / Humor)  Yes Man by Danny Wallace
Yes Man tells the true story of a guy who decided to say "Yes" to everything that came his way, no matter how ridiculous the request.  This behavior lead to a lot of hilarious moments and even a world-travelling journey for love.  Overall it's fun, light reading that may leave you more open to new opportunities that come your way.
For Kids:  The Hunger Games by Suzanne Collins
I just read this first novel a week ago after finding it on my parent's bookshelf.  I was surprised by how engrossing the story was, as it moves briskly with a lot of excitement and drama as you follow Katniss' journey surviving her first Hunger Games.  It does contain violence and dark themes, so I would only recommend it for children who are older and can handle books with some amount of danger and violence, such as the later Harry Potter books.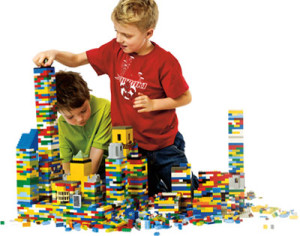 3)  Lego Challenges and Board Game Fun
Time: 2 hours
Cost:  $0 (assuming you already own a pile of Legos and some board games at home)
The key to really getting your child engaged in a Lego activity is to play with them.
Grab a big box of Legos and then give your child one of the challenges below:
Can you build a Lego car that could survive a blizzard?
Can you build a Lego house that would have every cool thing you've ever wanted?
Can you build a Lego plane with cool gadgets?
Play some pop music in the background and for the first 10-15 minutes, help your child build whatever they can dream up.  Eventually they'll get into their Lego-building-zone and you can excuse yourself as they work on the challenge
After about 20-30 minutes, check-in to see what your child built.  Ask them questions and explore the features of what they made.  Put it in some place they can display it.  After cleanup, you can take a break for lunch or a snack.
Next up would be a round of Board Games.
My favorites to play at our camp:
Sorry
Connect 4 (which has nice, quick rounds)
Battleship
Uno (fun with a lot of people)
Older Kids: Scrabble, Checkers, Chess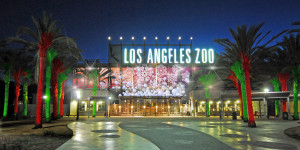 4)  Visit the Los Angeles Zoo
Time: 2-3 hours
Cost:  $20 per adult, $12 per kid under 12
Info:  http://www.lazoo.org/
If you're looking for something out of the box, check out the LA Zoo!  There's nothing quite like hanging out with wild animals from elephants to tigers.  It connects you with nature when you see a turtle slowly and steadily walk around to find some food.
It also reminds me that we are mammals who are meant to move around and be outside!  Kids seem to remember this more than adults.
(I write as I'm sitting at a desk staring at a laptop)
Anyway, zoos are fun…even for adults.  I recently went to the Santa Barbara Zoo and had a great time.
Tip:  Food served at the zoo (for humans) is pricey, unhealthy and not tasty.  (I.e. $14 for chicken nuggets, French fries and a drink).  I guarantee these foods were previously frozen.  Instead, bring a backpack, pack some homemade sandwiches, fresh fruit, water and your favorite chips.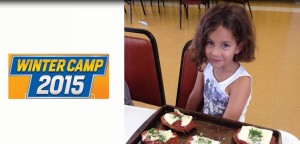 5)  Take your child to Camp!  
My last recommendation is to take your child to Winter Camp!   Camps like ours run year round.
Our current offering are half-day camps Mon-Wed, Dec 21-Dec 23 in Santa Monica at the First Presbyterian Church of Santa Monica
Lego Robotics camps are 9am-12pm with Cooking from 1pm-4pm.  You'll have plenty of time to get some last-minute shopping done as well.  Or use our camp as a reward for your child after doing well in school.
But what if you're not in Santa Monica?  I hunted around for other Winter Camps using Google but could not find much if you're located farther away such as The Valley or Pasadena.
Eventually we'll bring some more camps to these areas!
In the meantime, you have four other fun activities to do with your kids this Winter Break.
And this delicious Chocolate Chip Cookie recipe.  Enjoy!
 Chocolate Chip Cookies: 
Ingredients:
2 ¼ cups all-purpose flour
½ tsp baking soda
1 cup (2 sticks) unsalted butter, room temperature
½ cup granulated sugar
1 cup light-brown sugar
1 tsp salt
2 tsp vanilla extract
2 large eggs
2 cups (about 12 oz) semi-sweet chocolate chips 
Directions:
Preheat oven to 350 degrees F.  In a small bowl, whisk together flour and baking soda.  In a large bowl use an electric mixer to combine both sugars and butter on medium speed until light and fluffy.  Reduce speed to low and add salt, vanilla and eggs and beat until well-mixed.  Add flour mixture until just combined.  Stir in chocolate chips with a spatula.
On two baking sheets lined with parchment paper, add small balls using about 1 Tbs of dough and place them 2 inches apart.  Fill a small bowl with water and dip the back side of a spoon into the water.  Gently press down on the dough balls to flatten.  Repeat until all cookies are slightly flattened.
Bake cookies until golden around the edges, about 8-10 minutes.  Remove from oven and let cool on a baking sheet for 1-2 minutes.  Transfer to a wire rack and let cool completely.  Store cookies in an airtight containers at room temperature for up to 1 week.