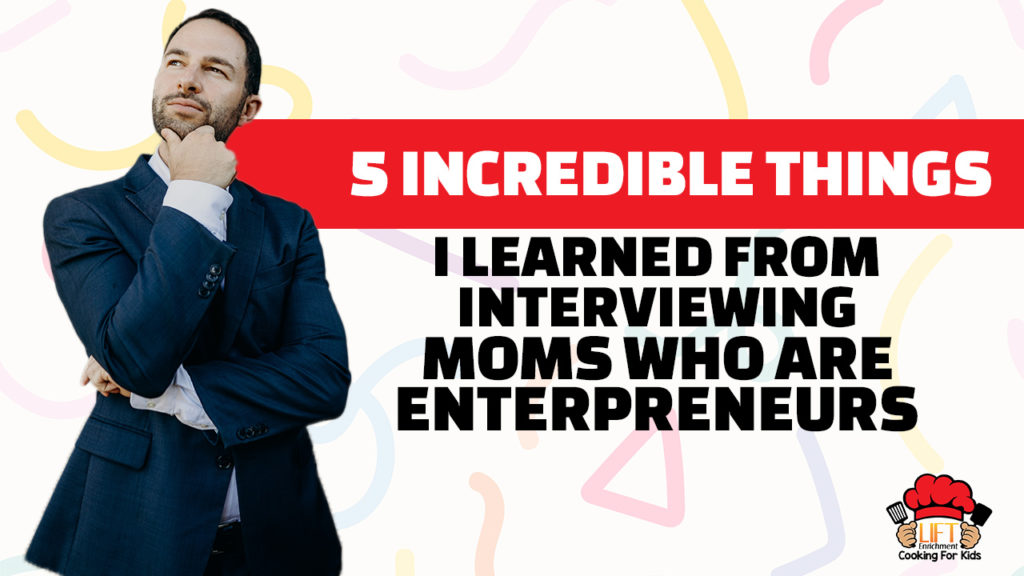 I was challenged last year by my business mentor Matt Blanton to interview moms and get to know them better.
As a single mid-30s male with no kids, I can only really get to know my audience by talking to them and asking them about their tips, fears, challenges and what they face everyday raising kids in 2021.
You can listen to Season 1's podcasts here: I've got 10 episodes in total! I talked to mostly moms, and also a bunch who were entrepreneurs as well.
Some were moms who ran businesses selling homes, partner with doctors to improve their billing, or provide marketing services for local businesses. I even interviewed some men who were in the same space of "moms" (and parents in general) like Jack Friedman who gave some great tips on SAT prep and college prep.
A lot of these women were local entrepreneurs who are my friends and here are some COOL things I learned. I also included my experience shares.
If you're a mom reading this and want help with dinner every night and would prefer your CHILD to cook you a healthy meal. Check out www.liftenrichment.com to see our latest series of healthy dinner lessons taking place on zoom and taught by Chef Teachers!
Take Regular Baths To Promote Relaxation and Reduce Stress
Two moms, Ashley Richards and Chanie Gluck, (and others!) talked about enjoying a bath so they can have some quiet time for themselves. Ashley reads a business book to help her improve her marketing company , and enjoys the peace and quiet away from her two young kids.
Moms also use that time to reflect and decompress.
Ashley recommends Epsom bath salts as well.
My experience: Baths really do help you relax! It's probably from the combination of hot water, steam and just taking you away from your phone, computer and everything else in your life.
Even though it's too hot in Scottsdale, Arizona to take a bath at this point (unless you crank up your A/C), it did help me chill out before bed.
Take 1-2 hours early in the morning on a weekend to PLAN ahead
These women that juggle being a mom with kids, running a business and are married know that if you don't plan, you plan to fail.
Moms shared their morning routines (often on a Sunday, early in the morning) that they used to look ahead at make sure everything was in order for the week ahead.
My experience: There are so many things to keep track of in life, even for someone like me who is single and runs a business that I put almost all of my time and energy into.
I take Mondays morning to plan out the week in a few key areas:
Work: What are the key projects to get done? When will I make time for them (and then I put them in the calendar, usually first thing in the morning, like writing this blog). I find 90-minute chunks work best for me.
Health: When am I going to work out this week? Is it cardio or lifting or hiking? (and put it in the calendar!)
Diet: What am I eating this week? What is my caloric (and protein) goals? What tasty meals will I be eating this week?

This week it's:

Breakfast: Protein cereal (or greek yogurt parfait)
Lunch: Big salad with tuna and red wine vineagirette or a turkey wrap with all the fixings
Dinner: Pasta with pesto (the Kirkland stuff is good!) and cooked chicken with roasted vegetables, or a turkey burger with sauteed mushrooms.

Social events: What are my social events or meetings this week on the calendar?
Big Event Planning: What trips am I going on? (Poland! Colombia!) What planning or budgetting will I have to do to make this happen
Finance: I review my budget, money, investments and look at any upcoming expenses/debts to take care of.
House/Life Stuff: I gotta do laundry, fix things, organize my home, fix my car and continually refine my living space to maintain my home office/kitchen/personal area setup
Clear The Inbox: I take care of my email inbox, letters and get it all on the to-do list for myself or team. I like using Basecamp for project management and reminders.
It's a lot, but it helps to plan out the next week!
YOU don't have to do it all! Get paid help.
Chanie mentioned something key (and she gave permission to my audience) to get help! Hire a nanny or a housekeeper or a homecook to help you with everything.
Focus on what you're good at. It's the "zone of genius" as we call it, which are the things YOU are good at and are better than everyone else.
My Experience: I hire out a LOT of things I don't like doing (or can spend better time elsewhere) which can include:
Most housework (I'm not that handy)
Car maintenance
Posting to social media
Hiring Chef teachers (I jump in for the final interview)
And more!
Screentime is A BIG issue in 2021
One question I always ask is "What is the biggest challenge you face racing kids in 2021?"
Almost universally, the biggest issue for moms is screen time. Kids are on their devices MORE THAN EVER these days and it's a serious problem.
Social media is more about isolating people and delivering a lot of FOMO than prompting kids to come together in real life.
Plus you can find ALL their favorite shows that can stream on their phone in seconds!
And parents themselves are distracted.
Often moms put into place barriers to prevent an overuse of screen such as a "screen-free Saturdays" and THEY have to lead by example.
My experience: I went camping over the weekend in Whispering Pines outside of Payson, AZ which is covered in dense forests with lots of pine trees and green as far as the eye can see. The best part? There was no cellphone service!
I did use it as an opportunity to show how I make chicken parmesan with spaghetti marinara for dinner using a camping stove (check out the Tik Tok video…and see the two ANNOYING things that happened on my solo trip).
That time away from the woods reset my soul! I felt my neck and shoulder pain go away as well because I was active, walking around, getting a lot of Vitamin D and NOT looking at my phone.
Put in barriers (even if it's just half a day!) with no screens and watch how calm you'll feel
Take time for YOU (the mom) to recharge and have FUN.
No matter what, put in some time for just yourself to enjoy life. Moms told me how they will go on hikes without their family and just with friends…or organize a girls trip…or just go meet friends for lunch or dinner away.
Find out what rituals (and the moms used that exact word in our interviews) YOU enjoy and put them in the calendar
My experience: I 100% agree to put IN THE CALENDAR fun things. I take ALL of Sunday off away from work (except a bit of meal prep).
I hike with friends and have brunch. I put non-negotiable evenings during the week to watch a new (or old favorite) movie. If it's NOT in the calendar, it won't happen, because life will get in the way.
I have MORE tips coming out as I prepare for a second round of interviews, and there are still a lot more tips to share!
But what do ALL of these moms have in common?
They prioritize the HEALTH of their family.
They make sure to have NUTRITIOUS meals ready to go.
They get their kids INVOLVED in the cooking process.
They set their kids up for a future where they are regularly eating VEGETABLES and healthy foods.
They do this because it's important to maintain that healthy habit now and forever.
And they ALL cook with their kids because it's fun and a great time to bond in the kitchen!
If you need help getting your kids to enjoy cooking and developing the lifelong skill of making a healthy dinner from scratch, then join our upcoming series of online cooking classes, that you can find here at www.liftenrichment.com.
We'll see you in the lesson!
— Chef Eric Horwitz, owner of LIFT Enrichment