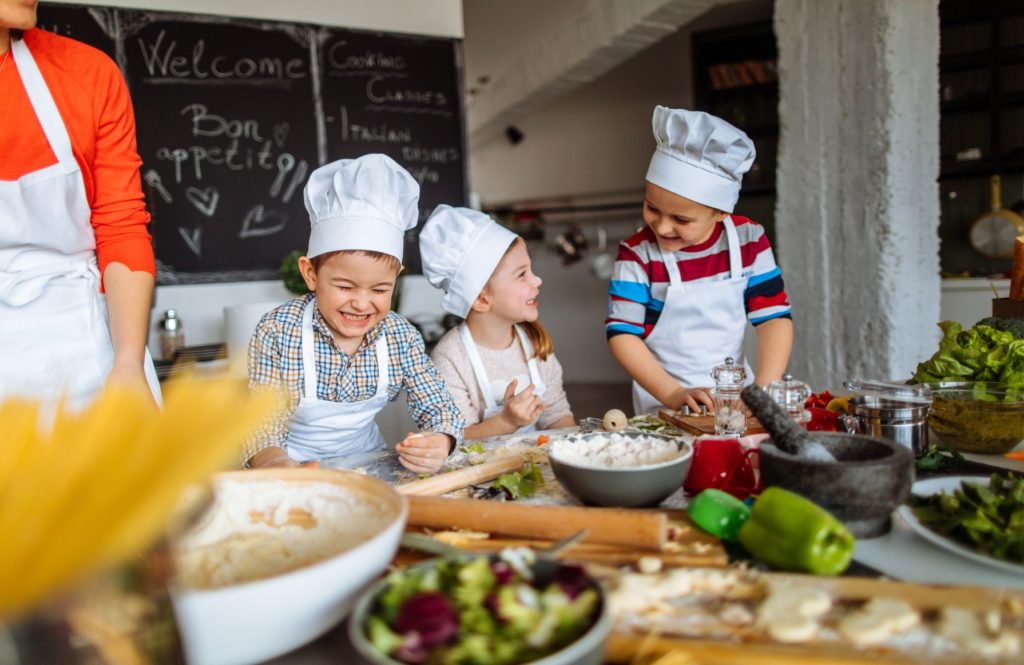 If you run a lot of online cooking classes for kids like we have, there are certain techniques to make sure your child gets the most out of the experience.
We've taught over 300+ hours of cooking classes on zoom in the past year and here are some tips for parents that are new to our cooking classes on zoom.

1. Prep Your Ingredients (Purchase and Wash)
The first component is reviewing the ingredient list and making sure you have everything you need. If you have a substitution, be sure to ask us in advance (at info@liftenrichment.com) and we can help you out.
Go to the grocery store WITH your kids (if you can!) This helps your child get invested in both cooking and eating the foods that will be made.
All you have to do is Buy the ingredients and Wash the produce. This means cleaning the cilantro, romaine or tomato, but NOT chopping it. We will do the chopping during the lesson and the Chef Teacher will help provide guidance.

2. Mise En Plas "Everything In Place"

"Mise En Plas" is a culinary term that is French for "Everything in place"
This means putting your food out in front of you in a way that's organized and convenient.
My favorite tip I got from my mentor Chef Dan Shemtob is to use large baking sheets.  On these sheets you can place things that you will chop like a bell pepper, onion, etc.  I also use small bowls to organize small things like garlic, fresh herbs or shallots.
For raw proteins, be sure to keep them on a plate or bowl AWAY from the other ingredients so you don't cross contaminate.

3. Arrive Early!
Our Chef Teachers will be online 10 minutes before class starts to greet you and your students! Come and login on zoom to say hi to the Chef and other students. This is also a good time to setup your camera and video. Most students leave their camera on and their microphone on mute.
When you have a question, just unmute yourselves and ask. Do NOT use the chat function because the Chef is probably busy chopping foods and can't scroll to the chat! Just ask out loud.

4. Camera Angle is KEY
One huge benefit of an online cooking class for kids is that we can actually watch you chop and give you tips. Most kids (and adults) hold their knives incorrectly or don't correctly tuck their fingers.
If you angle your camera slightly down so it focuses on your chopping board and knife, our chefs can help make sure you are using good habits while chopping!
When cooking, we know you'll be at the stove or somewhere else, so the camera angle is less important.

5. Ask Questions
The benefit of a LIVE cooking class is that you can talk to a chef! Many times I am in my home kitchen and something goes wrong with a recipe I'm testing. One time the cream puffs wouldn't "puff up" and I couldn't figure out why. I Googled and YouTubed some ideas, and eventually figured out that I'm not using enough eggs.
This took over an hour and a lot of wasted batter. If I had a Chef who could see what I was doing and give me tips, I could have saved a lot of time!
Ask the Chef for tips! If your sauce isn't thickening, or doesn't taste right, we can often correct your mistake easily. One time a student's dough wasn't coming together and it was obvious he wasn't using enough flour. For another student, she hadn't kneaded her pizza dough enough.

The beauty of a teacher is that they can ACCELERATE your learning so you don't have to make mistakes.
This way you can gain the skill!
And it reduces the frustration of not knowing what you did wrong.
Cooking has a lot of challenges.
So why not work with professionals who do ONE thing: Teach cooking to kids?
It's our niche and we love it!
To join our online cooking classes, check out the 6-week series we are running at www.onlinecookingclassforkids.com while we still have space! (Each session maxes out at 12 participants so we can give individualized attention)


Get Cooking,
Chef Eric Horwitz, Owner of LIFT Enrichment