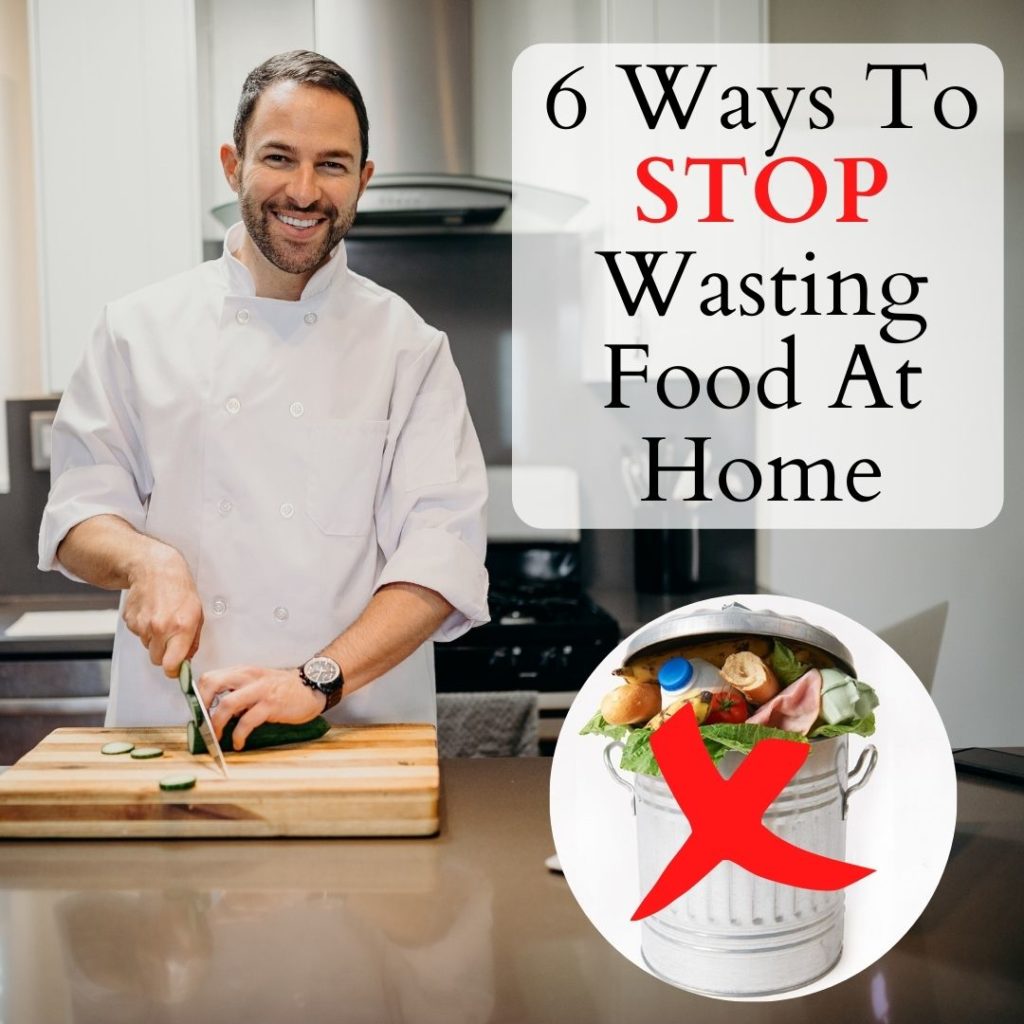 The biggest annoyance I see in my fridge is when I see FOOD there and it's gone bad and I have to throw it away.
As a parent, I'm sure you've accidentally bought too much of one food and found yourself in a similar situation.  It's such a shame because you spent good money to create a dish to nourish your family!
Here are some of my tips to make sure you're not wasting healthy food.
Note: If you throw away UNHEALTHY food, I'm not against it. I'd rather enjoy some ice cream, and then remove it from my house so I don't eat it all the time (which I am prone to do!)
As my friend says (and she is in her late 40s and in great shape): You can "waste it or waist it"
Tip 1: Plan Ahead and Meal Prep
You probably have too much food in your fridge because you started choosing random things off the shelves while at the grocery store.
You didn't have a plan!  Here is a previous post on meal prep and my follow-up post here.
By limiting the types of foods you buy, you won't waste precious space in your fridge.
Tip 2: Learn To Make A "Sunday Frittata"
If you have a ton of produce, you can make a frittata on the weekend that will be both tasty, healthy and use up what you have.
Let's pretend you look in your fridge and cupboards and find broccoli, a bell pepper, some provolone and ½ an onion.
Saute the onion and bell pepper in a pan, and add the broccoli. Season with salt and pepper and add about 6-8 whisked eggs and let it sit. Top with provolone and when it's about halfway cooked on medium-low flame, place it in a 350dF oven for about 8-10 minutes. It'll become a beautiful frittata and you can serve that with toast and a fruit salad. Add some bacon if you'd like!
Just use all of those fresh foods before they go bad!
Tip 3: Limit Your Fruits, Vegetables, Proteins and Dairy to 2-3 Items Max.
You can buy romaine lettuce, tomatoes, cucumber, bananas, plums, onions, bell peppers, broccolini, and kale…but will you use all of that within one week?
You could buy chicken breast, flank steak, turkey burger, tilapia, and shrimp….and again you won't use it all!
Look, I've made many mistakes as a chef where I overdo it on food purchased, and regret when the food goes bad because I haven't cooked it in time.
Now, my shopping list is SIMPLE
2 protein: chicken breast + salmon
2-3 fruits: Bananas, strawberries and plums (which are in season!)
2-3 vegetables: Broccolini (cooks quickly in a pan), Romaine lettuce and 1 cucumber, and 1 tomato for salads.
I know I'll use all of these in a week!
If you're a mom and have 2 kids and a husband to feed, you can do the SAME thing, just bulk up the quantities.
Tip 4: Have Backup Healthy Foods in the Freezer
If by Friday or Saturday you're out of veggies and healthy protein, you shouldn't go eat out!
Instead, keep backups in your freezer. My favorites include
Costco giant bag of frozen vegetables (Normandy style: broccoli, cauliflower, carrots) Frozen cauliflower rice (really easy to reheat and make taste good with soy sauce) Frozen shrimp (which you can thaw in 5 minutes under running water) Individually wrapped filets of chicken, tilapia or salmon (Costco has these!)
With all of these elements above, here is a SUPER quick and healthy dish with lots of veggies and health protein.
Shrimp and Cauliflower Rice Teriyaki Bowl

Feeds: 4
Directions:  Under running water and a colander, place about 1-1.5lb of raw frozen shrimp, and in about 5-8 minutes it should be mostly thawed.  Pat dry with a paper towel and season with salt and pepper.
In a large saute pan, add 2 12-oz packs of frozen cauliflower rice (the Sprouts and Trader Joe's brands are pretty good)  and a bit of oil and saute for about 5-7 minutes until thawed.  Season with salt, pepper, and a bit of soy sauce.   Remove to a bowl
Meanwhile, place about 4 cups of frozen vegetables into a microwave-safe bowl with a bit of water and cook for 3-4 minutes until thawed.  Drain and pat dry on a paper towel.
In the same pan, add the vegetables with a bit of oil and cook (don't move them too much) until they are nicely browned. Remove to a bowl
Now cook your shrimp, with a bit of oil, about 2-3 minutes per side.
Assemble in a bowl the cauliflower rice, with veggies and shrimp. Garnish with chopped green onions and a bit of fresh lime juice and enjoy!
Tip 5: Don't Make Large Batches of Sauces or Dresses
This is a BIG issue for me…I make a large batch of a delicious salad dressing with good oil…but it congeals if I don't use it within a week.
Or I make a lot of healthy tzatziki.
Instead, make a HALF batch of any sauce or dressing so you don't let it sit in the fridge for too long.
Tip 6: Freeze half the proteins you cook!
Did you just cook 3 lb of chicken breast or 2lbs of pork shoulder?  Freeze half of it immediately!  You will thank yourself later in the week.  All you have to do is move it from the freezer to the fridge in the morning so you have dinner ready to go to make some tasty wraps or sliders.
And if your kid wants to become a master chef with confidence in the kitchen, check out our Fall online cooking classes!
More info is at www.onlinecookingclassforkids.com.  We have a fun 6-week course coming up making delicious and healthy dinners.  There's limited room so join today!
– Chef Eric Horwitz of LIFT Enrichment