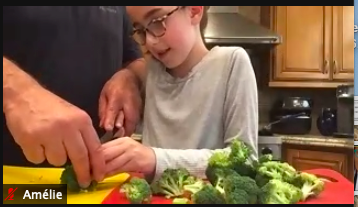 The biggest challenge as weteach online cooking camps for kids is how to ensure kids can safely use a standard chef knife.
We want them to learn to use a chef knife because it is designed to be the KEY tool for chopping, slicing, mincing, cross chopping and basically prepping any ingredient so it can be cooked.
One big issue, besides just holding and using the chef knife is making sure the food is on a STABLE surface.
This is what I mean.
Go into your cupboard right now (or imagine, if you're not at home) and pull out your go-to cutting board.
It's probably a large wooden board, or it could be a plastic one. It might even be aesthetically pleasing.
When you put it on your counter top, I bet you that it MOVES just a little bit while you chop.
The reason is because it lacks stability.
We teach kids, in our online cooking summer camp what we call "The Paper Towel Trick"
Basically, you take 1 or 2 paper towels and dampen them with a little bit of water from the sink.
Try not to soak each towel.
Then lay them out flat on your countertop and place your cutting board on top.
Use your hands to try and move the cutting board and you'll see it's 10x more stable (and thus safe) for chopping.
This is a technique MOST ADULTS don't know, because they never bothered to invest in their culinary education.
You know the value in learning a life long skill.
You know how important it is to get your kids to learn to make healthy foods.
If it's a key skill, let them learn to cook while they're young!
=> Join our online cooking weeklong summer camp for kids!
Themes:  Cooking Around The World AND Mangia Italiano
Ages: 8-13
Dates and Times:  Each week is Monday-Thursday, 10:30am-12:00pm PST
Aug 2-6 – Cooking Around The World  
Aug 9 -13 – Mangia Italiano!
Aug 16-20 – Cooking Around The World
Aug 23-27 – Mangia Italiano!
Hours of Instruction:  6  
Siblings are free
Price: $120 per household
Grocery Add-on:  $160 (all fresh ingredients shipped to you)
Recipes:   Cooking Around The World
Monday:  Mexico:  Carne Asada with Cilantro-Lime Marinade, Guacamole and Fajita Veggies
Tuesday:    Chinese: Egg Fried Rice with Chicken (or Tofu) and Crispy Veggie Egg Rolls
Wednesday:  Dessert!  American:  Red Velvet Cupcakes with Cream Cheese Frosting
Thursday:  Greek:  Homemade Pita Bread, Greek Salad and Mediterranean Beef 
Recipes: Mangia italiano!
Monday:   Tomato-Basil Bruschetta with Mixed Green Salad and Fresh Mozzarella
Tuesday:  Grilled Chicken Caesar Salad with Lemon-Parmesan Dressing and Homemade Croutons
Wednesday:  Dessert!  Kid-Friendly Tiramisu with Ladyfinger Cookies & Mascarpone Cream
Thursday:  Baked Meatballs with Spaghetti Marinara