Here's what I taught a group of kids yesterday for one of our first classes in Orange County
We're starting our Food Network Theme class theme at 24 schools this week with a pasta dish from Giada de Laurentiis
Side Note:  If you haven't joined our cooking class, we still have room at some of our schools
=>  Join the Fall after-school cooking class – Food Network Favorites-themed
The Dish:  Fusillil alla Carpese
It's a fun dish where kids can chop cherry tomatoes, mozzarella and rip up fresh basil with their hands.
I taught the (full!) class of students about Vitamin C and Antioxidants, and then we talked about the island of Capri where some of the freshest mozzarella, basil and tomatoes come from.
This dish also has an EASY sauce.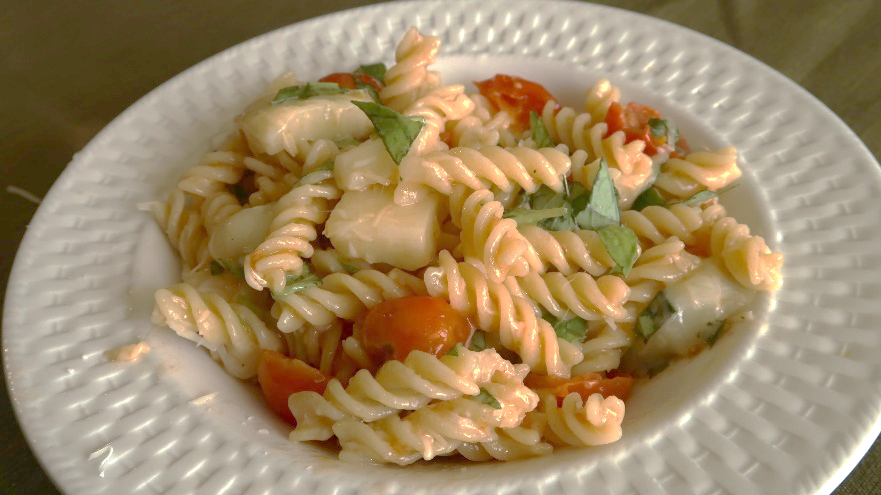 Pasta comes in many shapes and sizes, but Fusilli, which looks like a spiral, is a kid-favorite.  This simple pasta dish bursts with color and flavor from the fresh basil, cherry tomatoes, mozzarella and garlic.
Adapted from a recipe by Chef Giada de Laurentiis
Active Time: 20 min     –     Start to Finish: 30 min       Serves: 12
Ingredients 
2 lb fusilli or any "spiral" pasta
4 cups cherry tomatoes, halved
3 garlic cloves, chopped
20 oz low-moisture mozzarella cut into bite-sized pieces
1 cup fresh basil leaves, chopped + extra for garnish
½ cup Parmesan cheese, grated
5 Tbs Extra-virgin olive oil
Kosher salt & freshly cracked black pepper
Directions
Bring a large pot of water to a boil and add 2 Tbs salt.  Add the pasta and cook until firm but not overcooked, about 8-9 minutes.  Drain in a colander and reserve about ½ cup starchy pasta water.
In a large pan over medium heat, add the olive oil and cook the garlic for 1 minute.  Add the tomatoes, 1 tsp salt, ½ tsp black pepper and cook for 4-5 minutes until the sauce is smooth and the tomatoes are softened.
In a large bowl, add the hot pasta, tomato sauce, mozzarella, basil leaves and stir.  Add a few tablespoons of the pasta water to help the ingredients come together. Serve immediately topped with Parmesan cheese and more fresh basil.
If you make this recipe, let me know!
And if you'd like your kids to learn this recipe in our interactive cooking class
=>  Join the Fall after-school cooking class – Food Network Favorites-themed
Best,
Chef Eric Horwitz