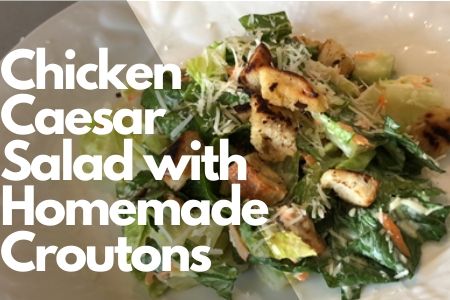 Here's the recipe for you

Ingredients:⁠
2 heads romaine lettuce, cut into bite-size pieces⁠
½ cup Parmesan cheese, grated + extra for garnish⁠
2 garlic cloves, finely chopped⁠
½ cup mayonnaise ⁠
Juice of 1 lemon⁠
1 carrot, peeled and chopped⁠
1 cucumber, peeled and chopped into bite-size pieces⁠
1 Baguette or Italian loaf, cut into 1" cubes⁠
Extra-Virgin Olive Oil ⁠
Kosher salt and black pepper⁠
⁠
Parent Prep:⁠
– slice the bread into cubes⁠
– wash the lettuce, carrot and cucumber⁠
– grate the Parmesan⁠
Directions – Croutons⁠
For The Garlic-Parmesan Croutons: In a large pan over medium-high heat, add 3=2 Tbs olive oil, 1 chopped garlic cloves and sauté for 30 seconds. Add the bread without crowding the pan, season with ½ tsp salt, pinch of pepper and sauté until golden brown, about 1-2 minutes, per side. Remove to a bowl and continue with remaining bread. Add 2 Tbs Parmesan, toss and set aside. Each crouton should be crispy with a hint of garlic.⁠
Directions – Caesar Dressing⁠
In a 1-2 large bowls (this feeds a crowd), add the lettuce, carrots and croutons. Top with a handful of Parmesan cheese.⁠
⁠
In a medium bowl, add the mayonnaise, juice of 1 lemon, 1/4 cup Parmesan cheese, 1 tsp salt, pinch of pepper, 2 chopped garlic cloves, 2 Tbs olive oil and whisk together. Taste and adjust seasoning with a bit more lemon juice, Parmesan cheese, salt and pepper. The ideal taste is creamy with a bit of lemon and garlic. In the salad, the flavors will become more mild.⁠
⁠
Add a few spoonfuls of dressing to the salad with a handful of croutons. Taste and see if it needs more dressing and salt (you can always add more dressing, but can't take it away). Serve topped with more croutons and Parmesan. Serve with chicken breast recipe (below)⁠
Chicken Breast⁠
⁠Ingredients:⁠
1 ½ chicken breast⁠
Extra-Virgin Olive Oil ⁠
Kosher salt and black pepper⁠
Directions⁠
In a large frying pan over medium-high heat, add 2 Tbs oil. Add the chicken breast, season with salt and pepper and cook until browned and cook through, about 6-8 minutes, flipping halfway. Remove to a plate⁠.
⁠
Join one of our upcoming sessions, have your child cook 12 recipes (5 breakfast, 5 lunches and 2 desserts) and develop culinary confidence for life.

Join today at www.VirtualCookingCamp.com