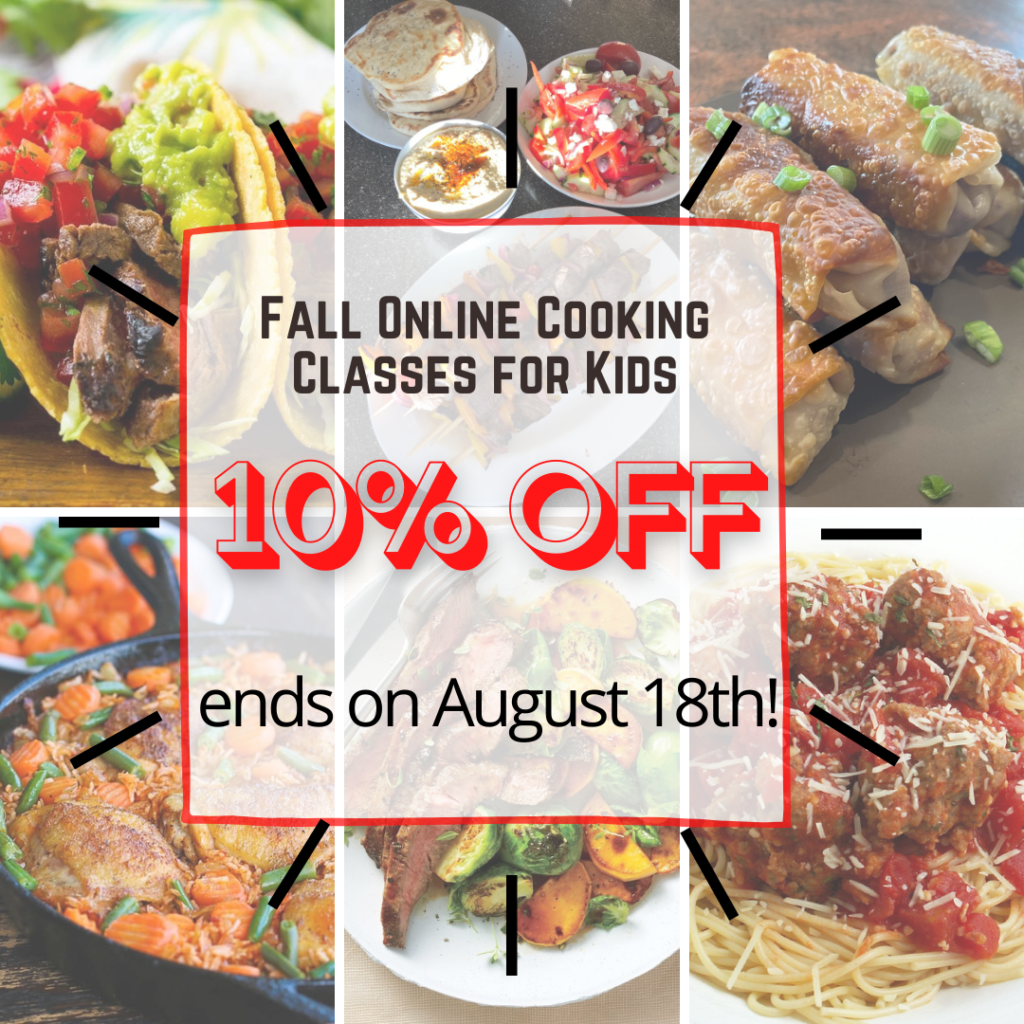 Ready to get your kids learning a skill they'll use the rest of their lives?
Join our 6-week series of LIVE online cooking classes taught by Chef Teachers that will get your kids developing independence and confidence in the kitchen.
Students will also learn knife skill basics, safety tips and culinary fundamentals including, searing, roasting, braising, seasoning, marinades and how to make dough.
=> Join the Fall Online Cooking Classes for Kids! 10% discount ends on August 18th!
We get kids to:
Explore the culinary arts
Experience full hands-on immersion into making each dish on their own
Learn about the history of each dish
Have fun!
Challenge themselves to make each dish their own
Interact with a Chef teacher, ask questions and chat with fellow students
The full lineup of recipes explore cuisine from all over the world:
Mexico: Carne Asada Tacos (or Mushroom) with Guacamole and Sauteed Fajita Veggies
Greek: Beef & Veggie Kabobs with Homemade Pita Bread and Hummus
Chinese: Veggie Egg Rolls and Egg Fried Rice
Africa: Jerk Chicken Thighs with Jollof Rice (Vegetarians: Jerk Portobello Mushrooms)
France: Flat-Iron Steak with Garlic-Herb Butter and Ratatouille (Vegetable Medley) (Vegetarians: Flat-Iron Seared Eggplant)
Italian: Classic Italian Baked Meatballs with Spaghetti Marinara (Vegetarians: Black-Bean Meatballs)
It's a SMALL group of students (our max is 12) so everyone will get individualized attention.
Fall Cooking Classes for Kids Details | Ages: 8-13. |. Lessons: 6 | Days/Times: Once a week – Mondays 4:00 PM – 5:30 PM PST, Tuesdays 6:00 PM – 7:30 PM PST, or Wednesdays 4:00pm-5:30pm PST, Thursdays 5:00 PM – 6:30 PM PST
Start Dates: September 13th, 14th, 15th and 16th for 6 consecutive weeks
Price: $180 per signup (Siblings are free!) (Get $162 with 10% off until August 18th!). Grocery shopping add-on: Additional $240 ($40 per lesson x 6)
=> Join the Fall Online Cooking Classes for Kids! 10% discount ends on August 18th!