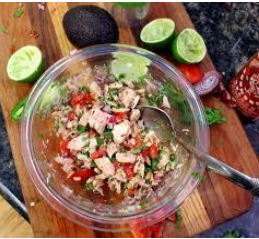 Here's a quick and easy appetizer made with simple ingredients that's loaded with Omega-3 fatty acids and
protein. You can make it in under 10 minutes, and enjoy with crackers for a great after-school snack.
Active time: 10 min – Start to Finish: 30 min
Ingredients
4 3-oz cans of Tuna in water
Juice of 2 Limes
¼ cup fresh cilantro, chopped
1 white onion, chopped
4 Roma Tomatoes, chopped
Extra-Virgin Olive Oil
Kosher Salt and black pepper
Optional: Cracker for the Ceviche (i.e. Saltines, Ritz, etc.)
Directions
Open and drain 4 cans of tuna and then place into a large bowl. Add lime juice, 1 tsp salt, pinch of pepper, 2
Tbs olive oil, onion, tomatoes and stir. Cover and let sit for 8-10 minutes for the flavors to come together.
Taste and adjust seasoning as needed.
Serve with crackers and enjoy!