Chef Confession:  I don't like to cook EVERY  single evening for dinner.  I'm tired after the work day and want something simple I can reheat that's nutritious, filling and homemade.  Shepherd's Pie with a side of sauteed zucchini gets the job done and it feeds for days!
I'm a big fan of casserole dishes that have some combination of protein, vegetables, carbohydrates and fiber.  Shepherd's pie has:
Veggies:  Onion, carrot and peas which together have nutrients including:  Vitamin K (good for your blood), Vitamin A and Beta Carotene  (good for your eyes) and Vitamin C (good for your immune system)
Protein:  Ground Beef 90-95% lean, which is great for your muscles and low in animal fat
Carbohydrates:  Provides you with energy replenishment
Fiber:  Good for your digestive system & reduces your insulin release for more sustained energy
Shepherd's Pie is a classic dish from England composed of a meaty, savory filling topped with gravy, mashed potatoes and then baked to golden perfection.  It's meat, potatoes and veggies all warped together.
How I Make It Healthier
For my own healthy, weeknight version I made a few substitutions:
No Gravy.  This helps eliminate some fat and it stills tastes delicious.
Lean Ground Beef.  I substitute lean ground beef with lamb because it's easier to find, inexpensive and healthy
No Butter or Heavy Cream  I removed most of the buttery, creamy elements traditionally from in mashed potatoes and instead just use a splash of milk
Zucchini is a perfect, easy side dish you can make while the pie is baking.  This recipes served my girlfriend and I for 2.5 dinners or about 5 adult servings.  Here's how you make it!
Healthy Shepherd's Pie with Sauteed Zucchini (Full Meal in 1 hr)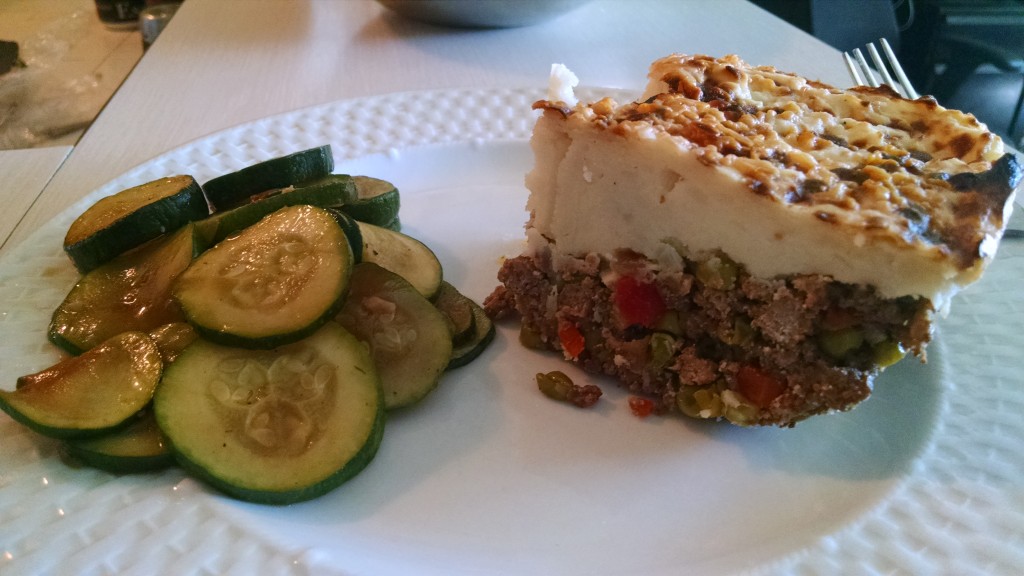 Serves 5-6.  Active Time: 30 min.  Total Time: 60 min
Ingredients

2 lb russet potatoes, peeled
2 lb ground beef 90-95% lean
1 carrot, peeled and chopped
1 onion, chopped
1 cup frozen peas
1 egg
5 garlic cloves, chopped
2 lb zucchini
2 tsp Worcestershire sauce
1/2 cup Parmesan cheese, grated
3-4 Tbs whole milk
Olive Oil
Kosher and ground black pepper
Directions
Preheat oven to 450°F.  Bring a large pot of water to a boil.
Cut the potato into 1″ pieces, so they cook faster.   Add 2 Tbs of salt into the boiling water, then add the potatoes, reduce to a simmer and cook for 10-15 minutes until a fork can easily pass through the potatoes.  Drain and place in a bowl.  Add milk, 1/4 cup Parmesan cheese, egg, 1 tsp salt, 1/2 tsp black pepper and mash with a potato masher until it becomes mashed potatoes.
As the potatoes cook, heat a large frying pan over medium-high heat and add 2 Tbs oil, carrots and onion.   Cook for 5-7 minutes until the vegetables are tender, stirring frequently.  Add half the garlic and cook for 30 seconds.  Add the ground beef and cook for 6-7 minutes until the beef is cooked and nicely browned, stirring frequently.   Add the Worcestershire Sauce, peas and stir for 2-3 minutes.  Remove to a bowl.
In a square, oven-proof casserole dish, about 8″ x 8″ add the ground beef.   Top with mashed potatoes and use a spatula to make it even on top.  Top with Parmesan cheese and bake in the middle of the oven for 15-20 minutes.  If the top isn't nicely browned, you can place it near the broiler for 3-5 minutes.  Let cool for 10 minutes before serving.
While the shepherd pie bakes, chop the zucchini into circles, about 1/2″ thick.
In a large frying pan, add 3 Tbs oil over medium heat.  Add the remaining garlic and cook for 30 seconds.  Add the zucchini and cook for 5-6 minutes, stirring frequently until the zucchini is slightly browned and cooked through.
On a plate serve a portion of the shepherd's pie and a scoop of zucchini.  Enjoy!
Leftovers can be reheated and eaten for 3-4 days!
Plan Ahead Tip:  Make two shepherd's pie and place one in an aluminum baking dish and freeze it.  Reheat in an oven at 350°F for about 20-30 minutes and you now have dinner ready at any moment.  Doubling recipes is the way to go!