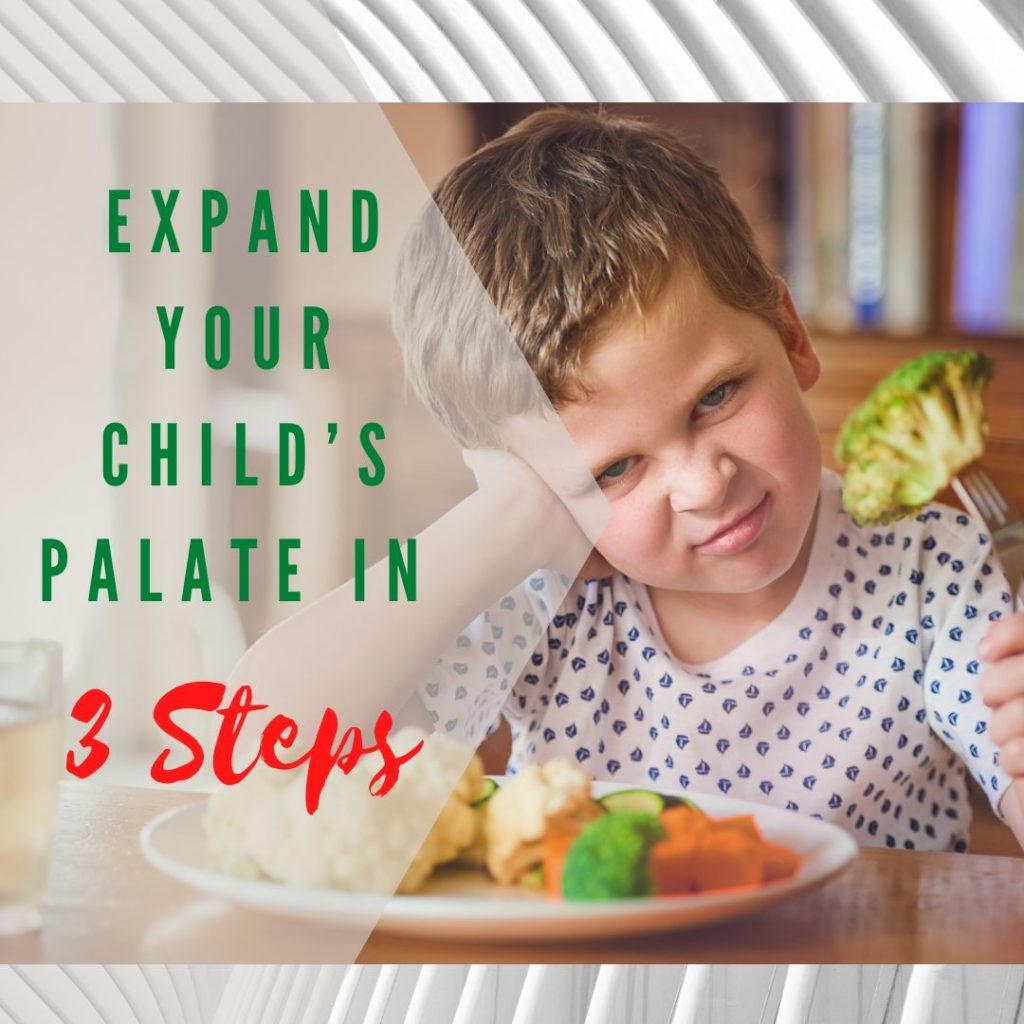 The most common issue parents discuss with me is
HOW to expand their child's palate.
It's normal for children to be picky eaters,
but putting pressure on kids doesn't work according to this study
Here are my time-tested tips to get your child to try
healthy foods in NEW ways.
Tip 1) Eat Foods With A Variety of Colors

It tends to be easier to get kids to eat fruits because of their natural sweetness…but another key factor is that fruits come in a lot of bright, attractive colors. Your typical fruit salad has bright red from strawberries, deep blue from…blueberries and bits of orange from…oranges and so on and so forth.You can make vegetables attractive too!

Tri-Color Veggie Stir-Fry: In a large pan over medium-high heat add 2 Tbs oil and 1 red bell pepper, chopped; ½ sweet onion, chopped and cook for 3-4 minutes until softened. Add 1 cup of bright green sugar snap peas and cook for 2 minutes. Season with salt and pepper and serve as is, or add a swig of soy sauce for more flavor.

Tri Color Veggie Roast: In a large baking sheet, add 2 green zucchinis, chopped; 2 yellow zucchinis chopped; 1 red bell pepper chopped and drizzle with olive oil with a pinch of salt and pepper. Roast in a 400d F oven for 15-20 minutes, until softened. Remove and drizzle with a touch of honey and serve 🙂
Tip 2) Sneak Veggies Into Kid-Favorite Foods

I'm pretty sure this is ethical…but my biggest tip for getting kids to eat veggies…is to sneak them into their favorite foods!

Making mac and cheese? As you boil the water with pasta, add some chopped cauliflower. Then add your cheese sauce and the cauliflower is barely noticeable (just make sure it's white like the pasta)

Serving pasta with marina sauce? Heat up your marinara sauce in a pan and add 1 chopped carrot, 1 chopped bell pepper, 1 green zucchini and cook until softened, about 10 minutes over medium heat. Pulse everything in a blender and it looks like regular pasta sauce! Serve with noodles with Parmesan on top.

Serving chicken teriyaki with rice? Instead of using rice, make this cauliflower fried rice recipe.

It looks like fried rice but it's made of cauliflower!

This recipe has been viewed over 350,000 times! People love it 🙂
Tip 3) Buy 1 new fruit or vegetable each week

This is the one time I will "ok" using a positive reward/treat to get your kid to try new foods.
Everytime you go to the grocery store, allow your child "one" small treat of their choice BUT they must choose one new fruit or vegetable to eat as well.

There are some WEIRD looking fruits and veggies out there, but let your child be the one to choose what they want to eat.
Great and Funky Veggies/fruits to try:

Jackfruit (roast it!)
Purple Cauliflower
Beets
Durian
I like to reward myself for going to the grocery store with something like Justin's dark chocolate peanut butter cups or Halo Top Cookies & Cream. So good!
I hope you try ONE of these THREE tips to help expand your child's palate.
And if you want extra help, then…join a LIVE cooking class taught by a Chef Teacher.
The Kids Can Cook Inner Circle is an exclusive monthly program where kids and parents get access to weekly LIVE virtual healthy cooking classes, 1 dessert lesson, 1 gourmet 3-course meal with Chef Eric, members-only newsletter with recipes from my kitchen and more! 20% discount ONLY for subscribers of this newsletter at the link below. This offer ends Friday, May 29.