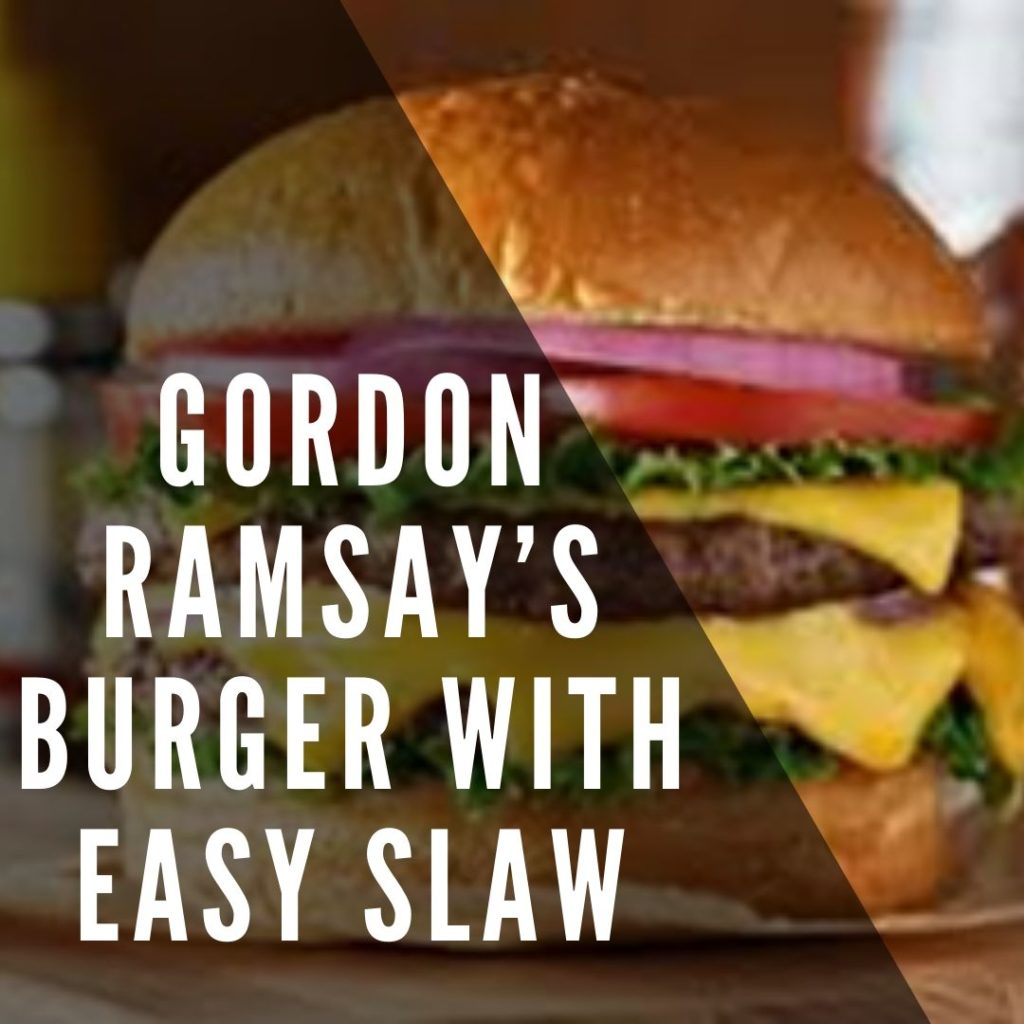 As we wrap up our second week of Virtual Cooking Camp. Here was one of the MOST popular recipes of the week themed as "Food Network Favorites". It's based off of Gordon Ramsay's 10 minute youtube burger tutorial. It's fun to watch him cook meals at home with what appears to be his family and kids filming him.
The key with the burger is in his technique, caramelizing the onions and …years of experience! While it's hard to become a Master Chef like him, you can start practicing by making this burger recipe this week. We also add an easy healthy side dish in the form of a cabbage slaw. It's a nice, crunchy pair to the flavorful burger. (Note that the slaw is not his recipe, just ours)
Gordon Ramsay's Famous Burger and Easy Slaw
What makes a Gordon Ramsay burger better than most? The way he seasons the burger, lightly cooking the onions and a several other secrets listed below. Good ingredients, good technique and good culinary skills will take your burger to the next level
Adapted from a recipe by Chef Gordon Ramsay
Active Time: 20 min Start to Finish: 30 min Serves: Family of Four
Ingredients
1lb ground beef, 80 or 85% meat with 20-15% fat
4 hamburger buns
1 egg
Sliced lettuce
Sliced tomato
Sliced Onion
Unsalted butter
Optional: grated cheese! (mozzarella or cheddar)
Mayonnaise
Ketchup
Extra-virgin olive oil
Kosher salt & black pepper
Directions:
In a bowl combine the ground beef, 2 tsp salt, pepper and egg and mix well. Form the ground beef into 4 patties.
Preheat a pan over medium-high heat, add a bit of oil and place your burger patties in the pan. Season the top with salt and cook for 6-8 minutes, flipping halfway. Season the other side when you flip it. (Add cheese if you'd like!). Remove the burger to a plate and let rest for 5-7 minutes to let the flavors come together.
In another pan, preheat over medium heat and add a bit of oil and slices of onions, this will beautifully caramelize the onions so they aren't raw. Cook for 4-6 minutes, flipping halfway with a season of salt and pepper.
Toast your buns on the hot pan you used for the burger.
In a bowl combine ¼ cup mayo and 3 Tbs ketchup with a pinch of salt to make a basic burger sauce.
To assemble, place the toasted bun on a plate and add a spoonful of sauce. Add the lettuce, then tomatoes then caramelized onions. Top with your burger and a bit more sauce and the top of the bun. Serve hot and enjoy!
Easy Slaw
Ingredients
¼ green or red cabbage
2 green onions, chopped
¼ cup Italian parsley, chopped
1 lemon
Mayonnaise
Red wine vinegar
Sugar
Kosher salt & black pepper
Directions
Cut the cabbage into thin slices and place in a bowl, add the green onions.
In a bowl mix together 2 Tbs vinegar, juice of half lemon, 3 Tbs mayonnaise, 1 tsp sugar, 1 tsp salt and pepper and mix well.
Add the dressing into the cabbage and mix well. Let sit for 15 minutes before serving as a healthy side dish to your burger!
If you'd like your child to learn to cook 11 recipes (5 breakfast, 5 lunches and 1 dessert) develop their culinary confidence and have fun in the comfort and safety of your home, join our camp Here. We have LIMITED spaces each week and it's a good fit for parents with kids (ages 7-12, typically) who want their kids to cook more and eat more veggies.
Join today at www.virtualcookingcamp.com