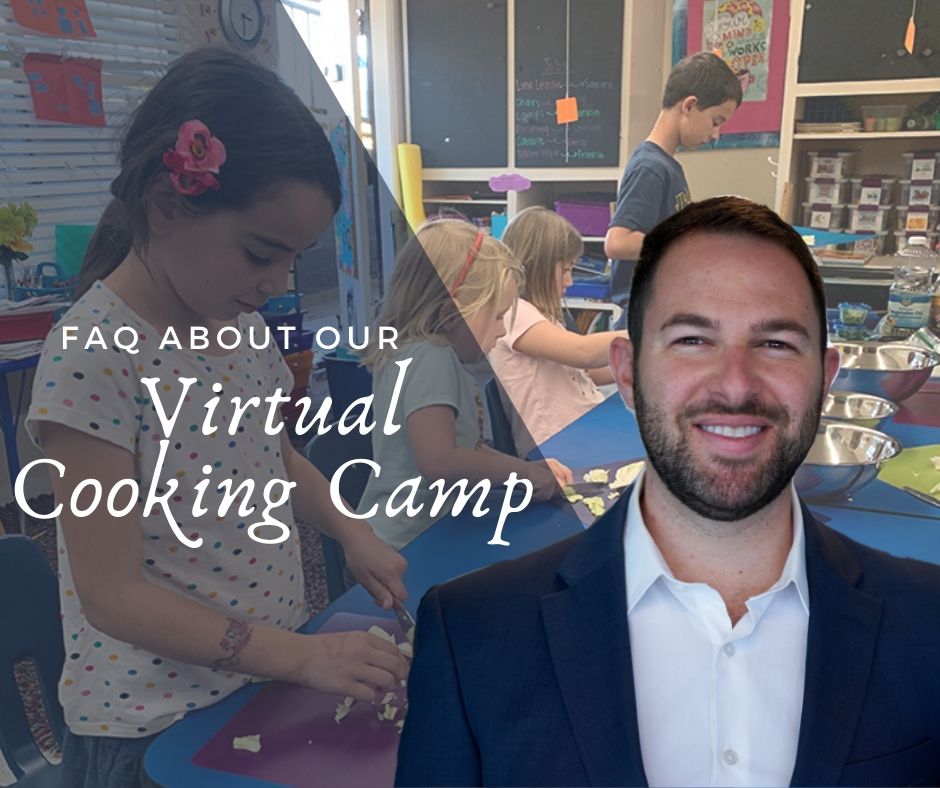 Week 1 has kicked off to a great start of our virtual cooking camp! You can sign up for weeks 2-9 HERE. Now that we've got some hands-on experience with the virtual camp format, I'm happy to say that it WORKS and we're making tweeks to make it better every day. This week we even had a fun interview with Chef Daniel Shemtaub, owner of multiple restaurants in LA and OC including TLT and Hatch Yakitori. I'll post that on youtube later.
To help parents better understand a Virtual Cooking CAmp here are some common questions we've been getting:
Q: Where should I set my child up to engage in the virtual camp?
A: Most kids are in the kitchen, ideally some place where they can sit down on a stool or kitchen table as needed. They'll be standing as they make the breakfast and lunch, and it's good to have an area they can sit as well in the kitchen.
Q: When do parents need to be involved in the camp day?
A: Camp is designed so the no-cook breakfast and art activity, from about 9:00am-10:45am can be done with just our Chef Teacher and your child. If your child is young or more antsy, then you can be in the room as well….but we're not doing anything that difficult…just a bit of chopping with a metal dinner knife. Plus you can eat the food we make!
At 10:45am a parent and guardian must join so you can make a healthy lunch together!
Q: What are the costs of the ingredients?
A: We estimate the ingredients cost about $100-$120 per camper. Remember that YOU will enjoy all the food we make! We'll be making 5 breakfast, 5 lunches and 1 dessert each week so that's literally 12 different dishes. (Note: the lunches have 2-3 recipes within them).
If you have basic pantry ingredients like olive oil, red wine vinegar, salt, pepper, etc. it could cost less as well.
The cost comes to about $8 per dish…and each dish makes 4 servings…so it's about $2 per serving!
Q: Do I have to have every ingredient listed?
A: You don't and you can make any substitutions as needed. Since you're cooking with a chef LIVE during the lunch, feel free to ask questions to the chef! We can help you make substitutions as needed during the lesson, but if you give us advance notice we can give exact substitutions for each dish.
Q: What if my child doesn't like the first day of camp?
A: We understand that a virtual cooking camp is a unique experience and it works VERY well with kids that like to cook, and parents that want to make a healthy lunch each day. We find that kids that don't participate in the activities or the cooking tend to not have a good time. If you experience the first day of camp and you know it's not a good fit, email us at info@liftenrichment.com and we'll refund you for the remaining days of that week of camp.
Q: What's a typical day of camp?
The day starts at 9:00am with a Quick No-Cook Breakfast that takes about 30 minutes. Next we have an art activity or guest speaker or a lesson on the food industry…it all depends on the day. Next we take a quick break, and come back for some stretches/movement before making a healthy lunch at home.
One change is that parents wanted us to SHOW them how to do the mise-en-plas and prep for each meal, so we're incorporating the "Parent Prep" into the lesson.
Here's a breakdown of a typical day
9:00am – Start Camp and No-Cook Breakfast
9:40am – Art Activity / Special Lesson
10:15am – Break
10:30am – Stretch / Movement
10:40am – Healthy Lunch Prep
11:00am – Healthy Lunch Cook
11:45am – Education Lesson / Review
12:00pm – Camp Day Ends
Some of these times change depending on the day and the recipe, but this is the rough structure
Q: When will I get the ingredient and supply list for the activities for camp?
A: We will email parents the Thurdsay before the start of camp with the cookbook and activity guide. The cookbook has a list of all of the ingredients for all 15+ recipes. The activity guide list the supplies you'll need.
An idea of the supply list for the activities include everyday objects that kids use such as pens, paper, markers…and some more specialty items like food coloring or clay. Everything is geared to be simple enough for kids to experience the activities at home.
Q: What's the average age of campers?
A: Our camp is open to ages 6-12, but the average age is around 9 or 10 as this camp is better for slightly older kids with more patience.
Q: Do I have to pay for siblings?
A: No! You pay for one registration and it can be for 1 or 2 kids, as long as they're on the same screen.
Q: Are their guest speakers every week?
A: No, it's difficult to find special guests, but we are working hard to bring them in when we can. If you know anyone, like a chef or restaurant owner, who is interested in a 15-20 minute interview during our camp hours, email info@liftenrichment.com Examples of past chefs include: Chef Daniel Shemtaub who won the Great Food Truck Race season 2 on the Food Network and currently owns multiple restaurants.
Q: When is the last day to signup for camp?
A: We close registration for camp the Thursday before the following week of camp.
Q: How do I join Virtual cooking camp for my child?
A: Go to www.virtualcookingcamp.com and purchase one week for $190. You can even get special deals when you buy MORE weeks after checkout. Next you'll fill out a quick registration form and you'll be set!
Get your kids to cook 15+ recipes, eat vegetables in new ways and improve their culinary skills for life by joining LIFT Enrichment's: Virtual Cooking Camp at: www.virtualcookingcamp.com Limited space each week of camp!