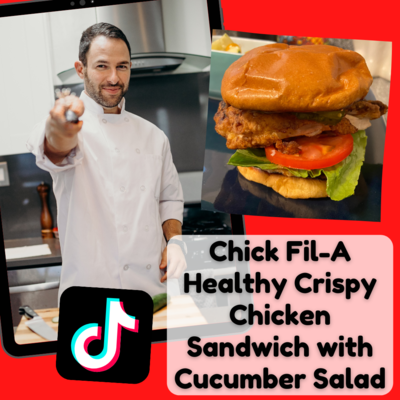 Watch Chef Eric's TikTok video here ===> Chick-Fil-A Sandwich with Cucumber Salad
The Chick-fil-A chicken sandwich is the gold standard in fast food chicken sandwiches, but this version is lighter, not deep-fried and still has plenty of flavor. It also pairs well with a refreshing cucumber salad.
Active time: 40 minutes | Start to Finish: 60 min | Serves: 4
Ingredients
Chick-fil-A Burgers
4 chicken breasts (about 4-5 oz each, around 1.5 lb total)
4 hamburger buns
2 eggs
1 cup all-purpose flour
1 head romaine lettuce, leaves separated
1 beefsteak tomato, sliced
1 jar of sliced circular pickles with brine
Kosher salt and freshly ground pepper
2 tsp dried Paprika
1 tsp cayenne (optional)
Vegetable oil, for frying
Sauce: ¼ cup low-fat mayo, 1 Tbs honey, 1 Tbs mustard, juice of ½ lemon, salt, pepper

Cucumber Salad
1 English cucumber, peeled
¼ cup red onion, thinly sliced
1 cup cherry tomatoes, halved
2 Tbs Extra-virgin olive oil
1 Tbs red wine vinegar (or other vinegar)
Sugar
Vegetarian Alternative
1 16-oz package medium tofu, drained and pressed and sliced into fist-size pieces.
Directions
Chick-fil-A Sandwich:
Carefully slice each chicken breast in half horizontally to make fist-sized pieces, about 4-5 oz each. In a bowl add ½ cup of the brine (juice in the pickle jar) and add the chicken pieces. Cover and let marinate for 10- 30 minutes.

In a bowl crack the eggs and mix. In a second bowl, whisk together the flour, 2 tsp salt, Paprika, cayenne and some black pepper. Dip the marinated chicken pieces first in the egg, then the flour, then back in the egg and then back in the flour and remove to a plate. In a large frying pan, over medium heat, add ¼ inch of oil. Add the chicken pieces and saute until golden brown, about 6-7 minutes, flipping halfway until cooked. Remove to a paper-towel lined plate and season with a pinch of salt. Continue with remaining chicken pieces.

In a pan, toast the bottoms of the buns until crispy. Mix all the sauce ingredients together in a bowl.

Cucumber salad: Peel the cucumber, slice lengthwise and then chop into half-moon pieces. In a large bowl combine the cucumber, thinly sliced red onion, and halved cherry tomatoes. Add the olive oil, vinegar, 1 tsp salt, pepper and mix. Add a bit of sugar if it's too acidic. Taste and adjust seasoning as needed.

Assembly: On each bun place the sauce, lettuce, tomato, pickles, a piece of chicken, more sauce and the top bun. Serve with a small bowl with the cucumber salad and enjoy!
Watch Chef Eric's TikTok video here ===>  Chick-Fil-A Sandwich with Cucumber Salad

Join our 6-week series of LIVE online cooking classes taught by Chef Teachers that will get your students developing independence and confidence in the kitchen.  Students will also learn knife skill basics, safety tips and culinary fundamentals including, searing, roasting, braising, seasoning, marinades and how to make dough.  

Delicious meals include Mexican Carne Asada Tacos with Guacamole, Chinese Veggie Egg Rolls with Fried Rice, French Ratatouille with Flat-Iron Steak, Italian Baked Meatballs with Spaghetti Marinara, Greek homemade Pita Bread with Beef & Veggie Kabobs and more!