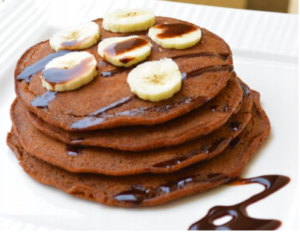 Who knew you could make a pancake with just a banana, eggs and a few pantry staples? Here's a simple and
healthy recipe with no sugar or milk!
Active Time: 15 min – Start to Finish: 45 min
Ingredients:
6 Bananas
4 eggs, whisked
4 Tbs Cocoa Powder
1 cup butter, unsalted
1 cup semi-sweet chocolate morsels
Syrup for topping
Kosher salt
Directions:
In a large bowl, use a fork to smash the bananas. When bananas are properly smashed, add eggs and mix
well. (You can make the pancakes with just these ingredients, if you want.)
Add cocoa powder, ½ tsp of salt and chocolate morsels until you have a loose, wet mixture. Heat a pan over
medium-high heat. Add 1 Tbs butter then add about ¼ cup of batter 2-3 times in the pan to make small
pancakes about 6" long. Cook for 3 minutes, flipping halfway. Continue until you've made all the pancakes.
Serve warm topped with syrup