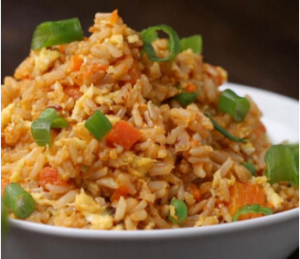 Kids love fried rice, but here's a healthier version using brown rice. Brown rice has more fiber and protein than
regular white rice, meaning kids will have sustained energy and more vitamins in each bite!
Active time: 15 mins Start to finish: 50 mins
Ingredients:
8 cups of cooked brown rice (4 cups raw)*
3 carrots, peeled and chopped
4 cloves garlic, minced
6 large eggs, beaten
1 ½ cup frozen peas
Soy sauce
Olive Oil
Salt & pepper to taste
Directions:
*To make brown rice, rinse the raw rice, add to a pot, add 8 cups of water and bring to a boil. Simmer, and let
cook for 40-50 minutes until tender. Remove to a plate to cool before making fried rice
In a large frying pan add 2 Tbs oil over medium heat, add eggs, pinch of salt and scramble for 2 minutes, then
remove to a bowl.
Clean pan and add 3 Tbs oil over medium heat, add carrot, and cook for 2-3 minutes until softened. Add garlic
and cook for 30 seconds until fragrant. Add the rice, eggs, peas, soy sauce, and stir to combine while cooking
for 2-3 minute. Taste and adjust seasoning as needed. Serve warm.