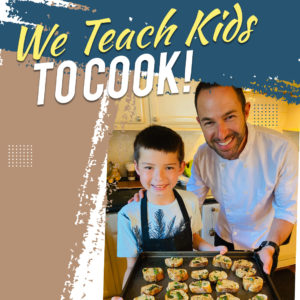 We've taught cooking to 20,000+ students since 2010.
We get kids to cook a healthy meal, on their own. Guaranteed.
And how?
I'll share a few key ways.
Join our onlinecooking summer camp for kids here.  For any skill, you will need a good teacher, good curriculum, accountability, a proven structure and lots of practice.  6 hours of live cooking classes will take care of that.
 
Get Your Child EXCITED to cook by having him or her GROCERY SHOP for each ingredient.  Go to the store, and have your student choose each ingredient from bell peppers to flour to raw proteins.  Empower them!  
 
For the first few lessons, think 80/20.  Have your child do 80% of the cooking and you help with 20%.  Then dial that to 90/10.  Soon it will be 95/5.  We have students who do 100% of the cooking each lesson, and your child could be there in time.
 
Choose Recipes that are SIMPLE, healthy and involve the cooking basics.  Don't choose recipes with funky ingredients or use advanced techniques. Stick to the fundamentals like saute, bake, roast, boil, simmer, season, whisk etc.

We have two students who cook foods ENTIRELY on their own during our culinary lessons on zoom.
Belen, age 9, has taken over 100 lessons and can chop, cook and season everything from beef and veggie kabobs to minestrone soup to gnocchi.
Sam, age 12, has cooked with us and in a few months can go into the pantry and make a pasta with a homemade sauce from scratch. He has true culinary independence, to make do with whatever he has to make a simple meal.
What if your child could make a meal from scratch, without you doing anything?
Join our cooking camp, and that journey can start as early as next week.
=> Join our online cooking weeklong summer camp for kids!
Themes: Cooking Around The World AND Mangia Italiano
Ages: 8-13
Dates and Times: Each week is Monday-Thursday, 10:30am-12:00pm PST
Aug 2-6 – Cooking Around The World
Aug 9 -13 – Mangia Italiano!
Aug 16-20 – Cooking Around The World
Aug 23-27 – Mangia Italiano!
Hours of Instruction: 6
Siblings are free
Price: $120 per household
Grocery Add-on: $160 (all fresh ingredients shipped to you)
Recipes: Cooking Around The World
Monday: Mexico: Carne Asada with Cilantro-Lime Marinade, Guacamole and Fajita Veggies
Tuesday: Chinese: Egg Fried Rice with Chicken (or Tofu) and Crispy Veggie Egg Rolls
Wednesday: Dessert! American: Red Velvet Cupcakes with Cream Cheese Frosting
Thursday: Greek: Homemade Pita Bread, Greek Salad and Mediterranean Beef
Recipes: Mangia italiano!
Monday:   Tomato-Basil Bruschetta with Mixed Green Salad and Fresh Mozzarella
Tuesday:  Grilled Chicken Caesar Salad with Lemon-Parmesan Dressing and Homemade Croutons
Wednesday:  Dessert!  Kid-Friendly Tiramisu with Ladyfinger Cookies & Mascarpone Cream
Thursday:  Baked Meatballs with Spaghetti Marinara