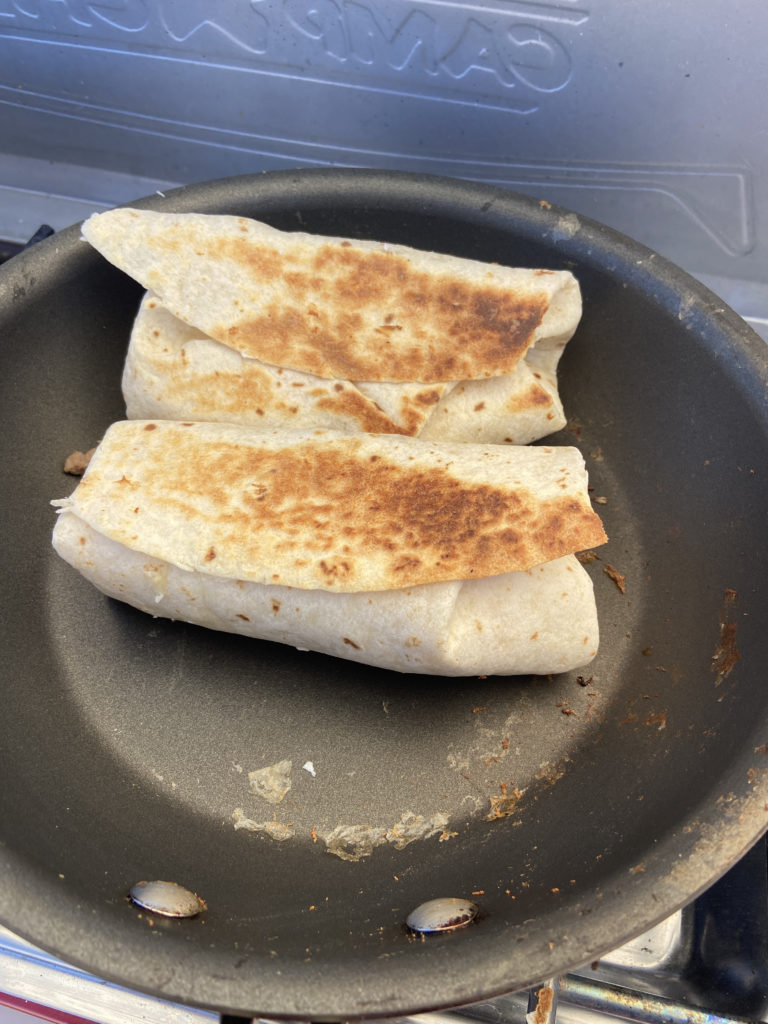 The desert sun in Joshua Tree, California gave me a healthy dose of Vitamin D and rejuvenated a part of my soul that needed to run. One of my favorite weekend activities is a jog through the desert, with nothing ahead of me except cacti, shrubs, and mountains far into the distance.

I cranked up my dance tunes (lately it's been Ed Sheeran's "Bad Habits" or Kygo's "Lose Somebody") and ran forward into the sun. There's a sense of freedom and wonder when you go off-trail, but I wasn't far away from the action. I was there for my friend Dan's birthday weekend with a crew of fun-loving and at the same time ambitious-and-hardworking friends from California to car camp in the high desert for the weekend.

I hadn't seen most of them in over a year and there was a lot to catch up on: I moved to Arizona, exited some less healthy relationships, and had pivoted my business from in-person cooking classes to online cooking classes

Update: (As I write this I'm about to teach some in-person culinary workshops at a wonderful charter school in San Diego!)
But right now, as I ran forward, I had one thing on my mind: Breakfast Burritos (recipe at the bottom)
Car Camping Like A Chef

On a warm Saturday morning, our group of about 20 were car camping (which I love…but not as much as backpacking and I'm sure if you're a parent who enjoys the outdoors and spending uninterrupted time away from "screens," you probably enjoy camping with your kids.
But how do you camp and cook in a way that is fun, efficient, and healthy?
How do you avoid the pitfalls of eating too much junk food and making a mess when you're cooking?
Here are my 4 chef tips to cooking at your campsite, like a chef

1. The Foldup Table Is Your Happy Place

Assuming you've brought a shade structure, I find it much comfier to have a foldup side table for cooking rather than use the campsite bench. This provides enough space for your camping stove, utensils, a warm beverage, and your "Mise En Plas," which is a French culinary term for "everything in place." It's a core concept of our lessons and basically refers to cooking with all of your ingredients prepped and neatly organized.

For me, this meant having a few paper plates with all my fixings ready plus cooking oil, salt, and pepper.

2. Cleanup Made Easy

Be sure to bring paper towels, 2 dish towels, soap, a sponge, and a portable bucket. As you make your burritos, keep your cooking station clean. Wipe down your cutting board as needed and keep ingredients you're not using away. It'll help your sanity as you cook and enjoy your desert views.

After cooking here's how I clean dishes easily: In the bucket add some water and a bit of soap. Use a paper towel to remove as much food as you can from any bowls, plates, or cutting boards, then rinse in the soapy water. Use a water bottle to rinse each item with fresh water, then lay the plates on a table covered in a few paper towels. Use one kitchen towel to dry and put away everything and you're set! It's surprisingly fast…and you get can get your family to help you out

3. Focus On Two Healthy meals

Since cooking is a bit more laborious while camping, I usually make a late breakfast and dinner.

Good breakfast ideas while camping (to feed a crowd of kids/family/friends):
Veggie omelettes (bring a non-stick pan for this!) & Crispy potatoes
Egg-white and turkey breakfast burritos (recipe below)
Protein pancakes with lite syrup and fresh fruit

Good dinner ideas:
Pan-seared steak with crispy red potatoes and sauteed asparagus (my go-to) (link to video)
Pasta with a quick tomato sauce, chicken breast, and sauteed zucchini
Teriyaki pork chops with Jasmine rice and sauteed spinach
The goal is to have lean protein, veggies, and some carbs. This will help keep you full, energized and will balance all the junky food you're probably snacking on like chips, crackers, cookies (shout out to Elaine's amazing lemon cookies) drinks, sodas, and whatnot

4. Keep Your Kitchen Gear Safe and Organized

While car camping, most of your gear will be in a big bin for transporting but be sure to
Have your chef knife wrapped in a kitchen towel or ideally in its own knife sleeve so you don't cut yourself while reaching for it
Keep common cooking utensils like tongs, spatula, and a wooden spoon in a separate container so they don't get lost in the big bin.
Put cooking oils in squeeze bottles for ease of use
Don't forget your seasoning! Use small Tupper ware for salt.
For cleanliness, be sure to take everything out and put them away as needed so they don't get dirty
For equipment: You don't need much: I like one 8" cast-iron for searing steaks or proteins, one 8" non-stick pan for eggs or sauteing asparagus, and a medium-size pot to boil water for coffee or cooking potatoes/rice.

With my friends happy and fed, we gathered around the shade to catch up on life. The group was from all walks of life: an entrepreneur in the solar industry, a few screenwriters, an actress, Amazon sellers, sale reps, team-bonding coordinators, teachers, and more.

We always seem to talk about business, life, philosophy, travel, and much more…often while dancing and wearing onesies (which are delightfully comfortable)

As the afternoon sun sank below the horizon, it felt time to celebrate Halloween! I was Dracula…simply because it was available from Walmart on the drive up…and who doesn't like wearing a cape?

We bouldered some rocks, and my cape got caught here and there but we made it to the top to see some epic views of the park.

As the sun dipped, the music got going, the drinks flowing and I made my go-to steak dinner. I boiled some chopped red potatoes and in another pan-seared the steak. As the steak rests, there's just enough time to saute some asparagus and potatoes. It's quick, easy, and impressive.

The best part about camping is how the stars take over the sky. You can see deeply into the universe and ask questions about your role in it and why we're here. I took a moment to reflect on the past year, as I hadn't seen most of these people since our January New Years' event. The night continued as we danced to Outkast's "Hey Yeah" and other classic mid-2000 jams.

When you come to see old friends, you realize how fast life can change. Some changes are slow, like losing weight, while others are more sudden like moving your life in a few months. New opportunities come up, like teaching 300 hours of virtual cooking classes last summer!
Parts of me are the same, while others are different.
But I still can make a fantastic breakfast burrito.

Chef Eric's Egg White and Ground Turkey Burrito For Camping

Ingredients:
1 large container (16-oz) egg whites
4 large burrito tortillas
1 lb ground turkey (93% lean)
Grated cheddar cheese
Salsa
Optional: Sauteed onion and bell peppers (cooked in advance, for ease of use)
Unsalted butter
Extra-virgin olive oil
Salt and Pepper

Directions:
Using a 2-burner camping stove, you'll need two saute pans. In one, add some olive oil, the ground turkey over medium-high heat, and cook until it's nicely brown, adding salt and pepper, about 5-8 minutes. Remove to a paper plate. Meanwhile in the other pan, add 1 Tbs butter and ½ the egg whites, salt, and pepper and cook while stirring until fully scrambled. Remove to a plate and repeat with the second half of the egg whites

Wipe off one of the pans and over low heat add the tortillas, a few at a time, for about 20 seconds per side to warm them up.

Now build your burrito: Add the ground turkey, egg whites, fajita veggies, and top with cheese. In a pan add a bit of oil to the pan and place the burritos with the seam side down. This is the Mexican restaurant's secret to elevating your burritos to the next level as the tortilla gets crispy and all of the ingredients come together. I like to cut the burritos in half and serve them with fresh salsa. They were a hit!

If you and your kids want to make delicious and healthy foods like Egg-white burritos but in a fun, educational, and engaging live online cooking class on zoom, check out our upcoming workshops at www.liftenrichment.com
To book a FREE healthy culinary workshop for your school, district, or college access program CLICK Here



Read More:
GEAR UP West 2021 Review: Making Friends, Native American Dance and Very Early Flights
Giving Back: Volunteering, Arizona Entrepreneurs and How To Market A Small Business