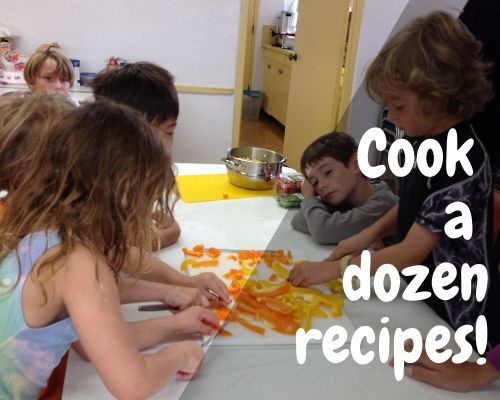 We're in our fourth week of virtual cooking camp and the coolest thing I've seen is how much our campers really enjoy cooking at home.
While most virtual camps kids are staring at a screen, with ours they are moving around the kitchen, chopping and using the zoom platform for the teacher to help guide them every step of the way.
Last week we made Cobb Salads on Friday with Chef Kimi and the kids were proudly showing off their salads made with a fresh vinaigrette and all the fixings.
Fun Fact: If you ever don't remember what's in a Cobb Salad, just think of the acronym "Eat Cobb"
Eggs
Avocado
Tomato
Chicken
Onion (we use green onions)
Blue Cheese
Bacon
This upcoming week is our Mexican Fiesta and here's a taste of what we'll be making that week:
Recipes:

Quick No-Cook Breakfast
· Yogurt Parfait (Mon)
· Spinach Smoothie (Tues)
· Overnight Oats with Apples & Cinnamon (Wed)
· No-Baked Breakfast Cookies (Thurs)
· Avocado Toast (Fri)

Healthy Lunch:
· Veggie Quesadillas with Pico De Gallo (Mon)
· Tex Mex Salad (Tues)
· Healthy Nachos with Guacamole (Wed)
· Breakfast Burrito (Thurs)
· Crunchy Ground Turkey Tacos (Fri)

Desserts
· Tres Leches Cake (Tues)
· Argentina Pancakes with Caramel and Strawberries (Fri)
We find that the breakfasts are fun and easy "wins" to start the day.
The real meat of the lesson (pun intended) are the full lunches where we walk you and your child through the cooking process from prepping the ingredients (mise en plas) to chopping to cooking everything to perfection!
Do you want your kids to take their culinary skills to the next level?
Join today at www.virtualcookingcamp.com
Don't forget the special Kids Can Cook Newsletter discounts:
Purchase one week of camp, and our policy is if you aren't loving it after day 1, we'll refund you for the remaining 4 days, no questions asked
If you buy a second week of camp we are offering special refunds
Buy another week and save on additional weeks as noted below:
Buy 1 more week: $180 (save $10)
Buy 2 more weeks: $350 (save $30)
Buy 3 more weeks, $510 (save $60)
And siblings can join for free every week!
Offer ends next Sunday
So click here to join our virtual cooking camp