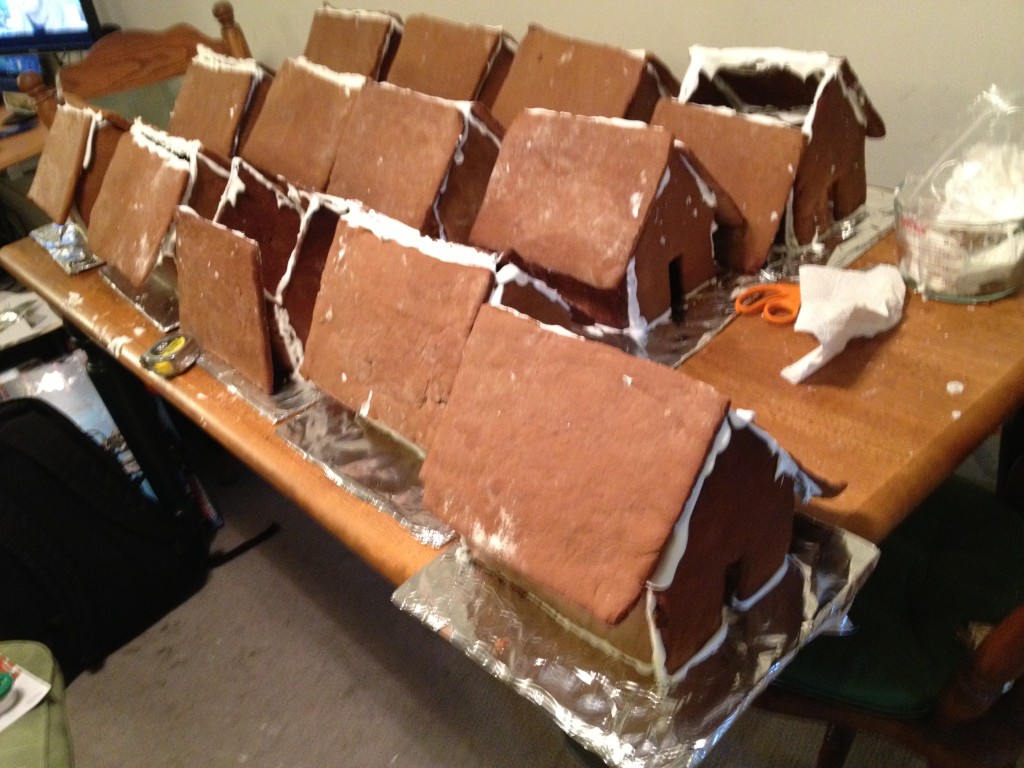 True Story:  I once spent 33 hours straight cooking without any breaks or sleep.  Why would I do such a thing?
It was for a trifecta of three cooking events that I had (foolishly) scheduled all within a 24-hour period.
It began Friday at 10am with the preparation of 13 gingerbread houses for a client.  Previously, I had made one from scratch and it took about 4 hours, so I would have to be efficient and multiple that by 13.
After baking for a few hours, I paused at 2pm to leave and cook dinner for a client.
By 9pm I was back at home and knew I had a long night of baking ahead.  It took about 20 lb of flour, 9 gallons of molasses, 40 eggs and 7 lb of sugar to complete all the gingerbread houses as I worked throughout the night.  Coffee and lots of podcasts kept me going.
At 11am the next day I delivered all the ginger bread houses for a client's birthday and left at 1pm
…but I wasn't done yet…
The last thing on my to-do list was a Cooking Birthday party for a client on Saturday from 3pm-7pm.
At 8pm, I went to bed, proud of myself for having pulled off so much cooking for my clients!
The main point of that story was to highlight that I've made A LOT of gingerbread houses and will be having a similar Bakeathon this Saturday to prepare for Winter Camp, where on Monday kids will get to decorate and take home their own gingerbread house!
However, I now have an assistant and a much better plan for getting all the houses made in a timely fashion.
To construct a gingerbread house, it will take at least 4-5 hours to complete, but a lot of that is spent waiting for the royal icing, which is your glue, to harden and secure the base of the house before you can attach the roof.
It's a fun activity to engage with your kids and worth the time because you'll have a beautiful, homemade house at the end of that will look (and smell amazing!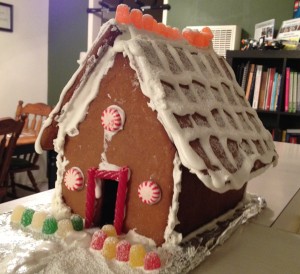 Ginger Bread House Recipe
Active Time:  1 hour      –    Start to Finish: 4 hours   –     Makes 1 house
Ingredients:
For the Gingerbread Dough
5 cups All-Purpose Flour
¾ cup buttermilk
6 Tbs unsalted butter
1 cup brown sugar
½ cup molasses
1 large egg, beaten
1 tsp baking soda
1 tsp ginger
1 tsp cinnamon
½ tsp salt
For the Royal Icing
3 egg whites
½ tsp cream of tartar
4 cups confectioner's sugar (aka Powdered Sugar)
Treats To Use For Decoration:
Gum Drops, Mints, M & Ms, Candy Canes, Ice Cream Cones, Red Licorice, Fruit Rollups, Wafer candies, Frosted Shredded Wheat Squares, Nonpareils, Pretzel sticks, Lifesavers, mini marshmellows.
Other Tools
Plastic Wrap, Rolling Pin, Printed Out Paper (See Below) Cardboard, for the base and for cutting out designs,  Tin foil
To Make The Gingerbread
In a bowl, microwave the butter until it's melted, about 30-45 seconds
In a large bowl add the melted butter and buttermilk and whisk together.  Add the brown sugar, molasses and beaten egg and whisk together.  Add the cinnamon, ginger, salt, baking soda and one cup of flour.  Use a fork to mix the ingredients together.  Add the remaining flour and mix together with a fork until the ingredients come together, then lightly knead with your hands on a floured work surface until you have a smooth, stiff dough.
Cut the dough in half, wrap in plastic wrap and lightly flatten with a rolling pin until it's about 12" x  6".  Refrigerate for at least 1 hour (or overnight)
Preheat the oven to 350°F.
Use the paper cut outs and copy them onto a thin piece of cardboard, then cut out the cardboard into the shapes of the house which will include: two roof panels, two rectangular side walls and two pointed walls (that support the roof)
Take one piece of dough out the refrigerator and roll it out until it's ¼" thick on a lightly floured surface.  Trace the roof panels and cut them out of the dough using a knife.  Bake in the oven for 15-18 minutes until the edge is lightly browned, let rest for 10 minutes then carefully remove the cookie pieces to a wire rack to cool.
As you're baking, you can roll out the second piece of dough.  Trace and cut out the remaining four wall pieces.  You may need to take the extra dough you've cut and roll it out to make all the pieces.
Bake the remaining pieces in batches.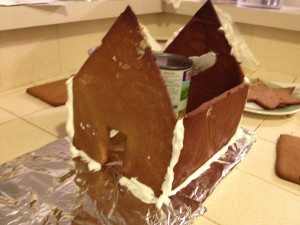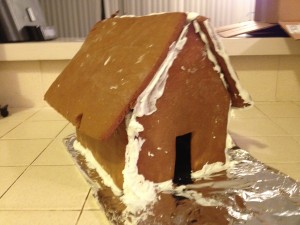 House Construction
Royal icing will act as the glue.  In large bowl add the egg whites and cream of tartar.   Use a hand blender to whip the mixture until it's foamy, being sure to add the sugar gradually, a few spoonfuls at a time, while you're whipping. Eventually you'll create a thick icing.  You can add water if necessary to thin it out.  Place the icing in a large pastry bag or plastic bag and make a very small cut at the end so the icing will flow out.
Use a large piece of cardboard as the base for the house and cover this with tin foil.  Now add one large rectangular wall piece and cover the edges with icing to attach another wall.  Support these walls by leaning them against objects such as a large mason jar or box.
Wait about 2-3 hours until you add the roof so that the icing has dried.  Add your roof pieces carefully by putting on icing on the tops of the building.  Allow to rest another 1-2 hours before decorating.  As you decorate, have FUN decorating by adding housing details using the treats such as:
Shingled Roof:  Use the frosted cereal bites as shingles
Tree:  Place an ice cream cone upside down and cover it with green
Note this recipe is adapted from a King Arthur Flour recipe you can find here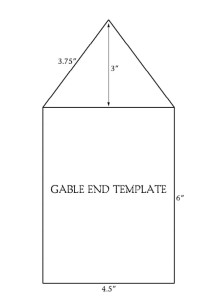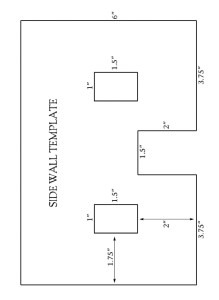 Read More:  How To Host A Holiday Party