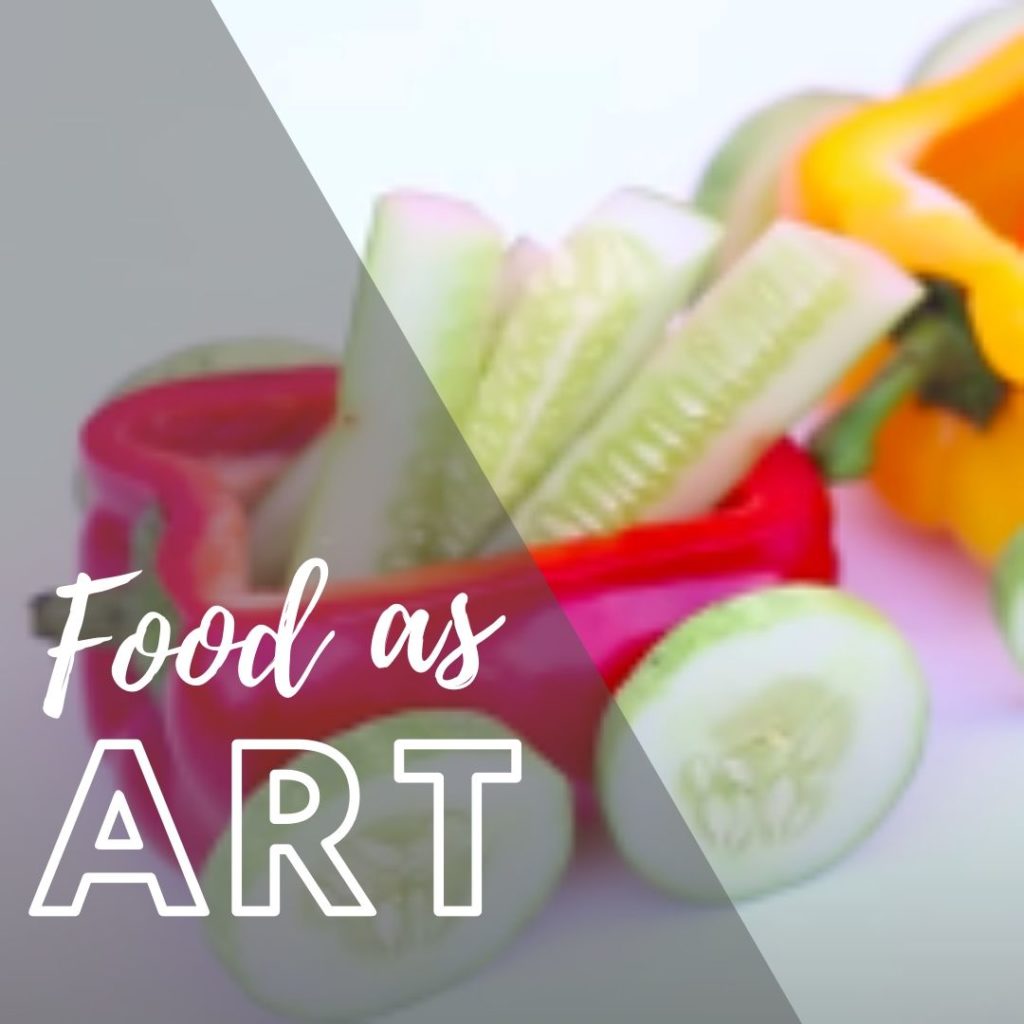 As we prep for our first week of virtual cooking camp that's themed "Mangia Italiano" started next Monday, here's an example of an art project that we'll be doing…and you can do it at home!  It's a "caravan made of food!" vegetables when you're done.
Activity: Food Caravan!
Supplies
– 3 Bell peppers (1 of each color, yello, green and red
– 1 Cucumber
– Toothpicks
Directions
Carefully trim a piece off of the bell peppers with a knife and remove the seeds, this will make a large "hole" in the center like in the picture above
Cut the cucumber into slices
Put a toothpick through the cucumber and into the bellpepper to look like wheels.
Put chopped bell pepper, cucumber, carrots etc inside the "cart" and stack them next to each other to look like a caravan! You can even use one of the carts to hold dip like hummus, ranch or tzatziki.
What is a Caravan?
Caravans are a group of people, such as traders or pilgrims, who travel together from place to place and typically with something they trade.
One popular destination in ancient times was the "Roman Forum." It's a famous site in the center of Rome which was used for a variety of purposes such as a trading market, site for religious events and space for political or social activities. As a market, traders sold lots of goods including silk, spices, food, clothing and much more. Caravans can be made of carts pulled by ox or camels travelling the dessert.
Pic: Roman Forum
Hope you try out this fun (and easy!) food/art activity at home.
"Do you want your kids to have a FUN camp experience, develop culinary skills and cook healthy meals without having to leave the safety of your home? Do you want to get some VALUABLE free time each morning as your kids explore the culinary industry, do art projects, and make their own breakfast with a LIVE chef teacher? LIFT Enrichment's Virtual Cooking Camp is a week-long half-day camp where your kids can have an action-packed camp experience, learn to make over 15 healthy recipes AND eat vegetables in new ways. Click here for the details."