Our theme for 2022 is "Cooking Up BIG Result" and in order to do that we are focusing on partnerships with schools and districts. In particular, schools we work with are charter, public or private schools. When I talk to school administrators, I find they lean toward:

In-Person Culinary Workshops – "Big Events"

OR

Virtual Culinary Workshops – "Series"

All of our culinary workshops include:
Cooking a delicious recipe guided by a Chef Teacher from start to finish
Teaching culinary fundamentals and key techniques
Focusing on healthy recipes, primarily entrees for lunch/dinner with easy-to-find ingredients
Educating students on culture, nutrition and science
Developing lifeskills so students can become independent
Engaging students with a fun and lively class experience.

In-Person Culinary Workshops – "Big Events"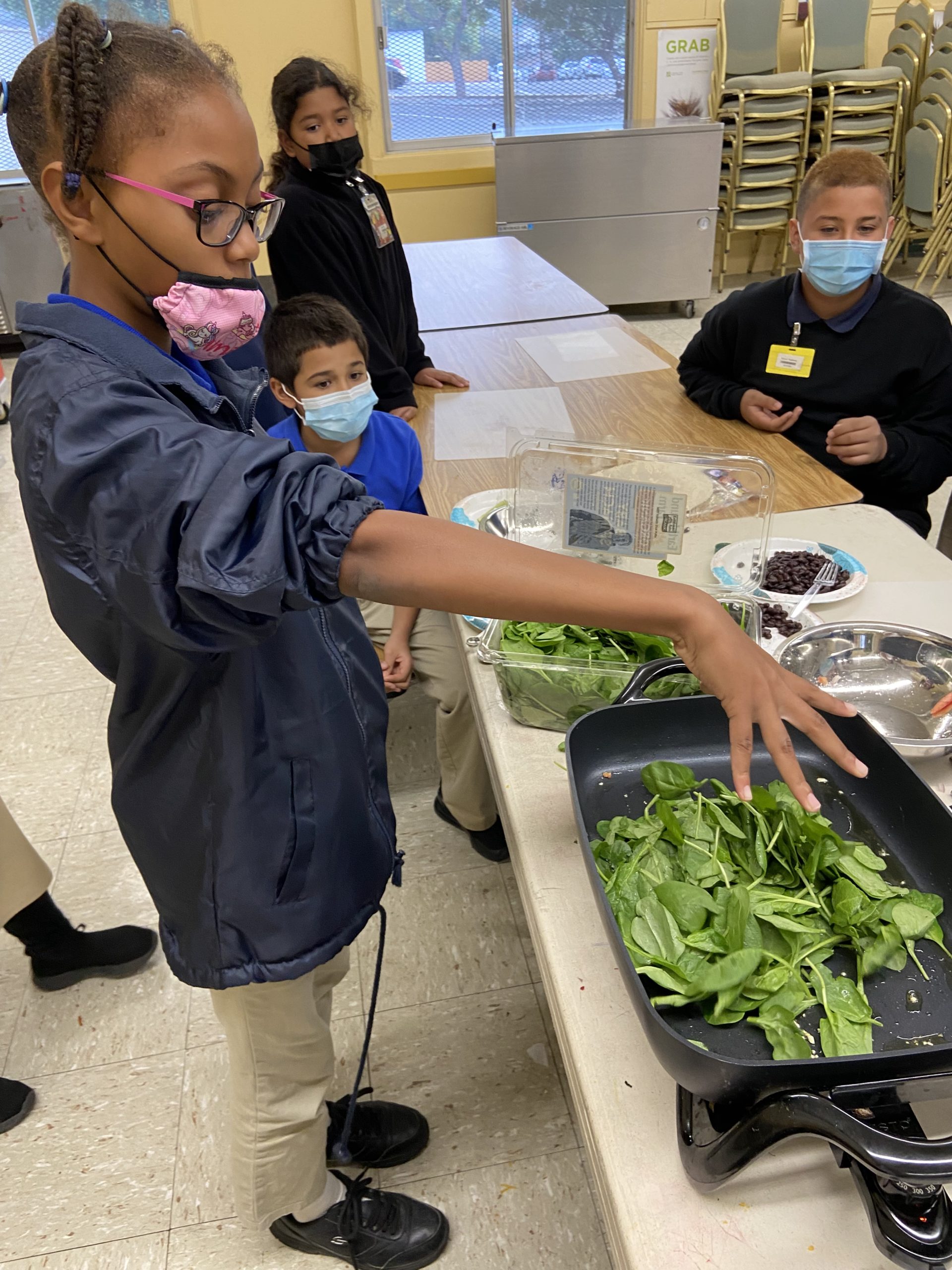 Our main focus (and where we are getting the most demand) is for in-person culinary workshops that I went over in this post.  We are the "Big Event" that comes to a school to teach culinary workshops to a LARGE volume of students, anywhere from 80-300+ over the course of several days or weeks.

Each workshop is for 15-25 students and we can teach multiple workshops back-to-back starting with Pasta primavera with lots of veggies.  We always start with that recipe because it's healthy, has a lot of culinary lessons within it and it's a kid-favorite.

Each workshop is 60 minutes with the lesson lasting 50 minutes and then there's a 10-minute reset between workshops.  Workshops are stacked back-to-back and we know how to effectively prep to ensure a smooth transition.  In one day with 4 workshops, we can teach 80-100 students.  Often clients will have us teach multiple days.  

To execute classes that are a few states away, we ship our culinary supply kits with Amazon, ship ingredients with Amazon Fresh and will provide flights, hotel and ground transportation for the Chef teacher coming to your site.  

Chef Teachers are all background checked and vaccinated (if required).  They arrive the day before and arrive on-site 1.5-2 hours in advance to unpack supplies, wash produce and do some pre-cooking and chopping as needed for the recipes.  

Pricing:  
$2500-$3000 for 80-100 students taught during 1 full day of workshops (includes travel, supplies, and ingredients)
$4000-$4500 for 160-200 students taught over 2 full days of workshops
(Note prices, are subject to flexibility based on distance and logistics.  Local Arizona clients won't involve travel for Chef Eric)

Budget Sources:  ASES grant funding, Gear Up, Trio, 21st Century, Physical Education budget, In-house field trips

Client  Example:  Keiller Leadership Academy (or KLA) is a charter school based in San Diego, CA.   KLA used ASES funding to bring in LIFT Enrichment to teach 3 workshops Tuesday and Wednesday in November.  Each workshop had 18-25 students and were divided by grades like this:

3:00pm-4:00pm Group 1:  K-2nd
4:00pm-5:00pm Group 2:  3rd-4th
5:00pm-6:00pm Group 3: 5th-6th

On Tuesday, we taught Pasta Primavera.  On Wednesday, we taught Black Bean & Spinach Quesadilla with Fresh Pico de Gallo to the same students.   The students loved the recipes and learned about Vitamins A, C and K as well as Protein, Antioxidants and Fiber.

For KLA, we are a "special event" experience for the students that helps boost excitement for the after-school program AND increases attendance.  During the 2021-2022 school, we will have 2 site visits.

Bigger Sites:  We also offer even bigger programs where we are teaching 800 students within an entire school district, and due to the scale and logistics, this is a custom project with a team of Chef Teachers teaching at different sites each day for multiple weeks

Pros:  
We can teach ANYWHERE in the United States
We can teach a large volume of students! An entire school can experience culinary education over 1-2 days.
Efficiency, because we can teach students back-to-back in any classroom setup.

Cons:
Complex, as there are logistics and planning when it come to arranging all of the travel details
It's expensive, but you get what you pay for. If you want a great culinary workshop from the best provider out there: LIFT Enrichment, it will come at a premium because we bring a lot to the client experience.

Virtual Culinary Workshop – "Series"

Our virtual culinary workshops are live classes taught on zoom by our Chef Teachers. They are typically 60 minutes and can be taught to students who join the class from their homes or are taught to a classroom of students using a large projector. Schools can also have us provide the ingredients by having us send gift cards to students.

These workshops are taught as a series so that the same group of students can learn culinary skills over a few weeks or month. The beauty of a virtual class is we can service ANYONE. Last summer, we taught 300 hours of virtual cooking classes, including students in Guam, which I didn't know was even possible before the pandemic!

Pricing: $295 per 60-minute workshop for 15-25 students. Minimum purchase order: 4. Best experience for students: 8-10 workshops, taught weekly

Pros:
Convenient for schools that want a series! This helps further the educational components to reinforce new skills for multiple weeks.
Students can cook in the comfort of their home for their families! Parents/siblings will often join to help out.
You can creatively bring LIFT Enrichment out for an in-person culinary workshop as a "special event" and then continue with virtual culinary workshops for weeks.

Cons:
Some people really like in-person instruction more than virtual.
With 20 students joining a zoom call, things can get tricky with tech for students.

Client Example:  Taylor School, in San Jose, has us teach 4 workshops to students once or twice a year.

FAQ:




What if my school doesn't have a kitchen?
We DON'T need a kitchen for our classes!  Our classes are taught in classrooms, cafeterias, and teacher lounges using only an electric hot plate to cook.  Check out this "post" to see pictures and videos of our class setup.

What is the curriculum?
See our list of healthy recipes, starting with Pasta Primavera in this "post"

What if I don't have a budget?
Then we probably can't teach at your school.  There are a LOT of costs that go into teaching such as compensating the Chef Teacher, ingredients, supplies, transportation and a lot of administrative and operational support with each client.  In California, there are additional costs as well that most districts require (regular covid tests, additional insurance requirements, etc.)

What if I have a local Chef or in-house teacher that will teach cooking classes?
In this case, you are lucky!  But what if that person doesn't have the necessary liability insurance?  What if that person is sick?  What if that person gets another job elsewhere?  The key aspect of with working with LIFT Enrichment is in our infrastructure, professionalism and 11+ years of experience teaching healthy cooking classes to kids.  Don't you want to work with the best?

What are my next steps?

Set up a call with the owner

Or email eric@liftenrichment.com.  
Or send a carrier pigeon with a note.  
Or meet up for a coffee at Press Coffee in Scottsdale Quarter.

Where there's a will, there's a way.

So let's get your students cooking in 2022!
To book a FREE healthy culinary workshop for your school, district, or college access program CLICK Here

Best,
Chef Eric


Read More:
The Best Recipe We've Taught To Over 10,000 students (Pasta Primavera)
How We Are Bringing Back In-Person Cooking Classes in 2022 and Beyond!
Giving Back: Volunteering, Arizona Entrepreneurs and How To Market A Small Business
GEAR UP West 2021 Review:  Making Friends, Native American Dance and Very Early Flights