If you haven't tried this salsa, you're missing out.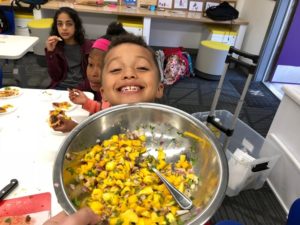 Mango salsa has a zesty, fresh and citrus flavor combination that is absolutely delicious.
We made this in class recently, and it was a fantastic experience for all.
I personally love Veggie Quesadillas with Mango Salsa because there is a lot of hands-on chopping, mixing and tasting to make sure it comes out perfectly.
The class I was at, with 13 kids, was inside a Multi Purpose Room and here's how it went minute-by-minute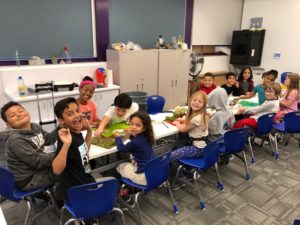 Pre Class: 20 minutes  I check in with the front desk, drop off my culinary supply kit in the room, unpack and set up the tables and chairs to accommodate the kids.  I wash and chop onions and bell peppers into strips, then peel and cut up two mangos.   I also grate cheddar cheese, because by grating it from a block it melts better.  (Also pre-grated cheese has potato starch on it, which prevents it from clumping, and I'd rather not have that in my quesadilla!)   Roster in hand, I pick up the kindergardeners and walk them to my culinary classroom.  Other kids show up in the classroom, wash their hands and are ready to go.
Class Starts:  0-10 minutes  Everyday we go over the Culinary Rules of the classroom, announce two Chefs of the Day and everyone starts chopping the bell peppers and onions into smaller pieces.  We use metal butter knives so that it's safe for the kids, but they still feel like they're contributing to the dish.  Later, students remove the cilantro leaves from the stem, a tedious task I am glad to have 13 sous chefs to help with.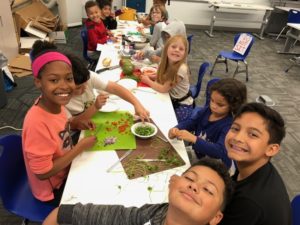 10-20 minutes  The kids have finished up with all of the food prep and we segue into cleanup.  They have learned how to wash, dry and put away their cutting boards, an incredibly valuable skill at home or in the cooking classroom, that coincidentally makes my job a lot easier after class.  🙂
20-30 minutes The electric hot skillet (much safer than using a gas stove as there is no flame) is prepped and the veggies are getting sauteed.  I keep this off to the side as the kids help me mix the fresh mango salsa.  They take turns adding individual ingredients and checking the seasoning to see if it needs more salt, pepper or lime.
30-40 minutes I remove the veggies to a plate, give the skillet a quick wipe and now we start with the quesadillas!  I add a bit of oil, and students help layer the quesadilla with one tortilla, a handful of cheese, two scoops of veggies, more cheese, another tortilla and once it's all melted, an older student helps carefully flip the quesadilla over.  It has a beautiful, crispy outside and in a few minutes I slide it on to a plate.
Tip:  Add a tiny pinch of salt to bring out the flavor of the outside of the quesadilla, which now almost resembles a chip.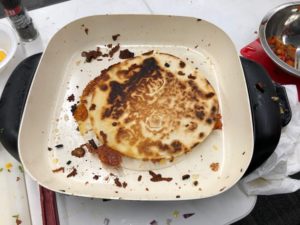 40-50 minutes  We make 3 more giant quesadillas.  As we cook, different students help out so the whole class can experience the cooking.  We also go over some nutrition and cultural facts talking about how cheese provides calcium and protein that help your muscles.  "Quesadilla" comes from "Queso," the Spanish word for cheese.  "Salsa fresca" in English means "fresh sauce."  We also talk about the vitamins and nutrients in bell peppers.
We  review the ingredients and even chop up a few quesadillas to "sample" and they are perfect:  Crispy on the outside with some tender veggies and melted cheese inside.  The mango salsa gives each bite a zesty, fresh POP that compliments the quesadilla.
50-60 minutes  With the cooking done, I put up away the skillet to cool off and the students help with the final round of cleanup.  They wipe tables with a wet paper towel, help me dry some bowls and utensils and clean up the floor.  I reward them with a second serving of quesadilla with salsa that I pack with saran wrap so it doesn't spill.
I reward two awesome kids to be "Chefs of the Day" for the next class because they were very helpful cleaning and cooking.  Each kids get this award at some point during the session.
Parents pick up their kids and my students proudly share their food.  Some kids don't have anything to share because they ate their second portion (Oops).  Everyone is enjoying the tastes and flavors, plus sharing some of what they learned.
Post Class 15 minutes  I walk kids to the aftercare area and make sure they're checked in, before heading back to the room.  I only have a skillet to clean, because the kids have helped with everything else.  I give the room one final clean over and I'm out the door, about 15 minutes after class ended.
I load up my car and drive home.
A friend asks me how my day went.
"It was awesome.  I taught 13 kids about the vitamins in bell peppers and we made veggie quesadillas with a delicious mango salsa.  They loved it, and their parents too," I respond with a smile.
Veggie Quesadilla with Mango Salsa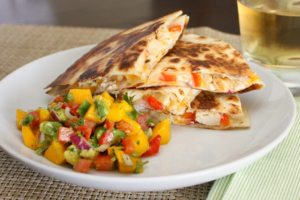 Active time: 15 mins Start to finish: 40 mins Serves: 10-12
Quesadillas are fun, easy to make and DELICIOUS! Here we show kids how to make a flavorful salsa using fresh mango for a tropical kick.
Ingredients:
12 8"-10" flour tortillas
3 cups Colby jack or sharp cheddar cheese, grated
2 red bell peppers, chopped
1 green bell pepper, chopped
2 red onions, chopped
3 ripe mangos, skin removed and chopped
Juice of 1-2 limes
¼ cup cilantro, chopped
Vegetable or Olive Oil
Salt & Pepper
Directions:
In a bowl, mix the mango, ½ cup chopped red onion, ½ cup bell pepper, cilantro, juice of 1 lime, 1 tsp salt, pinch of pepper and mix. Taste and adjust seasoning as needed with more lime, salt or pepper.
In a pan over medium heat, add 3 Tbs oil and add the remaining bell peppers and onion. Season with salt, pepper and cook until softened about 4-5 minutes. Remove to a bowl.
Clean pan, then add 1 Tbs oil over medium-high heat. Add 1 tortilla, top with ¼ cup cheese, a few spoonfuls of sautéed vegetables and another ¼ cup of cheese. Place another tortilla on top and press down with a spatula. After 3-4 minutes, the cheese should be melted and then carefully flip the quesadilla. Cook for another few minutes then remove to a plate. Continue with remaining quesadillas.
Cut each quesadilla into 6-8 slices. Serve with a side of mango salsa.
Read More:   Inside A Cooking Class: Zucchini Fritters