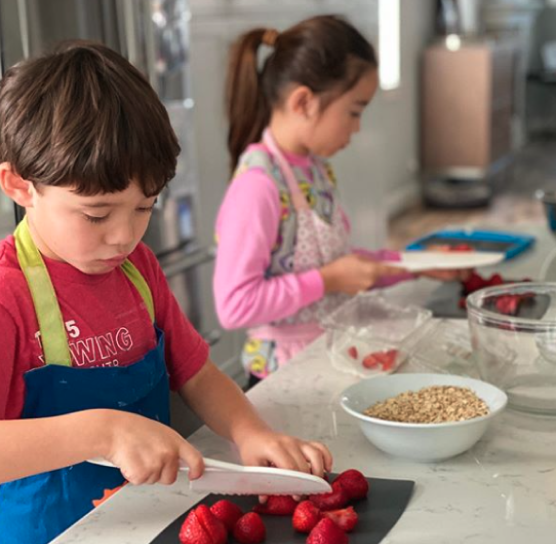 As our Kids Can Cook Inner Circle program turns 1 years old, we have a great deal going on.

This is only for moms who want their kids to:
Eat more healthy foods
Become Independent and able to cook meals on their own
Develop Confidence in the Kitchen
One of our students, Sammy Rivas, age 12, can now look in the pantry and make a meal just based on the ingredients he sees.  This is a huge improvement compared to when he used to just eat canned soups for a quick lunch.

=>  Join the Kids Can Cook Inner Circle, before prices go up June 2nd!
Our program has developed a LOT over the years and in this iteration we offer two pricing points:
Basic Package
Weekly 1-hour healthy cooking classes taught Tuesdays, Wednesdays or Thursdays
Aprons for kids to wear!
Backlog of 130+ recipes and 40+ hours of recorded lessons
Amazon Prime links for ingredients
Siblings are free!
Gourmet Package (for $10 more)
All of the above plus:
A 1.5 hour "healthy" dessert lesson (yes it's actually GOOD for you!) – 2nd Friday of the month
A 1.5 hour gourmet lesson featuring more advanced culinary techniques – last Friday of the month
Guarantees: 30-day money back guarantee, no long-term contract and pause whenever you want
Japanese Okonomiyaki Pancakes
Zucchini Lasagna Rollups
Poke Bowl
Cauliflower Pizza
Portobello Asada Tacos
Peruvian Lomo Saltado
Healthy Carrot Cake with Cream Cheese Frosting
If you want your child to be independent in the kitchen like Sammy, click the link below to see what we're making in June, including:
That's 7 recipes to learn this month!
=> Join the Kids Can Cook Inner Circle, before prices go up June 2nd!
Get Cooking,
Chef Eric Horwitz