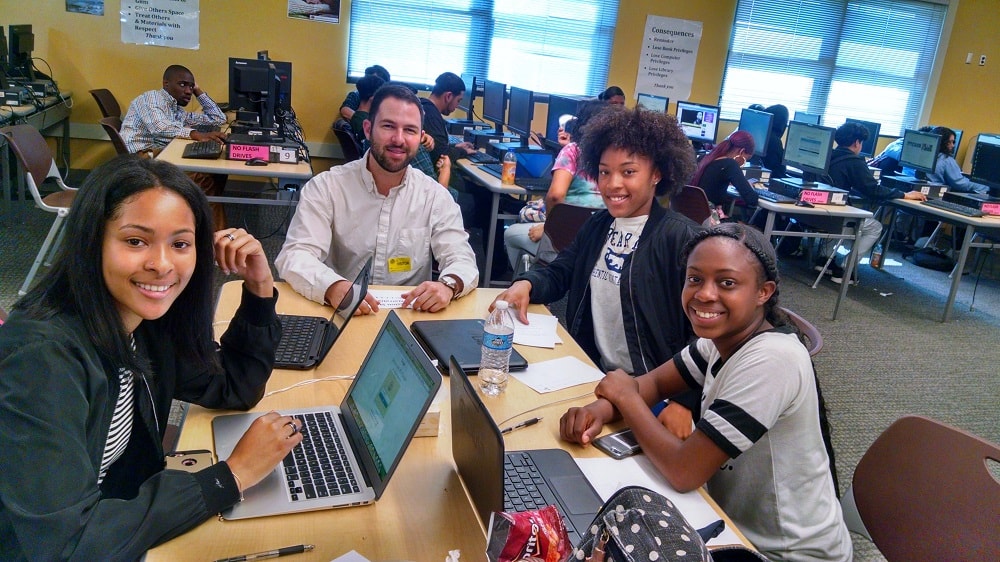 Last month I had the chance to volunteer with a great non-profit called NFTE, which helps teens from low-income schools learn about entrepreneurship.
I headed to Augustus Hawkins High School on a sunny day in March to serve as a Business Plan Coach & Mentor.  My job would be to help develop the students' business plans and give feedback on their presentations of the fictitious businesses.  These businesses would then be judged by a panel of entrepreneurs and those winners would ascend to the finals where they would compete against contestants from all over Los Angeles.
I stepped into the library of the school and saw dozens of students clustered around tables with their laptops open.  I was overwhelmed at first and was directed by a teacher that all I had to do was jump into one of the groups and ask if they needed help.
Working with older kids
The students were high schoolers, who was not my typical crowd as we partner primarily with elementary schools (44 to be exact!).
That being said, I have volunteered with high schoolers before, such as when I taught a cooking class at a high school in Culver city.
I picked a table and jumped right in.  The students were working in pairs and I started with an enthusiastic, "Hi, I'm Eric, what's your business?"
The first business idea was for a dance studio that featured mainly hip-hop and pop music that would be called "Hipopcrisy."   These high schoolers lived in a neighborhood that didn't have any dance studios and thought their idea would attract teenagers to meet, learn to dance and get a good workout.
I liked the idea, but the name was confusing:  It was meant to be a fusion of "hip hop" and "hypocrisy."
"The name sounds cool, but it's hard to tell what the studio is, I said.  "Plus 'hypocrisy' is a word with negative connotations, would you want that in your business's name?"
The students got my point.  I then suggested they go on yelp and look at other dance studios.  A few places popped up like "LA DanceFit Studio," "Evolve Dance Studio" and they learned that it was important for customers to know immediately what they were getting into by putting "dance" or "studio" in the business' title.
Next up, I spoke to some students who thought of a device that would allow you to recharge your phone without using chords.  The device would plug into your phone and then another charger would plug into an outlet.
"Charging would be chord free!" the students exclaimed.
"What's the name of your business?" I asked.
"Auto Charge!"
"To be honest," I said, "When I hear that name I immediately think of cars, not phone chargers."
The students thought for a moment and brainstormed some new names.  We brainstormed for a few minutes and they searched the internet for ideas.  I told them I would get back to them later.
The time flew by as I bounced around from table to table and gave my 2-cents to different projects.  Their businesses ranged from the practical, such as a new type of taco truck or local gym, to out-there ideas that involved technology not even invented.
It was a fun afternoon and I enjoyed playing the part of the "business coach" to  their young minds.  Their powerpoints were pretty detailed for students, and I remarked that I never even made a powerpoint presentation when I started LIFT Enrichment!  It was just me, a website, brochure, business card and a lot of hustling to get my name out there.
I came back to work later that day with a renewed sense of vigor.  I had a great time volunteering at the high school and made a commitment to help out with more underserved schools with my Lego Robotics and Cooking classes some point in the future.
The Importance of Giving Back
I've been in the Cub and Boy Scouts for over a decade, beginning at the age of 5 as a Tiger Cub to finishing as an Eagle Scout at 18.  One important value I continue to follow to this day is "Give Back" and it's one of the core values of LIFT Enrichment.  While we often partner with schools ranging from public to charter to private, it's important to offer classes for free to underserved schools.
If you'd like to learn more about NFTE or donate to them, you can visit their site here
If you want to join a summer camp that believes in giving back.  Come join us at our locations in Santa Monica, Sherman Oaks and Torrance:
Lego Robotics and Cooking Summer Camps 2017
Locations:  Santa Monica, Sherman Oaks and Torrance
Dates:  Jul 24-28, Jul 31-Aug 4, Aug 7-11, Aug 14-18
Day/Times:  Monday-Friday 9am-12pm (half day) or 9am-3pm (full day)
Ages: 5-12
==> To join the Cooking camp that gives back, Go Here
==> To join the Lego Robotics camp that gives back, Go Here
Read More:  Cooking Italiano with Big Kids at Culver City High School