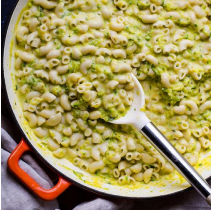 Active time :15 mins – Start to finish: 40 mins
This comfort food classic is packed with extra vitamins and nutrients with the help of sautéed zucchini.
Ingredients:
2 lb elbow macaroni
7 Zucchinis, chopped + 1 bell pepper, chopped
3 cups whole milk
1 cup cheddar, grated
4 Tbs all-purpose flour
Extra-Virgin Olive Oil
Kosher Salt and black pepper
Directions:
In a large pot with boiling water, add 2 Tbs salt, macaroni and cook according to package directions, about 7-9
minutes.
In a large frying pan add 4 Tbs oil and the zucchini, bell peppers, pinch of salt and pepper and saute for 3-4
minutes until zucchini is tender. Set aside in a bowl.
In a large frying pan add 4 Tbs of oil over medium heat. Add flour and cook for 1 minute, stirring constantly.
Add half the milk and mix well with a wooden spoon. When the flour is mixed well and the sauce is starting to
thicken add the rest of the milk, 1 tsp salt and pepper and mix well until the sauce is creamy, about 3-4
minutes. Remove from heat and stir in grated cheese and mix until smooth.
Immediately pour cheese mixture over macaroni and zucchini and toss gently to coat. Serve warm