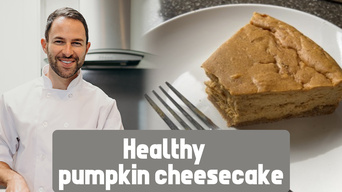 Watch Chef Eric's Youtube video here ===>  Pumpkin Cheesecake with Graham Cracker Crust

The tastes of Fall have arrived in this delicious cheesecake that will "wow" your guests!
 
Active time: 20 mins Start to finish: 2 hrs   Serves: 8
Recipe:
1 cup graham crackers
¾ cup chopped pecans
2 cups sugar
½ tsp salt
½ stick unsalted butter, melted
8 oz cream cheese, room temperature
1 Tbs vanilla extract
3 eggs
1 15-oz can pumpkin puree
½ tsp ground ginger

1 tsp cinnamon
½ tsp nutmeg
½ tsp cloves
Whipped cream, for serving (optional)
Equipment: 10" cake pan with a removable bottom, a regular cake pan will work as well, food processor, hand beater or electric mixer
Directions:
Preheat oven to 350°F with a rack in the middle.

In a food processor add the graham crackers and pulse until it's a fine powder. Then add the pecans, ½ cup sugar, salt and butter and pulse in short bursts until it's combined. Add the mixture to the cake pan and press on the bottom to form an even layer. Place on a baking sheet and bake for 15 minutes, then set aside to cool.

Lower the oven temperature to 325°F. Combine the cream cheese, 1.5 cups sugar and vanilla in a bowl with a beater until light and fluffy, about 3 minutes. Add the eggs, one at a time, until mixed through. Then add ginger, cinnamon, nutmeg and cloves and mix well. Move the pumpkin mixture on to the crust and bake until the center is firm, about 50 minutes. Remove and let cool on a rack, then refrigerate and let chill completely, about 2 hours. Slice and serve with whipped cream if desired.
Watch Chef Eric's Youtube video here ===>  Pumpkin Cheesecake with Graham Cracker Crust

Join our 6-week series of LIVE online cooking classes taught by Chef Teachers that will get your students developing independence and confidence in the kitchen.  Students will also learn knife skill basics, safety tips and culinary fundamentals including, searing, roasting, braising, seasoning, marinades and how to make dough.  

Delicious meals include Mexican Carne Asada Tacos with Guacamole, Chinese Veggie Egg Rolls with Fried Rice, French Ratatouille with Flat-Iron Steak, Italian Baked Meatballs with Spaghetti Marinara, Greek omeamde Pita Bread with Beef & Veggie Kabobs and more!