Quick Chocolate Mousse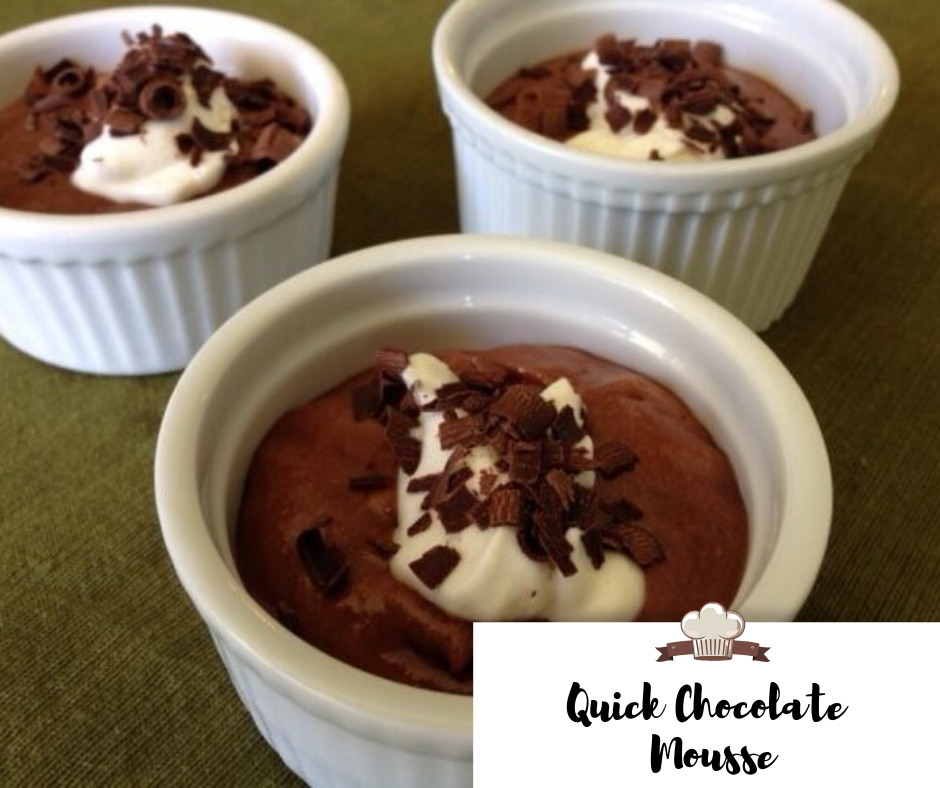 Chocolate mousse is a delicious, chocolate pudding-like dessert that typically must be made the night before. This quick version can be done in 30 minutes or less!
Active Time: 20 min – Start to Finish: 2 hours
Ingredients
8 cups mini marshmallows
1 cup unsalted butter, at room temperature
3 cups semi-sweet chocolate chips
1 cup water
2 cups heavy cream, divided into 1 cup portions
3 tbs sugar + some extra
½ bar dark chocolate, peeled with a vegetable peeler (for chocolate curls)
Ice bath: 2 cups of ice and 2 cups of water
Directions
In a sauce pan, add the marshmallows, butter, chocolate and water over medium-low heat. Stir with a spatula until the mixture is smooth and melted.
The marshmallows will take the longest to melt but will do so eventually.
Remove from the heat into a bowl. Set the bowl over an ice bath and stir the mixture gently for 5-7 minutes, until cooled. Cover and place in a fridge.
In a large bowl, add the cream, then whisk until soft peaks form. Add the sugar and whisk until firm peaks form. Taste and add more sugar if needed. Remove ½ cup of the whipped cream (for garnish) and keep in the fridge.
With a spatula, gently incorporate the remaining whipped cream with the chocolate mixture by folding the cream into the cold chocolate mixture. If the chocolate is still warm, keep it over the ice bath. Spoon about ½ cup of chocolate mixture into 12 bowls, top with a bit of whipped cream and grated chocolate, then cover and chill for 1-2 hours.
Serve and enjoy!