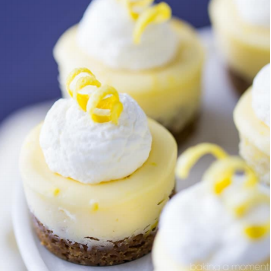 This cheesecake requires no baking and no fuss! It's absolutely delicious and can be made the night before at
your next dinner party.
Active time: 20 min – Start to Finish: 40 min
Ingredients
14 oz Graham crackers
16-oz Whipped Cream cheese
2 Lemons, juiced and zested
2 cups Heavy cream
Sugar
Kosher salt
Olive oil
Directions
Place graham crackers in to a large plastic bag and crumble by crushing them with a large cutting board,
mallet or large pan.
In a medium bowl, add graham cracker crumbs, 1 Tbs oil, 1 Tbs heavy cream, 1 Tbs sugar and mix.
Using the small grater side of a box grater zest the lemons and toss the zest with 1 ½ Tbs sugar.
In a small serving bowl, add about 3 Tbs of the graham cracker mixture and spread on the bottom.
In a bowl, add chilled cream and whip with a whisk until stiff peaks form. Add 3-4 Tbs of sugar then taste and
adjust as needed. In a large bowl mix cream cheese, lemon juice, ¼ cup of sugar, 1 Tbs olive oil and ½ tsp of
salt, then mix together until it all comes together in a smooth consistency.
Assemble the cheesecakes by adding the cream cheese mixture onto the crust and then top dollop of whip
cream. Garnish with a pinch of the sweet lemon zest. Serve as the cheesecake as it is or, for best results,
cover and chill 4-6 hours before serving.