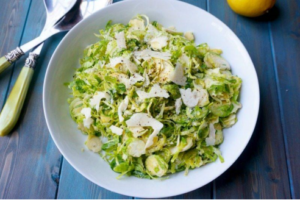 Here's a fresh new way to make a salad, without lettuce. Instead, we use Brussel sprouts, which adds a new
flavor and pairs well with the acidity of the lemon and the nuttiness of the cheese to make a delicious, healthy
side.
Active Time: 15 min – Start to Finish: 35 min
Ingredients:
2 lb of Brussel Sprouts
4-oz of Parmesan cheese, grated
2 lemons
½ head of red cabbage, chopped
4 carrots, chopped
Kosher Salt & Pepper
Sugar
Extra–Virgin Olive Oil
Directions:
Take your brussels sprouts, cut in half and then chop into small, thin slices. Discard the tough stems. In a
large bowl add Brussel sprouts, carrots, and cabbage and toss to mix the veggies.
In a medium bowl whisk the lemon juice, 2 tsp salt, 1 pinch of sugar, pinch of pepper and 1/3 cup olive oil until
emulsified. Taste dressing and adjust for seasoning.
Toss together veggies and dressing until evenly coated, then top with Parmesan.