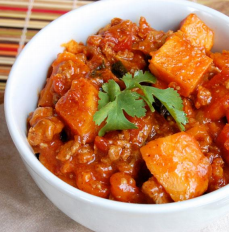 There's nothing like a warm bowl of chili to feel comfy and full. This recipe is perfect for vegetarians looking for
a hearty meal with lots of nutrients.
Active time: 35 min – Start to Finish: 50 min
Ingredients
2 lb sweet potatoes
2 Red Bell Peppers, chopped
1 Onion, chopped
2 14-oz chopped, canned tomatoes
2 14-oz. Kidney beans, drained
1 Tbs chili powder
Kosher salt & pepper
Extra-Virgin Olive Oil
Directions
Peel and chop sweet potatoes into 1" cubes. In a large pot add water, bring to a boil, add potatoes and cook
until tender about 6-8 minutes. Drain in a colander and set aside.
In a large pot add 2 Tbs of oil then add onions and peppers and cook for 4-5 minutes. Season with 1 tsp of salt
and pepper. Add chili powder and cook for 1 minute.
Add the canned tomatoes, 1 tsp salt, beans and 1-2 cups of water. Bring to a boil, then simmer for 5-10, taste
and adjust seasoning.
Serve in a bowl and enjoy.